When Tara and I were first starting to get to know each other, she gave me a set of four CDs of music that she called Music I-IV. It was a real-time mix of music from artists such as Michael Franti, Saul Williams, Keith Jarrett, Jan Garbarek & the Hilliard Ensemble, Jon Anderson, King Crimson, Dream Theater, and many others. As I said, she created it in real-time, listening to each track and deciding in the moment what song should come next, until it reached its natural conclusion. I listened to it for the first time in much the same way, playing it non-stop on my iPod during my cross-country drive from Houston to Los Angeles in June 2005.
I sent my friend Linda my own version of Music I-IV this week, a set of four CDs that I've blogged about the past several months -
Porcupine Tree
,
Songs from and inspired by Twilight
,
Music for a New Life
, and
Live in Concert
. Played in this order, these four mixes represent a musical journey that I've taken in the past year or so. I did update the two older mixes, and customized the third one since Linda went out and bought Jeff Buckley's Grace album already, so those track listings are now as follows:
Porcupine Tree Mix
Nil Recurring
Halo
Blackest Eyes
Trains
Arriving Somewhere But Not Here
Open Car
Anesthetize
Lazarus
Prodigal
Shallow
What Happens Now?
This mix I've given to several people besides Bee, and the updated version shown here includes two tracks from the band's latest EP, Nil Recurring, which I purchased at the Beacon Theater the last time we saw them in concert.
Twilight Mix
Decode by Paramore
Spotlight (Twilight Mix) by Mute Math
Supermassive Black Hole by Muse
Leave Out All the Rest by Linkin Park
Eyes on Fire by Blue Foundation
Flightless Bird, American Mouth by Iron & Wine
The Scientist by Coldplay
Brighter by Paramore
World In My Eyes by Depeche Mode
In the End by Linkin Park
Sweet Sacrifice by Evanescence
Miracle by Paramore
Vicarious by Tool
Assassin by Muse
My Heart by Paramore
Lovesong for a Vampire by Annie Lenox
I've said that the lasting impact of the Twilight phenomenon might be its soundtrack, which introduced many listeners to bands such as Paramore, Linkin Park, Muse and Blue Foundation and revived a genre called alternative/gothic rock epitomized by records like
After Dark
from Barnes & Noble, and the
original soundtrack to Buffy the Vampire Slayer
.
A key addition to my mix is the last song by Annie Lenox, a gross oversight considering the title. This track is from the original soundtrack to
Bram Stoker's Dracula
, but I first came across it on the CD maxi-single of Annie Lenox's song "Little Bird" (now out of print). Aside from being one of the most beautiful songs that no one's ever heard of, this track has extremely strong low bass energy that requires subwoofers to do justice. The "beating heart" pulse extends well below 20hz, as I've discovered from playing it on the various subwoofers I've owned or lived with, including a 2 x 12-inch custom Soundstream box in my old car, a Miller & Kreisel MX-200 2 x 12-incher in my parents' home theater, a Muse 18-incher in a friend's apartment, a pair of Velodyne FSR-12 servo subs in my old house and my current system which includes two Outlaw LFM-1 Plus 12-inch subs (although only one is hooked up). Reproduced properly, the heartbeat can be felt throughout your whole body and adds a visceral dimension to a hauntingly lovely song.
Music for a New Life mix
Everyone Deserves Music - Michael Franti & Spearhead
Three of a Perfect Pair - King Crimson
It Will Be A Good Day (The River) - Yes
Settling - Tara MacLean
Forget Her - Jeff Buckley
Day for Night - Spock's Beard
Let Me Live - Queen
Sleeps With Butterflies - Tori Amos
Between the Wheels - Rush
Between You and Me - Marillion
Growing Up - Peter Gabriel
Remember - Roine Stolt
Bad - U2
Hide and Seek - Imogen Heap
On this mix I swapped out "Dream Brother" and "Hallelujah" by Jeff Buckley for his track "Forget Her" and "Hide and Seek" by Imogen Heap because Linda already has the first two Buckley tracks from his album Grace ("Forget Her" is a bonus track that is only available on the Legacy Edition). But for anybody else, I would definitely substitute "Dream Brother" for "Forget Her."
The Live Music Mix is exactly the same as I blogged about a couple weeks ago:
1. Here Comes The Flood by Peter Gabriel (from Growing Up Live DVD)
2. Secret World by Peter Gabriel (from Growing Up Live DVD)
3. Lavender by Marillion (from Strange Bedfellows and Assorted Embarrassments 2)
4. Shadow Of The Day by Linkin Park (from Road to Revolution)
5. Jigga What / Faint by Linkin Park & Jay Z (from Road to Revolution)
6. Head Like A Hole by Nine Inch Nails (from And All That Could Have Been)
7. Open Car by Porcupine Tree (from Arriving Somewhere DVD)
8. Halo by Porcupine Tree (from Arriving Somewhere DVD)
9. One by U2 (from U2 Go Home: Live from Slane Castle DVD)
10. Hallelujah by Paramore (from The Final RIOT!)
11. Misery Business by Paramore (from The Final RIOT!)
12. Disintegration by The Cure (from Pictures of You CD single)
13. Time Is Running Out by Muse (from Absolution Tour DVD)
14. Take A Bow by Muse (from H.A.A.R.P.)
I've done some nice packaging for these four CDs (Polina and Tara have seen some of them) and to make it a set, I wrapped the four of them up in some handmade paper, tied with string and sealed with wax: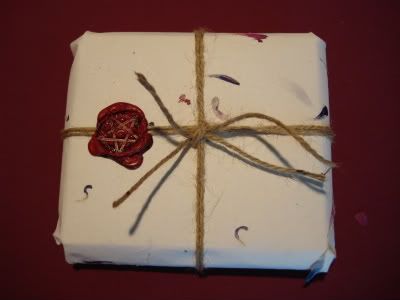 I've had a great time with this musical exploration and playing with the creative design and packaging of my mixes. It's something I will continue to pursue and share with people close to me.