Tara and I had a nice date today at the Museum of Modern Art, despite the fact that she's starting to feel a little run down, probably from catching Bug's germs that have already caused Bee to miss a couple days of work.
It seemed that a special visit was foretold when I saw this creative license plate on an SUV while driving down Lexington Avenue on the way in: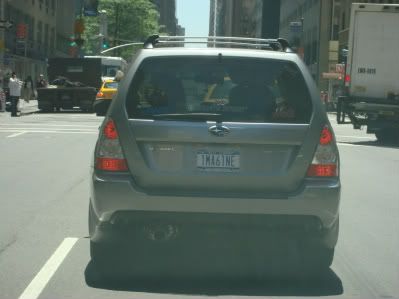 As we always do, we started on the 6th floor where the special exhibit was
Tangled Alphabets
, by Argentine artist Leon Ferrari and Brazilian artist Mira Schendel. Then we toured our favorite galleries full of works by Matisse, Picasso, Rothko, Rauschenberg, Seurat, Cezanne, etc. Our favorite works by Van Gogh and Monet are on tour, but there were some new pieces to look at.
There was a special exhibit called
Stage Pictures: Drawing for Performance
that featured an entire wall of works by Marc Chagall, one of our favorite artists. This set of four are backgrounds for the ballet
Aleko
: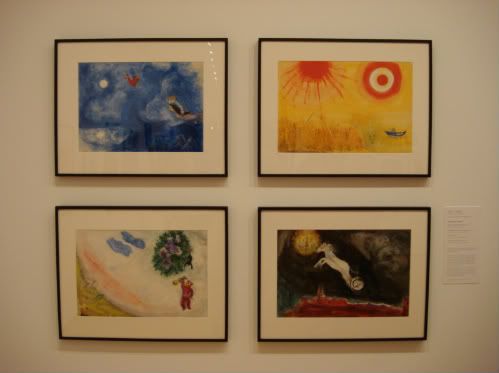 Here's an unusual
apertif
of a work by artist Jack Strange, simply called
g
- it's a lead weight on an Apple MacBook continuously typing the letter g. It was on page 47 when we came across it: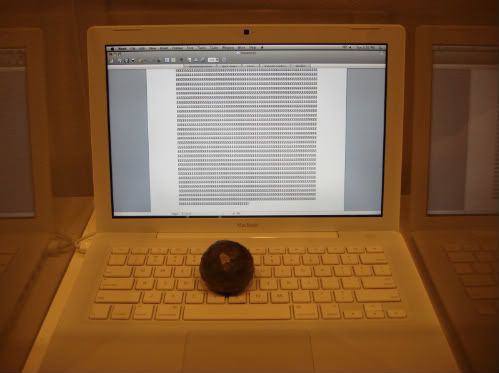 One of the best exhibits was called
Compass in Hand: Selections from The Judith Rothschild Foundation Contemporary Drawings Collection
, where we found this colorful painting: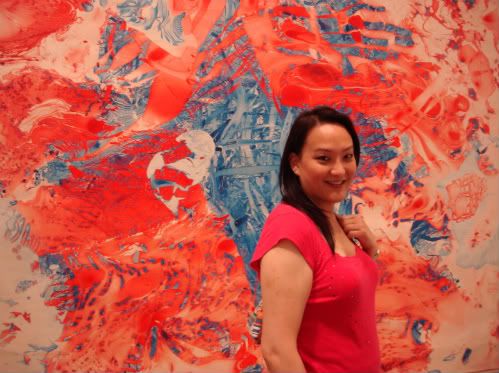 This collection also included a work by Carol Bove, titled simply
Jane B.
, and it was the most moving thing I saw today. It's such a subtle image - almost like a watermark - that it was impossible to photograph, so you can only see it online, and even then, you don't really get a sense of how beautiful and ethereal it is. You just have to go visit MOMA and see it for yourself.
But the funniest thing we saw was in the main hall space, which was closed for installation of a new exhibit. The elements of the exhibit were still in large crates, wrapped with two kinds of tape - one that said "FULL" and the other said "PACKED". But see what happens when these two kinds of tape accidentally overlap:
Tomorrow I'm going to Staten Island to visit Polina, who is still not feeling her best, but well enough to need some distraction. Then Saturday afternoon there's a big Meetup party in Central Park where I'm hoping to see Anika again, if it doesn't get rained out. Saturday night I'll be at my family's house for dinner and poker or a movie, so I probably won't be posting anything new until at least Sunday.