This is going to be the longest post ever written in this blog, with lots of pictures, and important stuff about Polina, so settle in if you're interested in reading. I'm going to tackle things chronologically because a lot's happened in the past 72 hours and I don't want to miss anything.
Saturday morning I picked up Bug and Tara and we went to our local comic book store for Free Comic Book Day. It was the first time since I've moved here that we didn't go to
Midtown Comics in Times Square
for this event. Midtown does a great job, but it's a bit of a hassle because the line starts forming an hour before the store opens, and by the time we typically get there, it's about 50 people long and it's still at least 30 minutes before opening. Plus we have to find parking and pay for bridge toll, etc., etc. It's been fun in the past, but it's just not worth it for free comic books. Besides, we want to support our local stores that we shop at more frequently.
Saturday night I was invited to my friend Leon's birthday party at
River
, a bar in Hell's Kitchen where he and his friend Paloma were guest-bartending for the night. It was also my first time taking the bus in from my apartment to Port Authority Bus Terminal, since the trains in my area don't run on weekends. There's a transit center about 500 feet from my apartment across the highway, so it's super-convenient to park Yoshi there, hop on a bus for $6 (cheaper than paying the $8 bridge toll) and go directly to Port Authority.
Leon is one of my friends involved in creating Open Love NY (a group of people which I geekily refer to as
"the Separatists"
in a Star Wars reference) and one of the nicest guys I know. When I walked in I gave him a hug and he introduced Paloma, who recognized me from a past Polyamorous NYC meeting, although I didn't remember her. I suppose I do tend to stick out in a crowd, being a tall Asian girl in a group of medium-sized, mostly white people (although Leon is six-foot-six). Leon expertly made me a
blueberry cosmopolitan
and I settled into a barstool next to two young women named Casey and Michelle (yes, same spelling - I checked). My friend Simon came in shortly after and sat down next to me on the other side.
Simon and I spent most of the evening chatting with Casey and Michelle, and we seemed to hit it off well, although they are not polyamorous and it was fun watching Casey's face as Simon was explaining polyamory to her. Casey and I are in similar lines of work, and we both lost our jobs in December. She looks a lot like Ferris Bueller's girlfriend Sloane Peterson in the 1986 movie
Ferris Bueller's Day Off
. She and Michelle are long-time friends, having grown up together since Catholic elementary school. So when it was getting late, the three of us left at the same time (Simon stayed behind) and they kindly offered me a lift back to New Jersey so I wouldn't have to take the bus home. After dropping me off at Yoshi, they turned around and drove back to Queens. It was a very generous gesture, and I hope we'll see each other again at some point just to hang out and talk more.
Sunday morning I picked up my family and we went to see
X-Men Origins: Wolverine
, which I thought was a pretty good movie, although a little slow in some parts between action sequences. Also, I wish we were either given more intel on new characters, or that established characters from the comic were used more. Also, some of plot had a few Sentinel-sized holes, but what the hey, it's a comic book movie. But lastly, I found out the meaning of my friend Joanna's cryptic comment about the character Deadpool - there are two different Easter eggs tacked on after the closing credits, and we saw the one about Wolverine in Japan. See
this article
for details, but watch out for spoilers if you haven't seen the movie.
Monday night was my friend Diana's MTV party at my old burlesque studio
The Slipper Room
, where Agnieszka and I took six weeks of burlesque dance classes. As I've mentioned in this blog before (
"Diana Adams on TV" - March 4, 2009
) Diana is an activist for the sex-positive community in New York and she is currently working with the award-winning docuseries
MTV True Life
for an episode titled "I'm Polyamorous." The show spotlights Diana's life with her long-time boyfriend and current girlfriend Kerry, who is 21 and exploring bisexuality for the first time, and follows their lives as they experience what it's like to be young and polyamorous today. MTV's camera crew was at the party filming the performances and setting up conversation scenes for the show, which premieres in August.
At this point, I'll start talking about Polina. As I was getting ready to leave my apartment for the party, she called me up out of the blue. I say that because I had left her a voice message last Sunday (4/26) which she never returned, although we swapped a couple off-line chat messages on the computer last week. So in the short time we had to talk before I had to leave, I explained to her that not returning phone calls was unacceptable if we were going to even be friends, let alone anything more than that. She apologized and promised not to do it again, and we planned to meet at the party later in the evening, as she was on the performers lineup to do a reading of some of her poetry.
When I got to the club, the entertainment started with a performance by Tash and Sarah, two members of
The Gyronauts
, a troupe of hula-hoop performers. Sarah performed solo at the Poly Pride rally last year, and I was very impressed with her skills, especially since I can't hoop to save my life.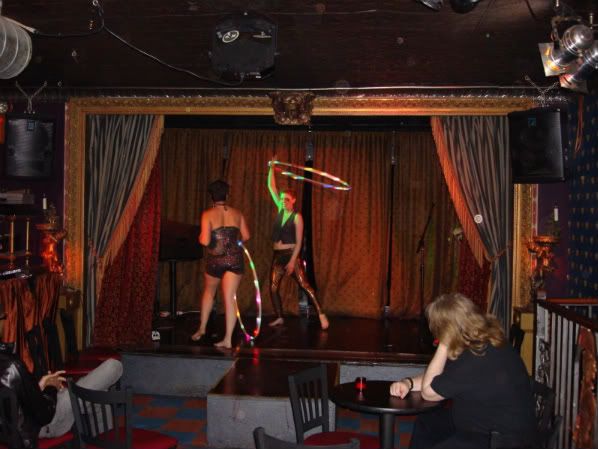 I later learned from my friend Buck that Polina had arrived at the club before I got there, but couldn't get in because she's under the legal drinking age, even though she's a performer. So she went to visit a friend in the city instead, and on the phone we made plans to see each other Tuesday at her home in Staten Island.
Since The Slipper Room is a burlesque theater there were a few burlesque acts, both male ("boylesque") and female, and by far the best one was by a performer named Anita Cookie (say that fast), who did a clever routine with a tweed trenchcoat to the tune of Engelbert Humperdinck's "A Man Without Love." As someone who trained in burlesque, I can tell she put a lot of effort into creating her routine and I was very impressed. Since this is a PG-13 blog, I didn't take a picture while she was performing (she stripped down to pasties and a g-string) but I loved the tattoo on her shoulder, which she let me photograph after coming offstage: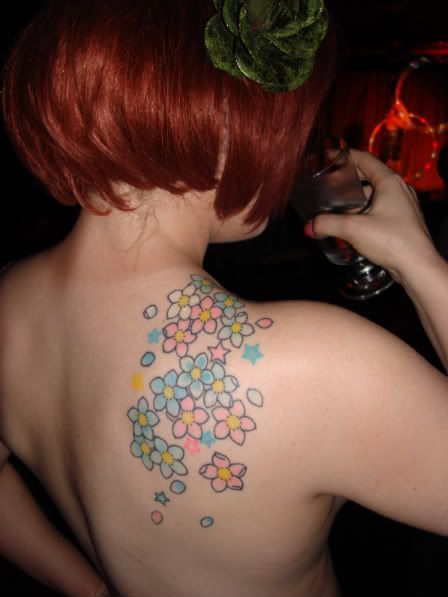 I ran into so many people in the poly community at the party, it was very exciting having so many of my friends and acquaintances in one place at the same time (unfortunately minus Polina). Besides Buck and Diana, Leon, Paloma, Lyndell, Justen (from
Polyamorous NYC
), Birgitte and her girlfriend Erika all showed up. Erika and I worked closely together back in March (
"Poly Leadership Summit 2009" - March 3, 2009
) and Birgitte and I worked together on the
New York Times
article and the Poly Pride Rally in Central Park last year (
"Poly public relations" - October 5, 2008
). I also ran into Storm, a young poly woman who came to one of my New Women's Polyamory support group meetings. Plus there were one or two other people who recognized me from the Leadership Summit.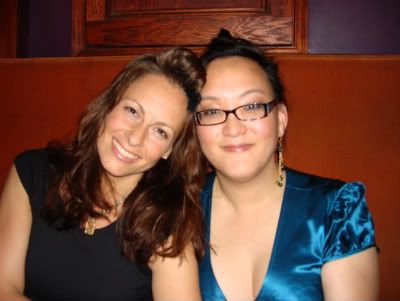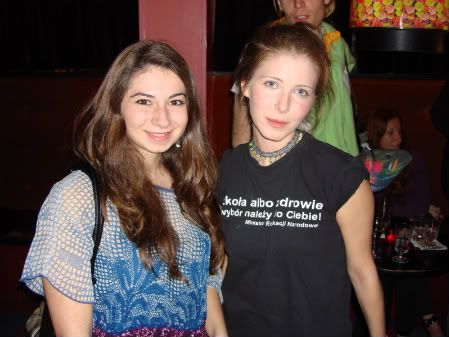 For the MTV portion of the night, the camera crew set up two group conversations with people who agreed to appear and speak on camera. In the first group, Buck, Justen, Lyndell and myself represented a group of experienced polyamorists giving advice to Kerry, while Diana looked on. In the second group, they rounded up a bunch of younger poly-friendly and poly-curious people to talk with Kerry as peers about their experiences with polyamory. In this photo, the back of Birgitte's head is directly in front of the camera, Diana and Kerry are sitting to her right, then continuing around the table is a guy I don't know, then Tash, then a girl I don't know, then Sarah, and her girlfriend Caitlin.
It was an incredibly fun night, and the only real drama was at the end, when I lost track of time and almost missed the last train back to New Jersey. Leon was a lifesaver in hustling me, Storm, her boyfriend, another woman and himself into a shared cab and getting us to Penn Station in less than 12 minutes. I made it to the train with less than 15 seconds to spare.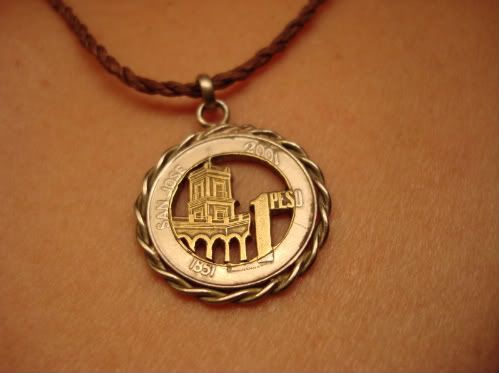 Tuesday morning I drove out to Penny's house and we cooked some pasta together for lunch and she gave me a souvenir from her trip, a pendant made from an Argentine one peso coin with the outline of the church tower carved out. She didn't know that I have a passing interest in
numismatics
and
notaphily
, but that made it an especially appropriate gift for me. She also gave me a copy of the graphic novel
The Professor's Daughter
, which she picked up from a comics writers convention on Saturday, and I gave her an extra copy of the
free Wolverine Saga comic
that I had also given to Tara last week. She showed me her photos and videos from the trip, and then we took a walk down to the beach in front of her house. We talked for a long time about our relationship, which I felt was on the cusp of becoming more serious three months ago when she left for her trip.
As I've outlined in
my theory on unconditional love
, I don't put expectations on what a relationship is going to be. Polina and I try to practice what is known as "radical honesty," or being as direct as possible about our feelings without worrying about hurting each other, because we both know we have no intention of doing so. During our walk, I made myself clear about how her inattentiveness at times was hurtful to me (e.g., not returning phone calls), and she made herself clear that she did not want our relationship to change, either to be more serious or more casual. We agreed that we're going to try and keep our relationship somewhere between friends and lovers, without any additional expectations or commitments from anybody. At least for now, this is the relationship that works for both of us, and we've communicated our needs to each other. Whether and how we are both able to fulfill those needs will determine where we go from here.
As I said in my theory post, love is rarely a game played on equal terms, and we both understand that my feelings for her are probably stronger than hers are for me, although she enjoys my company very much, and we are physically affectionate, but platonic. Perhaps we can be described as "physically affectionate friends." She describes her feelings as loving me, but just not being in love with me. To her, being in love is that crazy, almost frantic, change-your-life impulse where you would do almost anything for the other person. Her view reminds me of the following quote from Daniel Pinchbeck's book,
2012: The Return of Quetzalcoatl
:
"Robert Johnson notes that the English language reflects our emotional paucity. Ancient Persian and Sanskrit possessed more than eighty words for love, denoting different qualities and valences of communal and erotic feeling. Whether we want to proclaim our affection for Krispy Kreme doughnuts or our significant other, we are stuck with just the single word, obliterating differences and qualities."
For my part, since I'm always trying to live in the present, I never considered the idea that we would be long-term partners nor have I ever made any decision about our relationship based on anything other than how I feel about her moment to moment. Certainly some might question why I would want to continue spending time with someone who doesn't love me as much as I love them. There are several reasons:
1. First and foremost, she's a lot of fun to be with, and as I've said before, I'm attracted to the specific wavelength of energy she puts out, and that hasn't changed. We learn a lot from each other and we both enjoy being physically affectionate. That's not something I find often from anybody, so it's a rare gift I'm not willing to throw away.
2. Since we're polyamorous, we are both supportive of long-term, romantically committed, multi-partner relationships, meaning that if either or both of us wanted to pursue a relationship with someone else, we would each be supportive of the other. Our relationship is such that we can talk openly about being attracted to other people, and we know this is not a reflection on our attraction for each other. Since there's no "goal" to our relationship, it's possible that we could remain physically affectionate friends indefinitely, even as other more serious relationships come and go in our lives.
3. After my experience with
Agnieszka Prime
, I'm really not afraid of being hurt by a partner again. I've been through the worst, and I know how to keep it from happening again. Plus, Polina has always been open and honest about her feelings for me, so there's little chance of having unfulfilled expectations with her. So if I were to abandon our friendship, it would be me acting out of fear, and I don't want to do that. If I did, it would be like saying that I learned nothing from my experience with AP. And as I wrote before, if I go through life trying to avoid getting hurt, I'm going to miss a lot of chances to be happy.
And that's the sum of it, I suppose. I don't believe in throwing the baby out with the bathwater when it comes to relationships - it doesn't have to be all or nothing. Tara and I talk about this all the time - you put one foot in front of the other, take it one day at a time, be good to one another, and all we can do is see where the path takes you. We can't control or predict what's going to happen in the future, so it doesn't make sense to base decisions in the present on a guess about it. All we can do is try to be happy in the moment, and at this moment, my life is happier with Penny in it.
After our long walk, we drove into the city to meet up with her parents and grandparents at the
Cinema Village
to see a movie called
Perestroika
. Since Penny's family is Ukrainian and Jewish, this was a very personal film for them, and I enjoyed it a lot myself. I'd describe it as Woody Allen directing a movie based on a book by Milan Kundera. Afterwards I took Penny home while the rest of her family went to Brooklyn to drop off the grandparents before meeting up with us in Staten Island. We had a late supper of her mom's famous
cabbage borscht
(my first, I believe) and our leftover pasta from lunch.
Penny and I went upstairs and poked around on her Facebook page and other things online until it got so late that I just decided to accept her offer to stay in the guest room so I wouldn't have to drive home in the pouring rain at night. We stayed up past 3 a.m. in her room talking more about her trip to Argentina before I finally retired to the guest bed. I woke up early, got dressed and kissed Penny goodbye, leaving her to catch some extra zzz's while I drove home. It was a very good visit, in so many ways.