Wednesday afternoon my friend Lori called me and we arranged to meet before my Poly Women's Group to catch up. It was a beautiful day, so I walked from Port Authority on 42nd and 8th Avenue to the Citigroup Center at 54th and 3rd, which took about 45 minutes with a couple stops along the way. Lori and I chatted for about 90 minutes and she showed me her new sunglasses: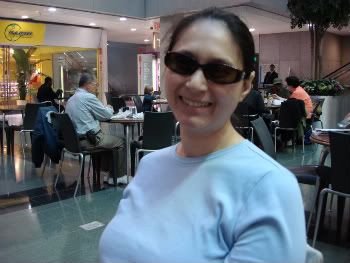 My friend Barbara showed up and we started our meeting, whereupon Lori left to go visit her mom in Queens. After I got home I went to my family's house so we could watch last week's Saturday Night Live, hosted by Justin Timberlake. It was hands down the funniest episode of the year, and we especially liked the New Jersey jokes from Fred Armisen's impersonation of New York Gov. David Paterson.
This morning Tara came over to play tennis before the rain started, so we had a nice workout early in the day. Then I went to run some errands, which included a trip to CD World where I bought
Taken
, Linkin Park's
Hybrid Theory
,
Harry Potter and the Order of the Phoenix
, and
Die Another Day
, one of the handful of James Bond movies I don't currently own.
This evening I made stuffed mushrooms for dinner, which is something I learned from my South Beach dieting days. It's a pretty simple low-carb vegetarian dish, but just requires a lot of chopping.
Stuffed Mushrooms
10-12 large mushrooms
1/2 cup chopped white onion
2 tablespoons minced garlic
1/3 cup chopped green olives (or try chopped sun-dried tomatoes for a variation)
1/3 cup tomato pasta sauce
2 tablespoons oregano leaves
Shredded fresh
Parmeggiano-Reggiano
cheese
Hot sauce/salt and pepper to taste
1. Wash the mushrooms and remove the stems. Finely chop the stems into small pieces. Dry the caps and place on cookie sheet. Preheat oven to 350 degrees.
2. Saute the onions, garlic and stems in olive oil in a saucepan until tender. Add pasta sauce, green olives and spices and let simmer for a few minutes. Remove from heat and let cool.
3. Fill the bottom of each mushroom cap with about a teaspoon of grated cheese (depending on the size of the cap), then using a fork, evenly distribute the stuffing among all the caps. Top with a sprinking of more cheese.
4. Bake until cheese topping starts to melt (about 15-20 minutes) and serve. Inside filling will be very hot, so eat with care.