I had a fantastic time at
City Winery
last night with my friend Agnieszka, where we went to see a burlesque show. The venue is a combination restaurant, working winery and performance space, all in the middle of SoHo in Manhattan.
In case some of you are not familiar with the art of burlesque, it is different from performing in a strip club. Burlesque is all about putting on a show that celebrates the art of the tease. Put another way, a stripper takes off her clothes in response to the desire of the customer to see her nude body. A burlesque dancer takes off her clothes in a carefully choreographed routine meant to entertain a crowd by either being sexy, funny, dramatic, acrobatic, or any combination of those qualities. The energy in a burlesque show is all about having fun and being entertained in an artful way, with none of the commercial nature of a strip club atmosphere.
Right then, on to the details of the evening. The stage of City Winery is beautiful, and the room is expansive, and has hosted such well-known acts as Michelle Shocked, The Proclaimers, Philip Glass and Patti Smith, and Rufus Wainwright and David Byrne, who did a concert in March to raise awareness for energy conservation so they did a fully acoustic set lit by candlelight and without any electricity whatsoever - even the air conditioning was turned off.
Before the show actually started, there was a go-go dancer warming up the crowd, and we were seated in an elevated section of the room, where I took this picture that will give you an idea of what the stage looks like: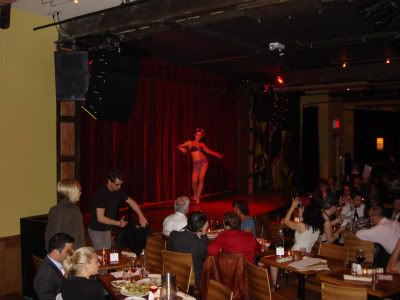 We weren't very happy with our seats, so I grabbed the hostess and got her to move us to a table down in front of center stage. We also saw one of our old burlesque classmates, Rosie, sitting near the stage as well, and said hello. The second act was a well-known performer named Ruby Valentine, who did an elegant and memorable dance in a costume made of silver mylar. Incidentally, none of the videos in this post have nudity, but I still wouldn't play them at work!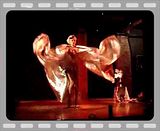 After several more acts, there was an intermission, during which a belly dancer named Maiia performed, and I thought she was one of the best acts of all. She started out with some large mylar wings like Ruby's: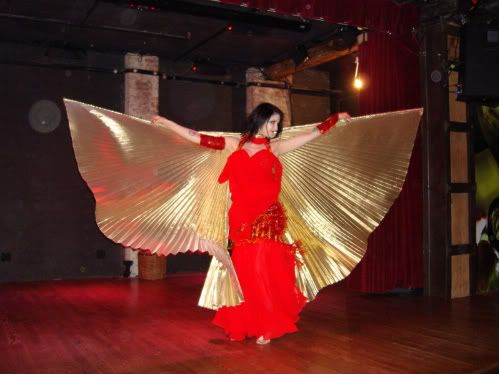 Then she took the wings off and did a more traditional dance using her veils as props: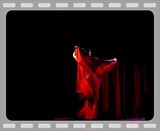 Finally, she brought a six-foot long Burmese python out of a basket and danced with it: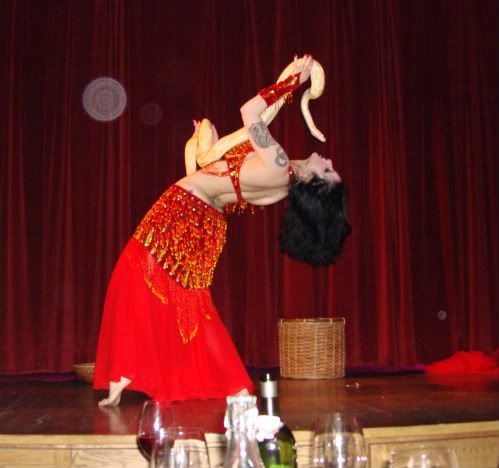 The snake appeared again later on the shoulder of one of the male performers, Jonny Porkpie, and seemed to take a liking to the Stage Kitten, Sizzle Dizzle, since it seems to be licking her chin: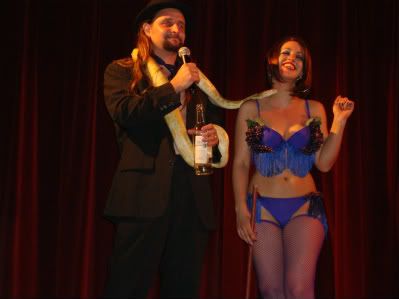 Finally, Anita Cookie (whom I met on Monday at the MTV party) and GiGi La Femme did a funny duet singing "Thank Heaven for Little Girls," putting their own GLBT spin on the Maurice Chevalier classic:
After the performance was over, one of the dancers, Sapphire Jones, came out with the traditional fez hat to collect tips, but unfortunately Anita Cookie didn't come out so I could've said hi to her again.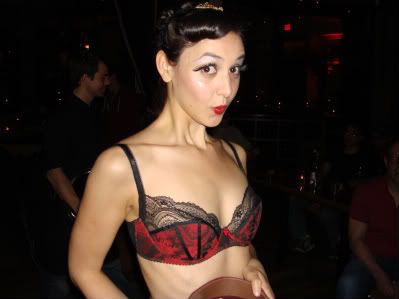 While we were watching the show, a woman came up to us and complimented Agnieszka's hat. One of Agnieszka's hobbies is reproducing classic pin-up scenes with self-portraits, so she has an extensive wardrobe of vintage clothing. The woman, Stephanie, came back at the end of the show with her boyfriend and we talked about burlesque and our experience with lessons, and we took pictures of each other so she would have a photo of Agnieszka's hat. Her email address is taken from a line from the Beatles' song "Lucy in the Sky with Diamonds" since she's a Beatlemaniac, and led to us singing the song at 1:30 in the morning in a mostly empty subway station.
Here's a photo of me and Agnieszka (and her vintage hat) on the subway on the way home. I'm looking at the reflection of my digital camera in the train window opposite us so I can frame the shot properly - I just forgot to look back at the camera when I pressed the shutter.