It's now officially New Year's Eve, and as is my custom on this blog, it's time for a year-end recap. It seems every year these recaps read like high drama, and this year is not much different. As the famous fortune cookie says, I seem to live in interesting times, which definitely gives me mixed feelings.
So obviously the big event this year was my surgery on January 8, which impacted many things for the entire rest of the year. I was out of work and mostly housebound for six weeks, and then dealt with some pretty major physical discomfort for about six months after that. I also had some related skin ailments that required treatment by a dermatologist, plus I started a regime of allergy shots in October. So in a sense, it's been a year of healing for me, physically speaking.
The surgery impacted my work life because I took most of my paid time off at the beginning of the year, meaning I had very little time off after February. Fortunately for me, I suffered no major illnesses this year that would have required me to take unpaid leave. However, I did have a second fire in my life that completely destroyed my apartment, just as I was starting to get comfortable there.
While most of my smaller possessions, like books, DVDs, clothes, kitchenware, bathroom stuff and most importantly my three stuffed animals survived (since the apartment was not so much damaged by fire as by smoke, water and the roof collapsing), the larger items did not. I lost my new bed, a new Dell computer that I'd only had a week, my 50-inch plasma TV, my $1,200 Yamaha receiver and several home theater components, a new recliner and my old sofa, and countless other things. All the electronics and most of the furniture I lost were less than six months old, which was really tragic because I didn't have insurance (now I do).
It was during this time period in the early part of the year that the most significant change (other than surgery) occurred with my personal relationships. It was a time that saw some of the highest highs and the lowest lows in my relations with my new family. It was also a time when I started to open myself up to meeting new people, both as potential romantic partners and platonic friends, the most lasting being my friend Agnieszka who lives about a half-hour away from me.
From Memorial Day until the Fourth of July, I explored a polyamorous relationship, and while it didn't work out for everybody, it introduced me to the concept that I am continuing to explore on my own. There is a lot about polyamory that appeals and makes sense to me, but it's a pretty academic exercise unless I get out there and start meeting more like-minded people.
I've also had my share of entertainment this year, as any of my readers know. I've seen two operas, several rock concerts (including my all-time favorite band, the Police, and Porcupine Tree twice), Rent on Broadway and added several museums to my resume (the Museum of Modern Art, the Whitney Museum, the Princeton Museum, the Montclair Museum, the Brooklyn Museum, the New York Historical Society) in addition to several visits to our beloved Met and American Museum of Natural History. Here is a picture of the Temple of Dendur at the Met that I took with my phone camera several months ago that I was recently able to put on my computer desktop, just because I think the lighting is so cool: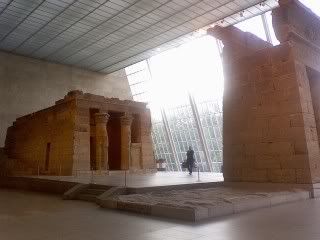 The latter part of the year from about Labor Day on settled into mostly a nice groove. I started my South Beach Diet again and lost some weight, although I've been allowing it to slowly creep back lately. I took an acting class in the middle months of the year that I enjoyed for a period of time. I met a couple new friends, Lori and Karina, who I hope to grow closer to in 2008 and beyond. I had a quiet reunion with the other Agnieszka from my past in November, whom I hadn't seen in 17 years. I've worked hard to rebuild my apartment, my home theater, and my media libraries from the fire in March.
As I enter the secular new year, the only significant thing happening is that I'm interviewing with a new PR firm for a job. I had four interviews this past Thursday, and although I don't think they are in any hurry to make a decision, I do feel that I'm still a viable candidate for the position. I'm not really looking to leave my company, but more money is always welcome to offset the expenses of living in this area. Whether I get a new job or stay with my old one, at least with the start of 2008 I will have my full complement of paid time off to take some breaks throughout the year, something I sorely missed last year.
How do I sum up 2007? A roller coaster ride, a phrase I used in earlier blog entries to describe the events of this summer with my family, and to a lesser extent with work and fallout from my second house fire in less than two years. It almost seems as soon as I've turned a corner and I expect life to start settling into a groove, things get all wacky again.
I've been thinking a lot lately about my life, and what I want out of it. This year has definitely been another one of tremendous growth and change for me - perhaps not to the scale of the preceding two years, but necessary as a result of the groundwork laid before. As I enter 2008, it occurs to me that the road I've traveled for the past three years will begin to vanish, and I must now chart my own course without doctors, caretakers or other preordained signposts to guide me. The time has come for me to follow my own counsel on where life takes me, and take responsibility for my own happiness. Goddess grant me the wisdom and courage to take the right path.
Happy New Year everybody - may your future be full of light and joy. Thank you for reading.
Michelle