First off, happy belated midsummer to everyone - the solstice was last Thursday, and we were thinking of going to the Met on Friday to celebrate as we did last year, but in the end decided to mark the occasion differently.
Wednesday night my friend Agnieszka and I went out to dinner with one of her new friends, Carol, at a sushi restaurant in Caldwell, NJ. Carol works at one of the many large pharmaceutical companies in this state, and she's newly single (two months) after ending a 10-year relationship. Coincidentally, my last relationship also lasted 10 years (officially) although the breakup was a lot less painful than Carol's obviously was, with a lot more anger than sadness on my part. But I've pretty much let it go since it wasn't much of a relationship except in appearances by mid to late 2004, which is almost three years ago.
Friday night I created a Porcupine Tree mix CD for Bee that I had previewed for her on my iPod last week on the way down to Sneddon's. I had to make some adjustments to fit on a music CD, so the final track lineup goes like this:
Fear of a Blank PlanetTrainsHaloArriving Somewhere But Not HereOpen CarProdigalLazarusBlackest EyesSentimentalAnesthetizeCollapse The Light Into Earth
Saturday Bug went to the hospital to visit her ailing grandmother, while I went out shopping during the day for some essentials and to find a new backpack-style purse. I went to Willowbrook Mall to look, stopping at Sephora to pick up some Stila eyeshadow for a case I thought I still had (but later found out that I'd forgotten it had been discarded after the 2007 fire), plus some of my
Clinque mosturizer
and a new scent by
Vera Wang
in a roll-on applicator. I think I prefer this method to keep the spray from irritating my sinuses, which have been giving me trouble lately. I also found some
lavender massage oil at The Body Shop
for Bee, her favorite scent. No luck on the purse though, and I was getting a major case of shopping fatigue, so I went home for a while to cool off.
I went out again and stopped by TJ Maxx on my way to my family's house and found a suitable purse - it's tan leather and has zippered compartments. I would have preferred magnetic clasps, but zippers are more secure, so that's okay. Back at home, we took advantage of the cool, dry weather to have a backyard barbecue, grilling hot dogs and veggie burgers as we watched the sun go down and the fireflies come out. In the evening I gave Bee a massage using her new oil while Bug went to Blockbuster to get a copy of
Dogma
, which we decided we could all sit together and watch. There seems to be a bit of a Kevin Smith vibe here lately that carried into Sunday.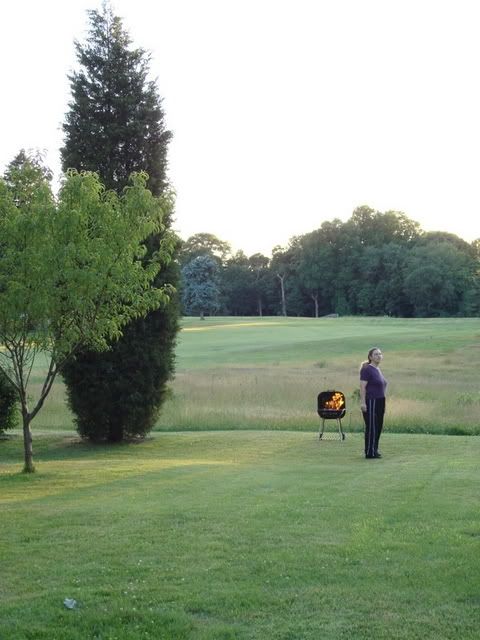 Sunday Bee, Tara and I went out to Sandy Hook beach while Bug stayed home to get some writing done. This time I took extra-special care to protect my face from the sun, wearing contact lenses so I could wear sunglasses all day, and borrowing hats and visors from Bee to shade my face. Luckily it worked, and I suffered no ill effects from being out in the sun all day long.
Our first stop upon reaching central Jersey was to pay a visit to the Quick Stop where Kevin Smith filmed
Clerks
. There was a poster of
Clerks 2
in the window that he had autographed for the store owners. We went inside to buy some food and drinks, and it looks pretty much the same as it does in the movie, except in color. All the time I'm in there, the classic lines "salsa shark" and "cancer merchant" are floating through my head. The clientele of the current store are of a similar bent as in the movie - one guy came in without a shirt and with his pants slung low around his hips, and a young woman came out with a miniskirt and cropped top that left little to the imagination.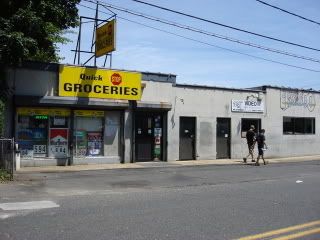 Next we visited the
Twin Lights Lighthouse
, which has a commanding view of Sandy Hook and the New York skyline in the distance. We climbed up the steps of one of the lighthouses, and it reminded me on the climatic scene in
The Rock
- I think it's the first time I've ever been inside a lighthouse. On the way down, we indulged in
a little freegan-ism
by picking up an antique telephone chair that someone had left on the side of the road with their other discards, intending to clean it up and reuse it.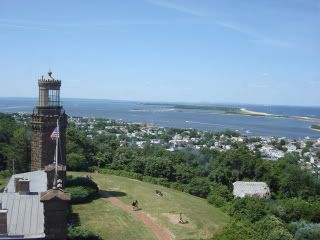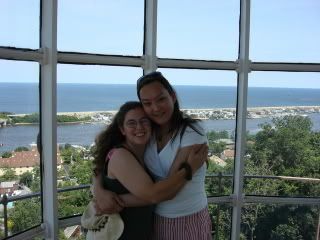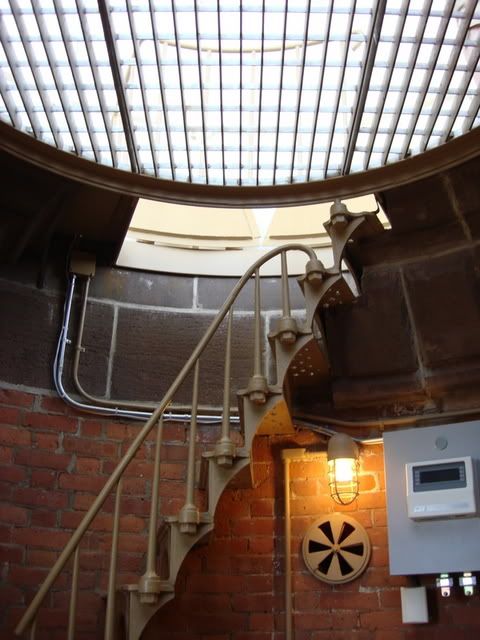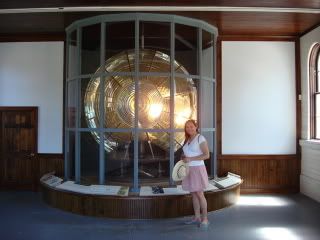 We eventually made our way to the beach, where Bee and I took a dip in the surf, which was cold but not as cold as we expected. We all took a walk along the beach to look at shells and rocks, and watch the seagulls drag dead fish onto the beach and fight over them. Afterwards we had hot dogs and fries at the snack bar and strolled over to the bay side of Sandy Hook to look at tidal pools and saltwater marshes. We saw horseshoe crabs and even a little bunny rabbit running among the shrubs and reeds. After all the walking in the sand, we were pretty exhausted by the time we got back into Yoshi for the trip home.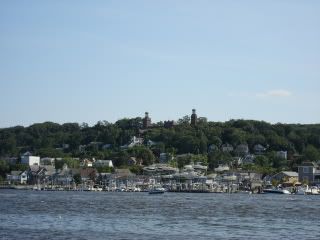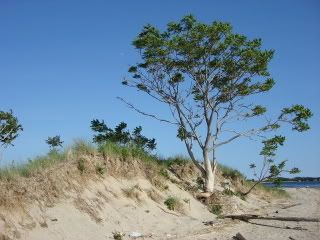 We stopped at Stewart's for dinner, and while we were waiting at the counter for our food, our public displays of affection among the three of us evoked mixed responses from other patrons - some positive, some not so much. In the end, it made us all realize how much we love our lives and our family, and what a rare thing such happiness is in a world of close-mindedness and conformity, and how important it is for us to continue to build on it each day.