Tonight I joined my friend Agnieszka and her friend Zach, who is visiting from Austin, Texas, for some late-night fun in the city. They got dressed up in some 1940s-inspired clothes, while I wore a faux-corset top and a blue satin sequined skirt that I bought years ago in Houston and haven't worn until now. I was going to wear it to my friend Joanna's wedding last year, but since I got stopped by a freak blizzard in Ohio I never found another excuse to wear it (
"Blizzards and waterfalls" - March 10, 2008
)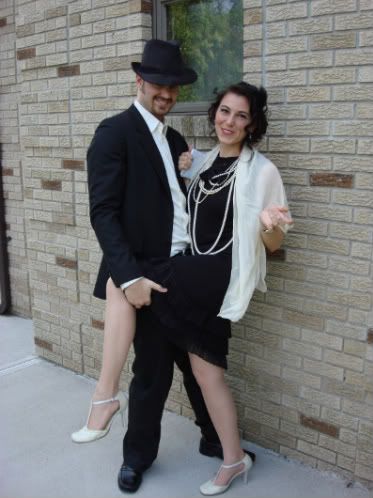 We started out at our old burlesque studio
the Slipper Room
where there was a student showcase event, when new graduates of the school take the stage along with some veterans to put on a show. We managed to grab front row seats and ran into a couple of our former classmates performing there. This is Rosie, in a beautiful sequined gown and feather boa: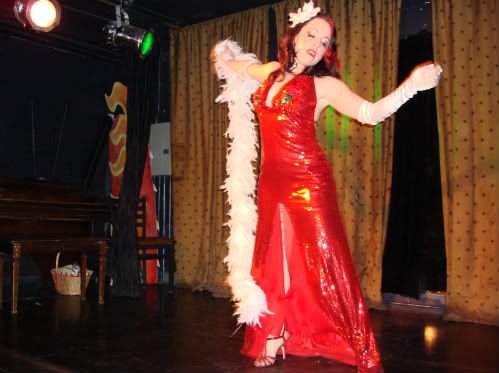 This is Nikita (who also lives on Staten Island) and had an absolutely drop-dead gorgeous beaded costume, complete with tail feathers that came off a few at a time: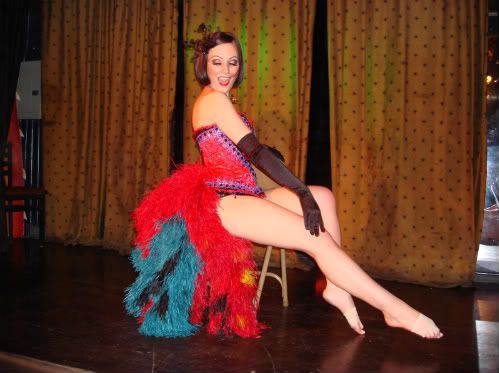 One of my poly friends, Linda, who has been to my women's group and was at Poly Pride last October, performed in a group dance with members of her poly family to the tune of "It's Raining Men," and it was nice reconnecting with her as well. When I told her I'd taken classes at the New York School of Burlesque, she wanted me to join their group in their next performance, but I demurred. I'm way too shy to take off my clothes onstage!
I also met and chatted with a striking young woman named Elle who is from Sweden, and has performed burlesque overseas, but will make her U.S. debut on June 17, the same night as the next Polyamorous NYC meeting. Hopefully I will get to catch her performance in a couple of weeks. Linda was kind enough to take this picture of us - her skin is so pale, she looks like a vampire next to me!
In the middle of the second set, we left the Slipper Room and went down to Rector Street to attend
Shanghai Mermaid
, a floating party of sorts (meaning it moves from place to place) that my friend Stephanie invited us to - we met her earlier this month at the City Winery (
"Burlesque show at City Winery" - May 9, 2009
). We met her inside and chatted for a bit before checking out the second and third floors to see what was happening.
The best part about the party were some of the extraordinary costumes - like this one from one of the performers dancing above the bar - how big do hat boxes come anyway?
The not-so-good part was the lack of air conditioning and the overcrowding around the performance area on the second floor, where a speakeasy band was playing. The third floor had a projector playing the 1931 Greta Garbo movie
Mata Hari
but little else. Although there were some interesting and friendly people there, there wasn't a lot of entertainment. Stephanie confirmed that this iteration of Shanghai Mermaid was not nearly as good as the one she attended in January, but it was nice seeing Stephanie and meeting some of her friends.
Tomorrow it's back to my quiet life with my family, with dinner and card games at my place, then to see Pixar's
Up
at the movie theater in the evening.