When I think about it, Wicked Faire is practically the only thing on the calendar that's been consistent for me in the last four years. Even my birthday in 2011 was a non-affair, although it had meaning to me. Holiday celebrations have been all over the map, literally. But every year since 2011, I've looked forward to going to Somerset, NJ, listening to emerging artists, engaging in a little kinky fun and seeing all the passionate freaks and geeks at the Winter Wicked Faire.
This is the first year that Puck didn't go with me. Puck is focusing on finishing up school and kind of burned out on cons in general. When we talked about it at Christmas, Katie expressed an interest in going, so we made plans to go ourselves. I tried to get some other people interested, but everybody seemed to have other plans – even my EMT friends like Aaron and Jaz who normally work Jeff Mach events were at other events this year. But that turned out to be OK because I started getting sick on Friday so my energy was a little low, and since this was Katie's first con ever, it was nice to just see it through her eyes and not have to worry so much about scheduling for multiple people and wrangling a group for food.
Katie took the train out to Princeton on Friday where I picked her up and we had a brief tour of Nearing headquarters where I work. We picked up some food and drinks from the leftovers in the cafe to supplement the groceries I'd bought earlier in the day and headed up to Somerset. We arrived around 9 pm and had some time to check-in at the Doubletree and wander the vendor booths before Ego Likeness performed at 11 pm. Afterward, I said hello to Donna, the lead singer, who remembered our chat from last year when I got all their CDs autographed.
The biggest disappointment this year was that This Way To The Egress did not perform. I love their performances with the White Elephant Burlesque Society. And in fact, Katie and I ran into Viktor Devonne, one of the principals, in the stairwell right before seeing them perform onstage. We saw a lot of burlesque performances over the weekend, and many of them were really fun!
Katie and I discussed sleeping arrangements beforehand, something I do with Puck before every Wicked Faire. I originally couldn't get a room at the Doubletree, so I joined the waiting list and got a reservation at the Bridgewater-Somerset as a backup plan. Then a few weeks ago, one of my FetLife friends from New Haven (yet another Katie) posted that she wasn't able to attend WF so her Doubletree room was available. I got in touch and we managed to transfer the reservation to my name and I canceled my other room at the other hotel. Then a week before the event, the Doubletree contacted me and said some rooms had come available, so I switched our room from a double to a king bed, since it was going to be just the two of us.
On Saturday morning we planned to go to a Bondage 101 class, but found out it had been canceled because the room had been closed by the fire marshal. The evening classes were moved to a different room, so we saw a rope demo by Goddess Thain later in the afternoon.
We attended a couple of lectures by Brian Thomas and Ray Witte about the famous Edison vs. Tesla feud (they are big in the steampunk fiction world) and another session called Han Shot First: Creating Anti-Hero Characters. We also took the shuttle over to the other hotel that was hosting Voltaire's Necro-ComicCon, a sister event to look at their vendors and listened to a lecture on demonology. I was kind of losing steam at this point so we came back to the room to take a nap in the early afternoon before some more events, including perennial performer, the Wandering Cellist.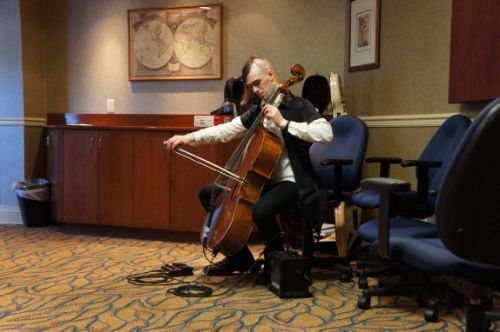 We tried to find Ichiban, the Japanese restaurant I go to every year, for dinner but I couldn't find it after driving around a bit, so we ended up at the Somerset Diner instead. While we were looking at the menu, Josh texted me from Atlantic City a photo of Liz eating a burger, so I texted back a picture of Katie eating her massive Brooklyn Burger (that looked bigger around than her head).
We came back to the event to see Voltaire perform, and that was a lot of fun. I actually enjoyed his choir singing "When You're Evil" better than I have in years past, maybe because a lot of them were actually dressed up as evil and nefarious creatures and he did a better job of leading them. His performance was actually pretty poignant and thoughtful at times, something I'm not used to seeing from him.
Sunday morning we woke up as late as we could possibly rise and still check out on time. There was a Tea Dueling competition that was fun to watch, and Katie bought a few things for her mom and Lillian before we made another attempt to find Ichiban for lunch and this time we succeeded. The trick is that it's closer than I always think it is.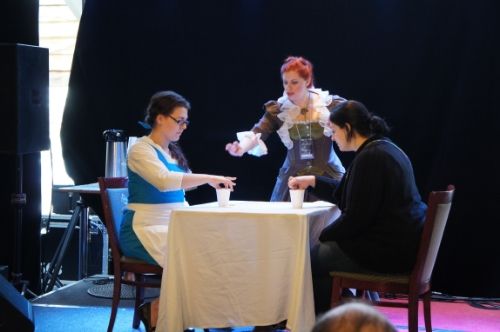 We came back and spent some time chatting with our friends at the Agreeable Agony booth and trying out their toys. I know Kiernan from past WFs and the parties we used to go to in Massachusetts when I first got into the scene, and Mel says we've met before but I don't remember them. Kiernan and other tops gave us some advice as well. It was a very instructive semi-private lesson.
We drove back to Katie's home in Brooklyn and took advantage of the mild weather and remaining sunshine to take a walk to the frozen lake at Prospect Park and zigzag back through the neighborhood. I stopped at a pile of old records that someone had left out for disposal and picked up a few, including Frank Sinatra's Columbia reissue of "Songs for Swingin' Lovers" and the original movie soundtrack to "My Fair Lady." We ordered delivery of some burritos and flan for dinner and talked a bit more until it was time for me to head home, bringing our 48-hour adventure to a close.