It's been a fairly eventful 24 hours, and my period of hyperactivity this month is slowly coming to a close, although one never knows what tomorrow will bring.
Yesterday in the midst of running my usual errands, I bought a new tennis racquet, a
HEAD Metallix 6
because I was tired of using Tara's outdated one when we play. This racquet seems to be pretty close in design to my old Wilson Hammer 2.6 that I lost in the fire of 2005 (and which is long discontinued) - top heavy, extremely stiff, 115 square inches in surface area, and a wide beam design for stability. I have high hopes that it will suit my game once I get to try it out.
In the evening my family went out and saw
Star Trek
again at the free movie theater. Unfortunately, we seemed to be surrounded by talkative teenagers who felt compelled to hum along with music and make snarky comments about the movie. Plus there was an unhappy infant in the back row whose parents felt entitled to see this movie, even if it meant subjecting everybody else to a crying baby. But we muddled through and enjoyed the movie anyway. I, however, managed to lose a dental crown from eating too much popcorn, which was extremely annoying. So the next morning I called my dentist and made an afternoon appointment to get that fixed.
I went into the city by bus, first to the dentist, and then met Lori at Macy's in Herald Square where she was doing some clothes shopping. Then I went down to the LGBT Center for my Polyamorous NYC meeting, where I filled in as the presenter for Katelynn Cusanelli, who was a no-show for our highly publicized event. It was a smaller crowd than I was expecting, so that was probably better for me. I was surprised to see my friend Angel, who works at the Metropolitan Museum (
"Limerancing through life" - Feb. 27, 2009
) and Afiya, one of Polina's friends I met last New Year's Eve at her house (
"2008 in review" - Jan. 1, 2009
). My friends Buck, Kyle and Simon from Open Love NY were there to support me, and Buck was kind enough to take pictures for me: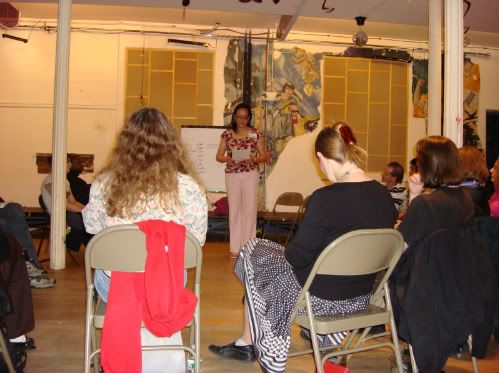 Everyone seemed to enjoy the presentation and I got lots of compliments from the Board members and my friends, but naturally I thought I could have done a lot better. I didn't have very much time to prepare, and I was actually pretty nervous. I think I would have been even more nervous if Polina was there, but she was feeling too sick to come into the city.
Angel and I rode the subway together back to Port Authority and got caught up with each other's lives - she recently returned from Australia where she had a three-week concert engagement as an opera singer. Once I get a job, I definitely want to see a few more operas and shows - I miss the energy of a live performance.
Tomorrow Tara and I are going to visit MOMA once more before my annual membership expires at the end of the month, so I'll have more pictures to post then.