This is post #300 in this blog. Ah-ooh! Ah-ooh! Ah-ooh! :)
It's been a super-busy three-day weekend, since I took Friday off work to pick up Polina from school and take her back to Manhattan to see Porcupine Tree in concert. I had reserved a ZipCar, just a basic Nissan Sentra, but ZipCar called me the night before and said that the car required service, so they offered me a free upgrade to a Volvo S40 sedan in silver. It was a nice perk since it was brandy-new with less than 4,000 miles on it, and had a sunroof, leather power seats and a nice stereo with iPod connections. Plus, it was just too cool driving a car so similar to
Edward Cullen's Volvo S60R
from the Twilight series.
The concert was a terrific event, and undoubtedly the best of the three concerts I've seen from the band, although I was a little disappointed not to hear Halo and What Happens Now?, which are two of my favorite songs. But the visual effects were so much more impactful, with a huge projection screen put to excellent use on several songs, notably Time Flies (my favorite from their newest album, The Incident). Also, it was the first time for both of us in Radio City Music Hall, which is the largest venue they've ever played in New York - what a beautiful art-deco palace it is! Best of all, RCMH is only three blocks from my apartment, which was very convenient.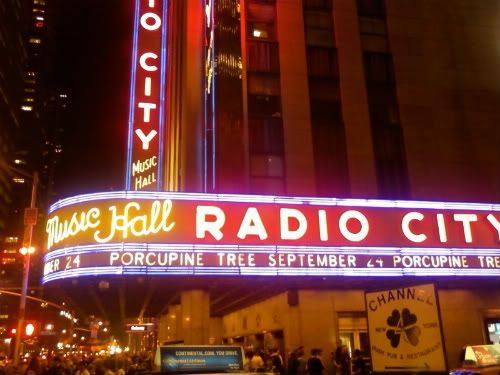 Between the second and third sets we went down to the lobby to buy souveniers and meet up with the band's agent, Joshua, whom I met through my friend Jennifer at work. We met him and his boss and chatted about the band for a while before returning to our seats. After the concert, we picked up some banana pudding and steamed milk from Magnolia Bakery in Rockefeller Center on the way home, where we took turns reading our C.S. Lewis book in the upgraded playpen before bed.
Here's the set list for the P-Tree show, in case there are any die-hard fans reading:
First Set (Semi-Acoustic)
Stranger By The Minute, Small Fish, Pure Narcotic, Black Dahlia, Futile
Second Set

Even Less: Full version, Open Car, Lazarus, Tinto Brass, The Sky Moves Sideways (Phase One), I Drive the Hearse, Bonnie the Cat
Third Set
Occam's Razor, The Blind House, Great Expectations, Kneel and Disconnect, Drawing the Line, Dislocated Day, Time Flies, Anesthetize: Part 2: "The Pills I'm Taking", Up the Downstair, Sleep Together
Encore
Arriving Somewhere But Not Here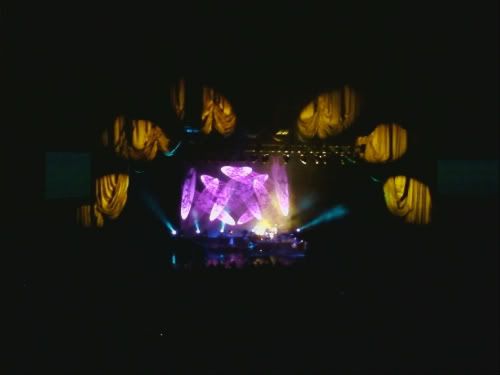 Saturday morning Polina woke up early to catch a train back to school and I took a bus up to Tuxedo, NY for the New York Renaissance Festival, my third time at this event as well. I got my hair braided, which makes me look so different from the front - I really didn't like what I look like with my hair all slicked down, but it was pretty from behind.
Unlike past RenFaires, I spent most of this one shopping for stuff, and my friends were a big help in choosing clothes. I got a full-length burgundy overskirt with lace-up sides, and a black satin underskirt with a subtle star pattern. I also got a cream silk wench top with princess sleeves and a subtle stripe pattern in the weave.
I found a nice pleated purple skirt for Polina to match with her corset, and most importantly, I found a new amulet for the new year, which I will charge on Samhaim next month.
Today I continued the clothes buying spree with a trip to Loehmann's, since September I get my birthday discount (even though I celebrate my birthday in July). I spent a few hours at the flagship store on Seventh Avenue at 16th Street, and a lot of time in the communal dressing room choosing things. In total, I bought seven skirts, a dress, four tops, a pair of pants and earrings - practically an entire wardrobe heavy on skirts, which I've decided I should wear more of, especially in the winter when I can wear tights.
Afterwards, I went to Chinatown to pick up some groceries and went home to wash all my new clothes and sort through my closets to make room for all the new stuff by taking out the old things that aren't getting worn for any number of reasons. Those have all gotten bagged up and shoved in a corner behind the couch.
Now off to bed, and another busy week coming up. Goodnight.