The year was 1990, a lifetime ago when I was 21 and a senior at the University of Houston. One of the last classes I had to take to graduate was only offered in summer school and at 7:30 a.m. Monday through Thursday. I am by nature a night person and I was dreading this class like most people dread going to the motor vehicle office to get their cars registered.
On the first day of class, I saw Agnieszka sitting in the classroom. We were acquainted from working on the college newspaper together the previous semester when she was a staff writer and I was the opinion editor. Ten months my senior in age, Agnieszka achieved some notoriety around school because of her unique academic talent: she speaks seven languages, earned degrees in four different majors in only four years, and graduated at or near the top of her class in all four.
So we sat together in class day after day and afterwards, she had to wait for an hour before her next class began. Since that was my only class that summer, we started going down to the student commons area each day to wait for her next class to start. I would get a donut, and we would tell each other stories, sing songs, and I opened up to her in a way that I never had to anyone else before then. Thanks to our daily visits, I managed to make every early morning class all summer, and even got an A in the class (a slightly higher A than the one she received, in fact).
All throughout the fall semester we remained close. She would visit me at the newspaper office, sometimes we went to the library together. She later confided that she was actually married to a man everyone thought was her boyfriend, but by that time I was so over my head that it didn't matter to me.
On graduation night in December, I took her and her husband and her parents, who had come all the way from Poland to see her graduate, to the symphony to hear Rimsky-Korsakov's Scheherazade. Earlier in the day, I gave her a farewell present, a kaleidoscope. After the concert, we said goodbye and she disappeared from my life. After UH, she went to Harvard University and earned her Master's degree (and learning Japanese as her eighth language), then a law degree from Stanford, and became an attorney specializing in international project finance.
Of course, after she left, I was devastated. It literally took years before I could go for an entire day without thinking about her and missing her. The experience had many far-reaching impacts on my life, too many to chart in a single blog entry. But time does indeed heal all wounds, and in 2005, I found her using Google and we started catching up by email. Last year, we shared a single phone call, and last night we finally came full circle when we saw each other again in person for the first time since graduation night, almost 17 years ago.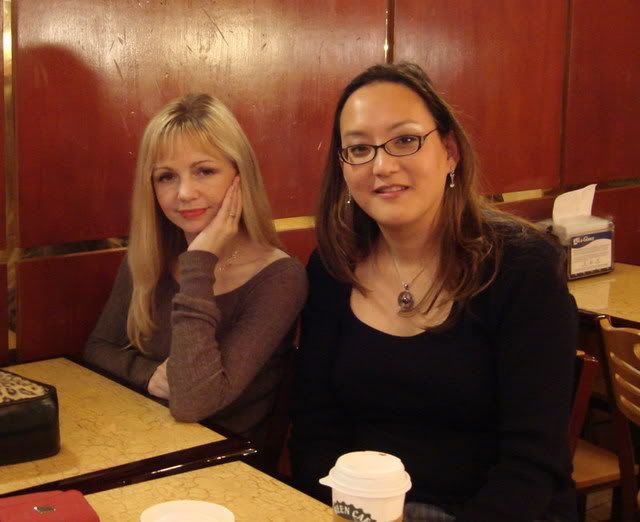 So after all this, how did it go last night? It was . . . amazing. We talked so easily, as if we were both 21 again, sitting in the university cafeteria, even though we are both very different people now. I even learned her middle name for the first time, and her birthday (which was this past Sunday). I was surprised when she confessed an attraction to me back in college. In fact, when we sat side by side during the concert, she remembers wishing I would reach out and hold her hand. But I think we agreed that even if we had been completely open and honest with each other about our feelings back then, it wouldn't have changed much. Today, neither of us is married any longer, but nor are we 21-year-old college students. Time will tell where our very special friendship goes from here.
Sometimes I ask myself why I allowed myself to fall in love with her, knowing I would probably get hurt eventually. If I could go back in time to that first day in class, would I still have sat down next to her, knowing the heartache to follow? The answer is yes.
Because that year we spent together was the happiest time in my life, a time when I learned what it means to love unconditionally, to risk my heart and allow it to be broken rather than hurt the one I love. If it's a choice between falling in love and getting hurt versus never loving at all, love is worth the risk. Life is about taking risks, not hiding in the safety of the shadows. You have to enjoy the time you have to the fullest, living in the moment, because you never know what the future brings. Somebody could be hit by a bus, hijacked by terrorists, or break your heart next week or next year - there are no guarantees. But if you go through life avoiding hurt, you will miss a lot of chances to be happy.
If I've learned anything, it's that if you're happy now, do everything you can to stay happy. Even if you know it will end, and the ending will hurt, don't let fear overcome your heart. Because eventually, the hurt goes away, and you will remember the happy days, not the sad days, for the rest of your life, and you will have no regrets.