So it was a very busy weekend for me, with a lot of driving through four different states - which is a big deal for someone from Texas. To put things in perspective for non-Texans, it takes approximately 18 hours to drive from Houston to El Paso, which is further than the distance from El Paso to Los Angeles. I should know because I made that drive by myself in 2005.
Saturday I took Tara to her final band rehearsal in Hartford, Connecticut. I spent part of the day at the local mall, just window-shopping and killing time. I came back when they had their lunch break and stayed to read my book and listen to them run through their entire two-set show once more. Their gig is at a Hartford performance venue this Friday, so we'll all be going back then.
Sunday I drove down to Fort Washington, Pennsylvania, a suburb of Philadelphia, to help out at the Second Annual Polyamory Leadership Summit. This gathering of about 45 poly leaders from all over the country, including several dialing in on a Webinar interface called DimDim, was a pretty massive undertaking. The purpose was to sharpen the focus of the polyamory movement and create teams that would undertake specific tasks and initiatives to serve the overall goal of effecting cultural change that will make polyamory a mainstream relationship option, along with heterosexual and homosexual monogamy.
I was given one of the most demanding volunteer posts for the event - moderating the Webinar audience by phone and Internet chat box and white board. This meant I worked closely with the in-room facilitator, as well as the tech team, getting documents uploaded, handling microphones, talking and chatting with online participants and getting their needs met. I had one ear hooked up to the phone line and the other ear open for what was happening in the room. One eye was on my computer screen monitoring the chat box, and the other eye was watching the activity so I could type in who was speaking and what was happening. So it was like being a combination court reporter and UN translator.
The hardest part was when online people wanted to address the group. We worked out a tech solution where we could broadcast their phone voices over the PA, but without two-way communication, so I would raise my hand on their behalf and introduce them to the room. We also had to have split-second coordination between me, David (who worked the mixing board) and another volunteer who handled the phones. We worked out a complicated series of hand signals so we could communicate efficiently in switching audio without causing feedback. All that activity, along with our intense and frantic pace of work keeping up with the moderator, impressed everybody in the room, and we got so many kudos during breaks it was almost embarrassing. But I'm so proud of the energy and dedication everyone put into making the event successful, and I'm glad I got to do my part.
Here's a photo of me and my tech co-pilot David "Slacker" Trask, who is the son of Robyn Trask, the managing director of
Loving More
, a Colorado-based poly non-profit: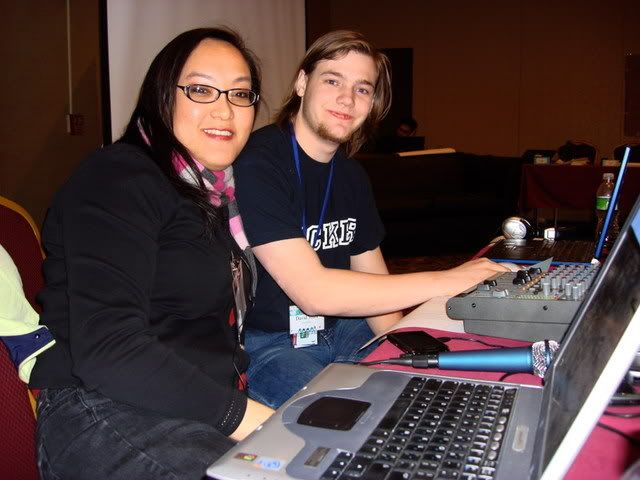 Here's one of me and my friend Lyndell, who I've mentioned in the past. She's going to be the lead in charge of putting on the next poly leadership summit, and I signed up to be on her committee to help with that. Lyndell and her ex-boyfriend Simon were the first poly friends I met at my first Cuddle Party at PolyPride 2007: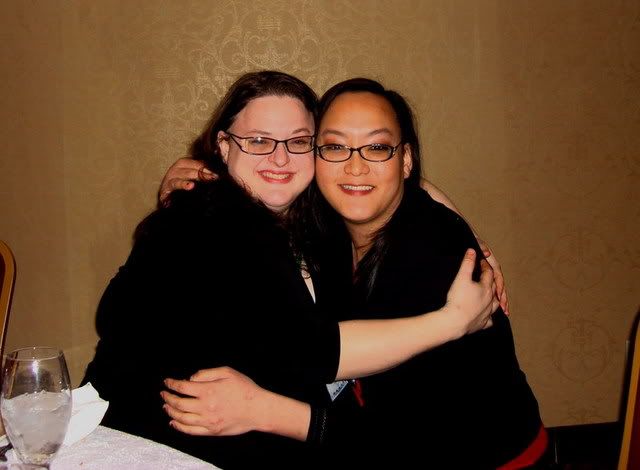 Here's a picture of
Birgitte
, past president of Polyamorous NYC (right), talking with Morpheus, a leader in the Pleasure Positive Movement and BDSM activist (and another member of our tech team):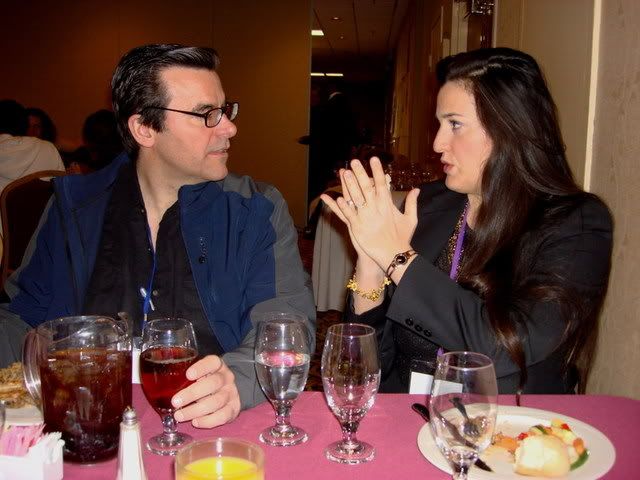 And here's a photo of me with
Diana Adams, Esq.
, an activist lawyer for sexual civil rights and former vice president of Polyamorous NYC: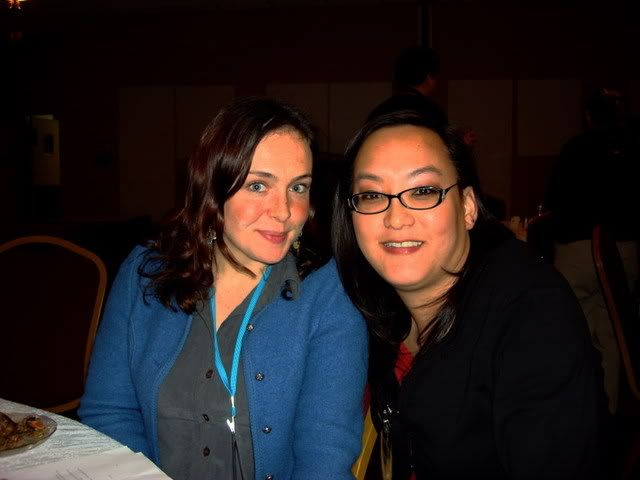 There were so many nationally known poly leaders in attendance -
Polyamory Weekly
podcaster Cunning Minx from Chicago,
Beki "Miss Polyamory" Rosenthal
from Florida,
Jim Fleckenstein
of Washington DC, Boston-area poly news blogger
Alan M.
, Baltimore activist and blogger
Anita Wagner
, Kenneth Haslam of the
Kinsey Institute
,
Cuddle Party
founder Reid Mihalko,
Woodhull Freedom Foundation
executive director Ricci Levy, and
Shara "Miss Poly Manners" Smith
were just some of the many leaders present. And most of the others have started or lead regional poly networks in their own right. It was pretty inspiring being in a room with so many dedicated and intelligent activists.
After the summit broke up Sunday night, we had a quick PolyNYC leadership meeting, even though it was past 11 p.m. and we were all exhausted. I think it's pretty telling that almost every PolyNYC leader was present at the summit except for the three present Board members. It was at this meeting where we decided to form a new group apart from Polyamorous NYC.
Kyle and I shared a room at a nearby Marriott Residence Inn, although we only got about five hours of sleep before heading back in the snow for the Monday session. We got about six to eight inches overnight, which made things a little treacherous on the roads, but we managed. Here's what it looked like Monday afternoon in the hotel parking lot: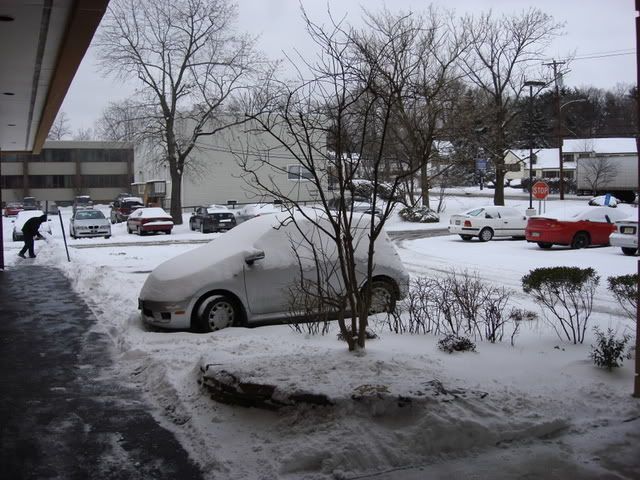 Fortunately, by the time I left in the evening, the snow had stopped and all the roads were clear for the two-hour drive back home. Today I saw
Milk
in the movie theater (we have free movies on Tuesdays sponsored by our local cable company) and it was just the right cap on my leadership summit experience, although it made me very sad. When I see the opposition to gay marriage across the country right now, it makes me realize, along with my own experiences with Tara, that we are in for a long fight to change our culture so that polyamory will be viewed as a legitimate and sustainable relationship choice.
But as Harvey Milk said, you gotta give them hope, and I have hope. Hope that someday people will be able to choose non-monogamy as an option without legal and social persecution. Hope that someday love without limits will be the norm. And I believe, with all my heart, that in the end, love will triumph over hate and bigotry.