My June social calendar is starting out pretty much the same as May, and it's Pride month to boot, which means marching in the Manhattan parade on June 28. So here we go with more frequent blog updates on my fun-filled life in work exile.
Sunday night my family took me out to see Pixar's Up in digital 3-D, and it was everything we've come to expect from Pixar. Lots of fun, and a few weepy parts too. Plus another fun short film involving cute cloud people and storks.
Monday night I went into the city to have an early dinner with my friends Angel and Kyle at
Cafetasia
, a Thai bistro near Washington Square Park. Angel is an independent consultant for
Brown Bag Party
which is like throwing Tupperware parties, except they sell sex toys, lubricants and accessories.
Afterward, I took the subway to Brooklyn to meet up with Anika for an evening of storytelling at an event called
The Moth
. It's a regular event where everyday people volunteer to take the stage and share a personal experience with the audience for five minutes. Judges rate the stories according to different criteria and the winners go on to later events with other winners to be immortalized on CDs and podcasts.
Tuesday I went to a couple of sporting goods stores to look for a new tennis racquet because I returned the last one (
"Public speaking" - May 20, 2009
) after trying it out and finding I didn't like it. The new one is a
Head Ti.S10
which is a discontinued design that I'd used once when I borrowed a Ti.S6 from Pearl's dad years ago. In researching the racquet, I found out that this Ti series license was purchased from Head by Sports Authority so they could manufacture them for sale in their stores - they are "legal fakes" in a sense. I also found a
discussion thread
that compared this racquet favorably to my old Hammer 2.6.
In the evening Tara and I played on a half-size mini-court owned by our township and the racquet did indeed play very much like my old racquet, but better because it's lighter and easier to maneuver due to a more advanced titanium/graphite construction. I can't wait to get it out on a real court and see how it feels on ground strokes instead of just volleys.
Wednesday I met Polina and her friend Katie at the Manhattan side of the Staten Island Ferry to have an outing. I'd met Katie at Polina's New Year's Eve party, so it was the second time we've seen each other. We decided to visit MOMA, since there were so many cool exhibits I wanted to show them from my last visit with Tara (
"MOMA visit" - May 21, 2009
). We had our breakfast/lunch at my favorite bagel place,
Ess-a-Bagel
near my old office, and walked over to the museum at the rain started to fall. Thankfully, Katie brought a small umbrella which she and I shared, while Polina cavorted in the rain (since she doesn't care as much about getting wet since her hair is so short now, I suppose).
Surprisingly, I ran into Storm's companion Jonathan in one of the exhibits, who recognized me despite me not wearing my glasses. I met him at the MTV party a month ago (
"Birthdays, MTV and Polina" - May 6, 2009
), and we'll probably see each other again on Friday, when they are scheduled to perform at Sidewalk Cafe.
From the museum we took the subway down to
Bluestockings
, an alternative bookstore, fair trade cafe and activist center for some coffee. There I met another woman I recognized from the MTV party, the unnamed woman sitting between Tash and Sarah in the group of young polys. I went up and introduced myself and showed her the picture on my camera. I'm rather amazed that in a city as large and populated as New York, I ran into two random people in a single day that I met at that MTV party.
From Bluestockings we walked a couple blocks to Happy Ending Lounge where Kyle was having his 46th birthday celebration at
Pleasure Salon
, a monthly sex-positive schmooze party held there. I brought our friends Kyle, Buck, Simon and Lyndell out to meet Polina and Katie, since Polina hasn't seen them since before she left for Argentina. The party had a superhero theme and Kyle is in costume with a cape, in case you were wondering.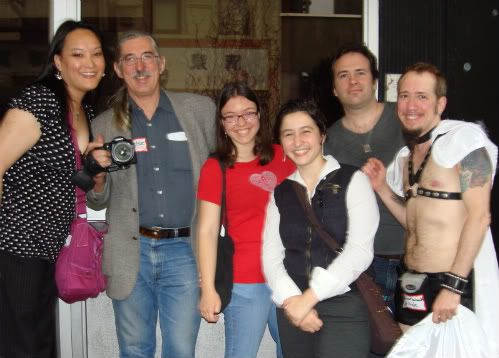 After the brief reunion, Polina took off to Battery Park City for a family event, Katie went home to Brooklyn and I joined my friends for Kyle's party for a couple hours before heading home.