Saturday was a continuation of Bee's birthday celebration with a picnic trip to Harriman State Park in New York. We drove up to Seven Lakes Drive, which winds its way through the park, and found a road closed due to a bridge being out. We drove around the sign and parked at the foot of the bridge and set up our picnic spot on an outcropping on the side of the road overlooking a lake. The sun was quite strong so we set up some umbrellas for shade.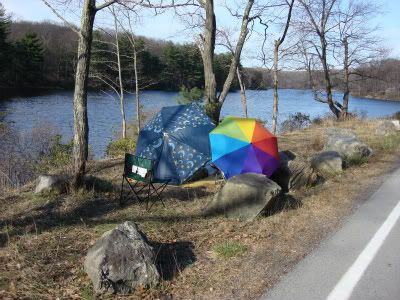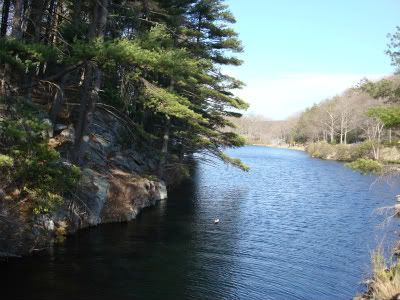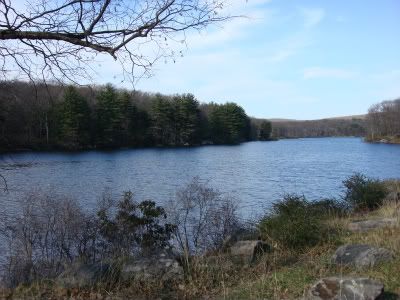 Bee, Bug and I had pasta primavera and fruit salads, while Tara had cheese sandwiches and potato chips. After eating, Bee opened some of her presents, which included a gift card for Nordstrom Spa from me. Tara walked around and took some pictures while the rest of us dozed either lying on the picnic blanket or in a camp chair.
We packed up and drove toward the city, stopping at a gas station to change our clothes before going into New York to see
Waiting for Godot
, the play by Samuel Beckett, starring Nathan Lane, Bill Irwin, John Goodman and John Glover. It wasn't quite what any of us were expecting, but it proved to be very thought-provoking and stimulated a lot of conversation on the way home. Once we got home and unpacked Yoshi, we had some ice cream cupcakes from Maggie Moo's and Bee opened some more of her presents before calling it a night.
Sunday I went into the city myself for a meeting with the PolyNYC Board to brainstorm on publicity efforts surrounding Katelynn's appearance at the May 20th meeting. There was some discussion on what we would do if she had to cancel on us, and if that were to happen, I volunteered to step in and do a presentation. Hopefully that will not be the way it plays out. The meeting turned into a two-and-a-half hour discussion about religion, GLBT issues and our personal experiences as GLBT people. It was quite interesting and experiences like this and like the dinner at Sylvia's are giving me a crash-course in gay and bi culture and understanding the issues around being a sexual minority in this country.
As I discovered from visiting the Google home page, today is Samuel Morse's birthday, the inventor of Morse Code. So appropriately enough, I invited Tara over to watch
Let the Right One In
with me, the Swedish vampire movie I love so much (
"One of the best of 2008" - March 11, 2009
). Afterwards Bee and Bug came over and we watched the season finale of Heroes, which left me feeling a little unsatisfied.