We went down to New Hope, PA for some sightseeing and shopping for Tara's birthday today. We had car trouble on the way down that was a little worrisome, but luckily it turned out to be a minor delay.
We parked in Lambertville and walked across the bridge over the Delaware River into New Hope. Both communities are full of small independent shops full of antiques and unusual pop culture items. Tara got a handmade wooden xylophone at Sojourn, a store that specializes in handmade imports from India and the Far East. I got a lovely red silk scarf made in India and a pair of blue glass bead earrings that reminded me of Murano glass from Italy.
We also visited a tchotchke store with all kinds of pop culture stuff, where I got some Hostess Twinkie-flavored lip gloss. Tara got some Charles De Lint books at her favorite bookstore, Farley's, and we saw a store that specializes in antique weapons that had replicas of all the swords in the Lord of the Rings movies.
Here's a photo of me on the bridge over the Delaware river, which connects New Hope and Lambertville: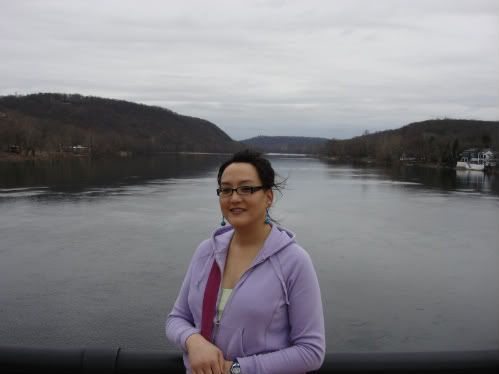 We came back and stopped at Harold's Deli for dinner, then back home for presents and ice cream cake. Birthdays are always fun, but it seems like it's been a long time since we had such a nice, relaxed family outing like this. Even with the car hiccup, it was quite a marvelous day.