I got back this afternoon from a fun experience marching in my first Gay Pride Parade in New York - or anywhere else for that matter. I met up with the Polyamorous NYC group on 54th Street at 11:30 a.m. Sunday, and we milled around and watched the first part of the parade until about 2 p.m.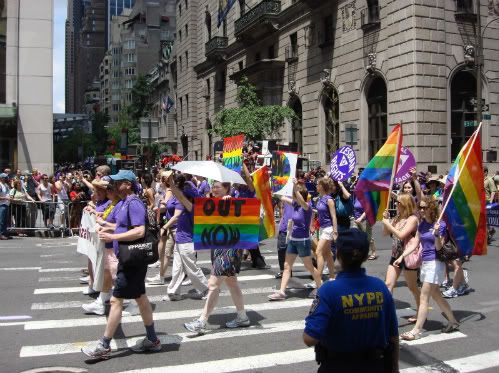 Polina was working that morning, and we were exchanging texts and phone call updates because it was looking like she wasn't going to make it in time to join us. Unlike past parades, the organizers were discouraging people from joining the parade along the route, so I was getting worried when we started marching and she still hadn't made it. Luckily we'd only gotten a block south on 5th Avenue before she caught up to us.
Some of my other friends who marched were Buck, Simon, Barbara and her partner Joe, and Linda and her partner, who were performing burlesque last time I saw them (
"Shanghai Mermaid" - May 31, 2009
). Barbara and Linda both met Polina for the first time, although they've heard plenty about her from me at past support group meetings. Our group of marchers came directly after the Gay Peruvians of the Americas float, whose members sported some extravagant costumes like this one made from ostrich plumage: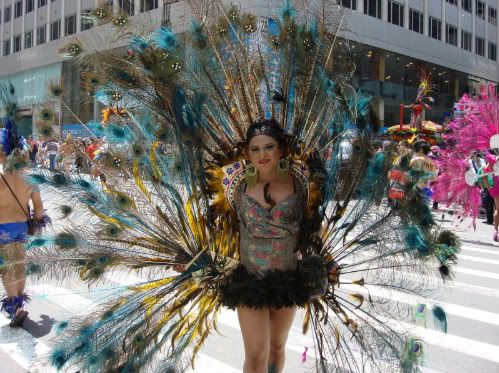 But we did have our big banner to walk behind, and Polina and I took turns holding up the center portion - Linda and Barbara can be seen behind her wearing hats, Linda in red: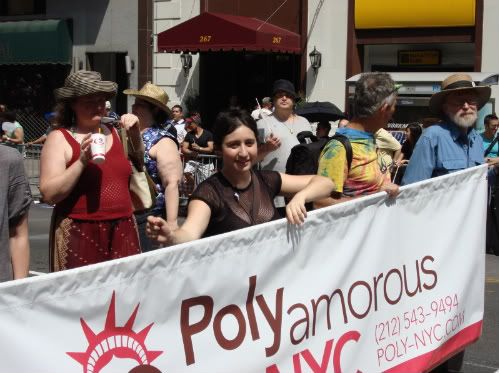 The loud and colorful group directly behind us was Straight Women In Support of Homos (SWISH):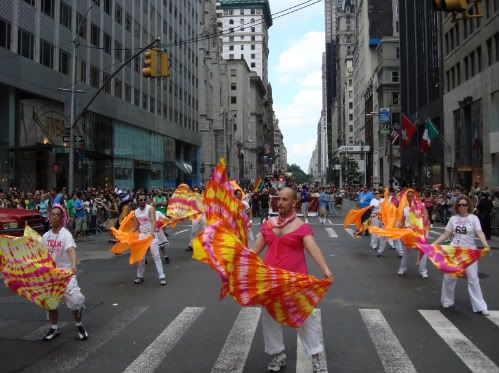 Between the Gay Peruvians and SWISH, our group was a lot smaller and more low-key than those immediately around us, but we tried to make up the difference using a bullhorn to broadcast poly cheers - everybody took a turn using it, including me: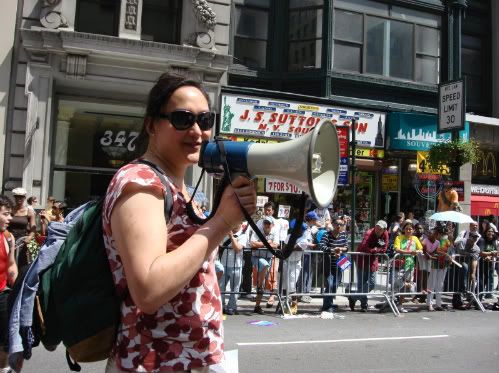 One of our members, Trace Wax, had a nice idea for a shirt: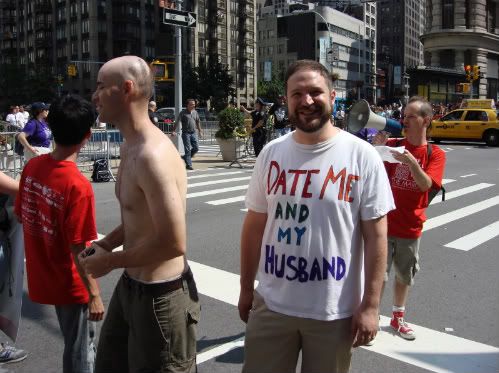 So we made our way down 5th Avenue, and found Katie and her girlfriend Lillian at 42nd Street in front of the main branch of the New York Public Library after connecting with them by phone. They were too far back from the parade barricades, so all we could do was wave to them. However, just before 14th Street, I was astonished that I was able to pick out my friend Angel waving from the mass of revelers, and I went over to give her a hug and introduce her to Polina. Then we had to run to catch back up to our group.
After the parade we went to Patrick's house (he's a PolyNYC Board member) for an after-parade party. Around 10 p.m. Polina and I left to drop by the SpiceNYC party at the
Taj Lounge
to say hi again to Angel, who was peddling her assortment of toys and intimate accessories at the event. We got back to Polina's house on Staten Island around 2 a.m.
The overwhelming feeling that I got from marching in this parade was one of amazement and hopefulness. This year is the 40th anniversary of the
Stonewall Riots
that sparked the modern gay rights movement. It amazes me that in my own lifetime, we as a society have come from complete ignorance and hatred of the queer community to the outpouring of support that I saw amongst the thousands of parade watchers yesterday. It gives me such hope that we as a society can change, and that we as people can learn to accept and value the many kinds of human diversity so that we can all make the world a better, more peaceful place in which to live.