I actually had a nice day today, but a crap weekend with Puck. Really don't feel like going into all the negative details, that's more private journal stuff. I don't vent in my blog the way Bonnie does. But there were definitely times this weekend when I was very close to suggesting changes to our relationship. As it is, we're just going to try and do better, and maybe give each other some more space for a while.
Today I went to a Ukrainian Easter egg party hosted by Storm, one of my long-time friends I met years ago when I first started the Poly Women's Group. She commandeered her ex Jonathan's apartment on the Upper West Side for the party - his place is amazing! It's a huge (by NYC standards) apartment with a large living room that holds a piano, a dining room, kitchen, bedrooms, etc. In fact, one of his roommates literally lives in the kitchen pantry! He's gay, so the joke is that he comes out of the closet every morning.
The bookshelves are full of old books (the place belonged to his grandparents) and there are all kinds of decorative items everywhere, and original art on the walls. Everything is so old and antique, so different from my modern furnishings (since nearly everything I own except my stuffed animals is less than five years old).
To make the eggs we used the wax resist method, which is complex and time-consuming. We used tools made from copper on wooden sticks that were much like fountain pen nibs. We scraped beeswax into the reservoir and melted the wax with a candle so it would flow through a tiny hole in the reservoir and we could draw designs on the egg.
Then we dunk the egg in an intense dye, starting with lighter colors like yellow and orange. The areas covered with wax retain the base colors through repeated dyeing with darker and darker colors. Then we had to melt the wax off by holding the egg itself near the candle and carefully wiping the wax away. I worked on my egg for more than three hours, drawing a meticulous Faberge egg-inspired design, but it didn't quite turn out the way I'd planned. Still, it wasn't bad for a first try.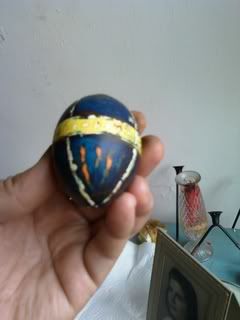 After my egg was done, I sat in the living room and listened to a group of musicians practice, a string quartet and a vocalist. They played some very avant garde music, like early Laurie Anderson but more classically inspired. It was quite interesting and entertaining.
Storm and I didn't get to talk much about personal stuff, but it was pleasant to see her again. And it's interesting hanging out in a room of people who work in theater and other creative fields, speak several languages and discuss philosophy, art and culture instead of current TV shows.