This weekend was a celebration of one of the happiest events of my life so far - meeting the three people I call my family here in New Jersey on October 14, 2005. On that date two years ago, I got on a plane from Houston (a midday flight because I overslept and missed my morning flight) and after many delays due to weather and air traffic congestion, I arrived at New York La Guardia airport and took a shuttle bus to Grand Central Station, then hopped in a cab to the Metropolitan Museum of Art.

It was about 30 minutes before closing time when I pulled up on Fifth Avenue in front of the museum, where I met Bee and gave her a quick hug before going in and meeting Tara in our special place (that is currently closed for remodeling - ugh). We got kicked out of the museum shortly after and drove home to pick up Bug and have dinner at our local diner. So every Oct. 14 we celebrate the anniversary of our first meeting in person at the Met.

Saturday Tara and I went back to that great museum in the afternooon and spent some time checking out a new African exhibit and a photography exhibit before walking across Central Park to grab a bite to eat.

We sampled hot dogs at Gray's Papaya and it turned out to indeed be a nearly-exact clone of our beloved Papaya King. I got a Subway sandwich and Tara had her daily allowance of saturated fat at McDonald's before walking over to the Beacon Theater to see the Porcupine Tree concert. We each bought copies of their new EP album Nil Recurring, which is only available at concerts and from their Web site. Unlike the last concert at the Nokia Theater in May we attended with Bee, we actually got to sit down in seats, although we had a couple of tall people sitting in front of us and again, we had to put up with clouds of smoke from potheads. The show was terrific, and the lightshow was even better than the last concert.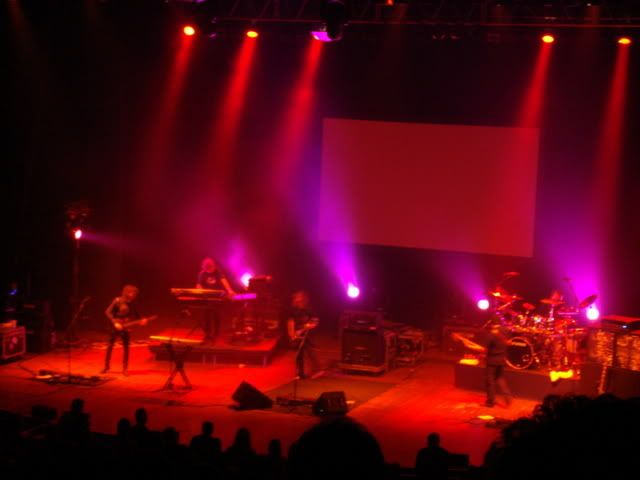 After the concert we went to a nearby Haagen-Daas for ice cream (yes, I took a night off the diet) and hopped a cab back to the Met. It was nearly midnight, and the deserted area was lit with preturnaturally soft lighting that captured the moment perfectly. We took some pictures and found a new spot to celebrate our anniversary, one that couldn't be closed for remodeling!



Sunday, the 14th, I honored the anniversary by repeating the mistake of oversleeping, but to much less deleterious effect. We were taking a day trip out to Cooperstown, New York, to visit major league baseball's Hall of Fame, so leaving about a half-hour later than expected wasn't too much of an inconvenience. We drove north and saw some impressive views of the fall foliage covering the Catskills region, plus some herds of very cute Holstein cows.

Upon arriving we sat in the bleachers of Doubleday field and watched two local baseball teams warm up before having lunch at T.J.'s Cafe. After eating, we sat and watched an inning of the game, seeing a no-hitter broken up in the third inning and a couple of errors in the field. It reminded me of the movie Field of Dreams, which coincidentally I was watching late Saturday night after the P-Tree concert.




We left the game and walked up the historic main street a few blocks to the hall of fame, where baseball's greatest players are enshrined and the history of the game is preserved for future generations. My family comes here a few times a year on average, but it was my first ever visit. Perhaps we will come back for Craig Biggio's induction ceremony in a few years.


After a quick tour of the hall, we walked out to Otsego Lake and took pictures of the magnificent mountain vistas surrounding the area. Words probably aren't necessary when we have such pictures to look at, so I'll just close by saying - Happy Anniversary Bee, Bug and Tara. <3