First, a photo promised from yesterday's entry. Here is a view of the tree and pond outside my patio balcony, three stories up, after Saturday night's snowfall: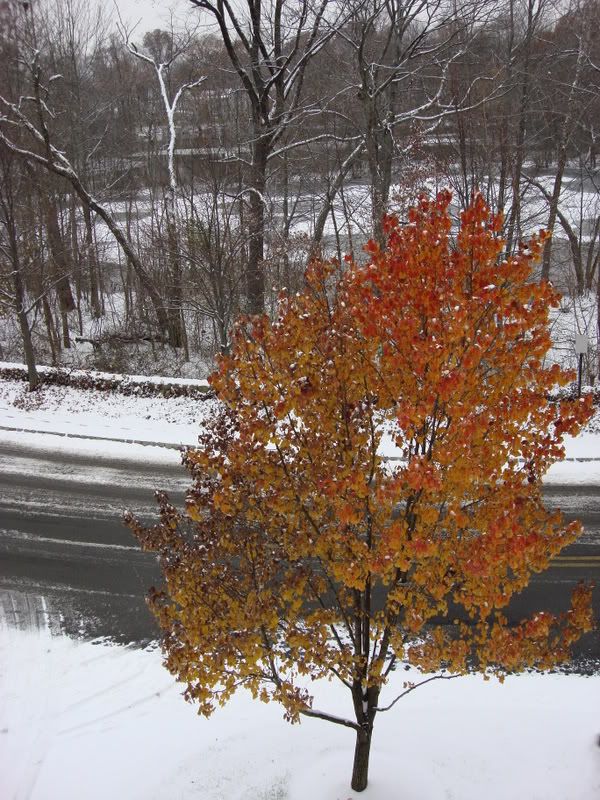 Last night Tara and I watched
The Fountain
at my apartment. It was the second time for me, first for her, and she loved it. Interestingly, the first time I watched it alone, I wasn't very impressed. It's a very deep movie, with overlapping themes of life/death/rebirth, masculine/feminine, mythological and religious symbolism, and love, all told in a non-linear format. The first time I saw it, it made me cry a lot, because there are a lot of powerfully tragic scenes. But this time, I was able to more fully appreciate the vision as a whole and I felt like I understood more of the symbolism instead of being run over by it like I was the first time.
It occurs to me how few times in my life I've sat down to watch a movie when I literally know nothing about it. Like most people, I like to have an idea what a movie is about before I spend time watching it. I got interested in The Fountain when I picked it up in a Barnes & Noble and read the description, which is quite vague, but interested me nonetheless. I rarely buy a movie sight unseen, but I put it on my birthday list, along with the companion graphic novel (which I haven't read yet). Now I'm finally glad that I did.
It occurs to me that some of my all-time favorite movies fall into this category of movies I saw without prior familiarity -
The Adventures of Baron Munchausen
,
Tampopo
,
Copying Beethoven
,
A Prairie Home Companion
, just to name a few. These are usually movies that someone else brings me to, since I wouldn't normally go to a movie myself without knowing something about it. Once in a while, this is a good experience, to see something new and outside the usual milieu, or else how can we grow and discover new things?