I got a second-round interview for the customer relationship management company based in Israel. The hiring manager is the UK, so I have to get up early on Monday for that call. This job would be based in Jersey City, so this would be one job opportunity that would not require me to relocate just yet. We'll see what happens.
Today I went out to Bridgewater, NJ to Duke Island Park for a picnic with an older polyamorous crowd I don't get to see very often. My friend Adele, who comes to my women's poly group, is a central figure, so she invited me. Most of the others I met either at the Poly Leadership Summit back in March (
"Poly Leadership Summit 2009" - March 3, 2009
) or at the one Thursday night poly munch I attended back in February (
"Limerancing through life" - Feb. 27, 2009
). Adele was actually at that meeting in February, but we didn't know each other by sight back then.
The weather was pretty crappy but we had reserved a covered pavilion, so it was reasonably comfortable. I brought some tortilla chips and organic salsa, and baked some of my famous Ghirardelli triple-chocolate brownies, which were tremendously popular, along with Adele's peach and blueberry pie.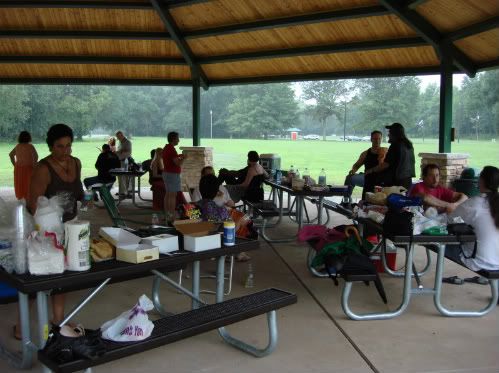 Here's a picture of Adele and our friend Bill - he was a volunteer at Poly Pride back in October (
"Poly public relations" - Oct. 5, 2008
) and also marched in the Pride Parade (
"My first pride parade!" - June 29, 2009
) yet somehow we've never actually been introduced, although Polina knows him. He's a former analyst in the intelligence industry, which is a fancy way of saying he used to be a spy.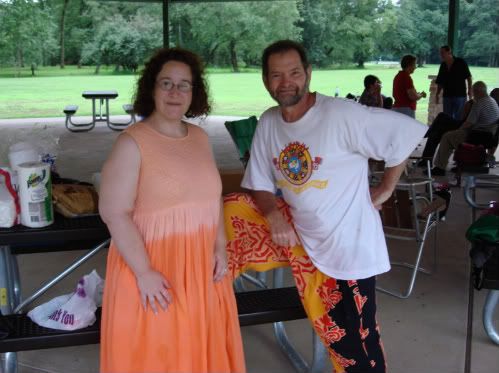 Adele and her husband Lance also brought their six-year-old Haley and she was a delight to watch. She couldn't stop making comments about my height! She dragged Adele out from under shelter to splash around in the mud with another Michelle, who is in a triad with a fellow (Rob?) and a black woman named Stephanie (who recognized me from a PolyNYC meeting more than a year ago):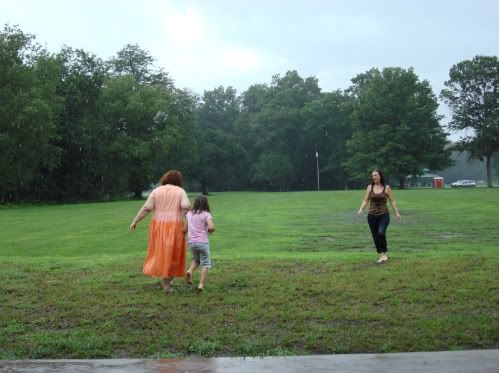 Here's a picture of me and Haley - she got really tired and grumpy at the end of the event, so she didn't feel much like smiling. She reminded me of Pearl at that age, who also used to get the same way. Or maybe it was her coming down from the sugar rush of eating three of my brownies. But I think I look cute in this picture, at least: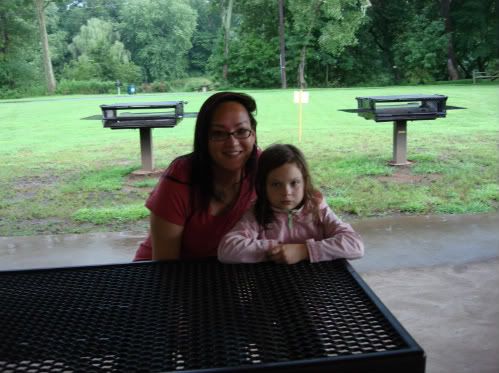 "Miss Polyamory" Beki Rosenthal
called my friend Mark Van Pelt during the picnic, and I got to talk with her a little bit on his cell phone. I got to know both of them during the Leadership Summit since Beki was one of the online participants I handled during the event and Mark helped me with communications.
Polina also called me on my cell using Skype from Switzerland during the picnic, and we had a nice chat about chocolate fondue, foggy mountains, and video blogging. She comes back to New York tomorrow and goes straight to college from the airport. I'm very thankful she convinced me to start using Skype - it's been a wonderful tool to keep us connected while she's been on vacation. Plus I even had a chance to chat with her Dutch boyfriend Peter, who visited with them for a few days. But I'm certainly ready for her to be closer to home so we don't have to deal with the six-hour time difference when we talk.
All in all, it was a fun day, despite the wet weather. Tomorrow I'll go to Costco and buy some more brownie mix, since I've run out.