Penny and I threw a fun party together celebrating my fifth birthday at Six Flags Great Adventure. Various people came and went for different parts of the party, and hopefully a good time was had by all.
We started at my apartment Monday afternoon when Penny brought her longtime friend Dakotah (whom I met last New Year's) and a new friend Kyle (whom she met at Otakon last month - he lives in Pennsylvania and is visiting her for the week) on a bus from Port Authority Bus Terminal. Shortly after, Ryan arrived in his own car - he lives about 20 minutes away from me in New Jersey. Polina met him at Otakon too; he's a polyamorous man in a relationship with a monogamous-minded girlfriend (who called him about three times that evening), and also quite experienced in the local BDSM scene.
Once everybody arrived, we took a quick swim in the pool before going to Costco to buy some pizza, salad and ice cream for dinner, and Penny bought a 1TB external hard drive for her new MacBook Pro. After dinner we spread out to watch a movie on the cuddle space I created by putting a raised air mattress in front of my couch and loveseat, like so: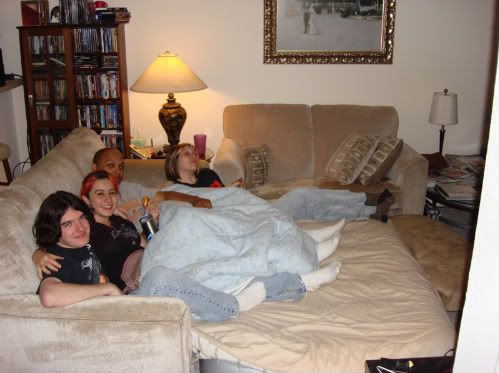 After the movie Ryan left, and the four of us remaining showed each other music and video clips on the Internet as we got ready to retire for the evening. After putting our guests to sleep in the living room, Penny and I stayed up a while and chatted in bed, finally going to sleep around 3 a.m. I was the first to awake at 8:15 a.m. and made omlettes, turkey bacon and toasted jalapeno parmesan bagels for the girls while Kyle had cereal.
We got to Six Flags Great Adventure just before noon and met with Penny and Dakotah's longtime friend Matt (nicknamed "Panda"), who took public transport directly to the park from his home in Brooklyn. Since we bought and printed our tickets at home, we went straight into the park, bypassing the horrendous ticket lines. Seriously, I don't know why anyone would come to Great Adventure without a ticket already in hand.
Of course, no visit to a Six Flags park would be complete without a picture with a famous cartoon character - how appropriate that we got this one with the most famous lover in the Warner Brothers stable of characters: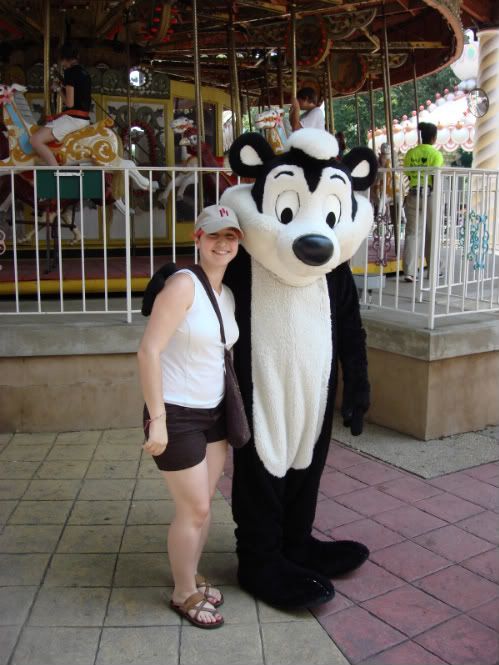 Our first rollercoaster was the Superman ride, which suspends you facedown in a flying position as it loops and rolls. Then we went to its neighbor, the Great American Rollercoaster. At this point we were getting really hot from waiting in lines, so we decided to go to the log flume ride to cool off. We were briefly tempted to try the "Guess Your Age/Weight" booth, but decided in my case it would be cheating.
After getting soaked on the log flume (Panda hit us with a water cannon at the end of the ride) we lined up for the Bizarro coaster, a revamped version of a rollercoaster originally called Medusa. They added flamethrowers and mist sprayers to represent Bizarro's flame breath and ice vision powers, but it's essentially the same coaster we've all ridden before.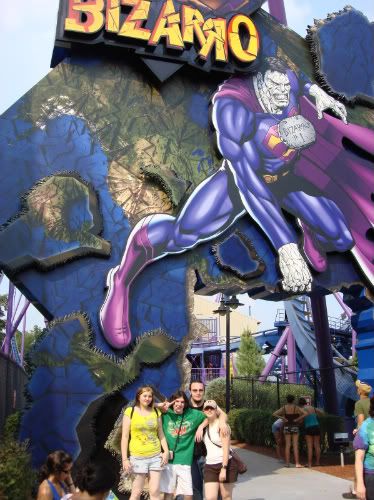 We took the sky tram to the other side of the park and rode Skull Mountain, a small indoor coaster, then to Congo River water ride to get thoroughly drenched (Panda received his due karmic justice by getting the most soaked). We took a break for lunch, and had some fun taking pictures of unusually shaped curly fries:
The line for Nitro was too long and slow, so we had to skip that one, which is a shame because it was my second favorite coaster in the park (Kingda Ka is my favorite, and it wasn't running that day) so Polina, Kyle and I went to ride Batman and a new indoor coaster called The Dark Knight while Panda and Dakotah wandered around together.
As the evening started to wind up, we played a few games to try and win prizes. I almost won a large prize shooting a basketball, but left the shot just a few inches short. Polina came in second on a Whack-A-Mole contest, so no prize there: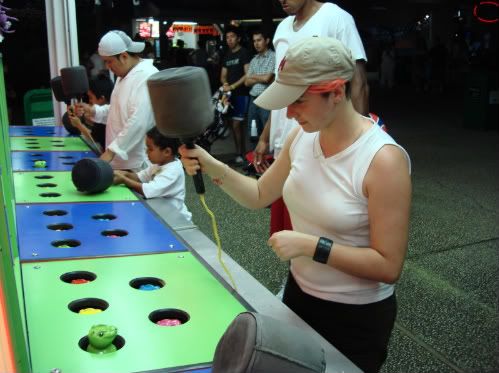 Eventually we all played a water gun shooting gallery together, and Kyle won a stuffed M&M man in gangsta wear: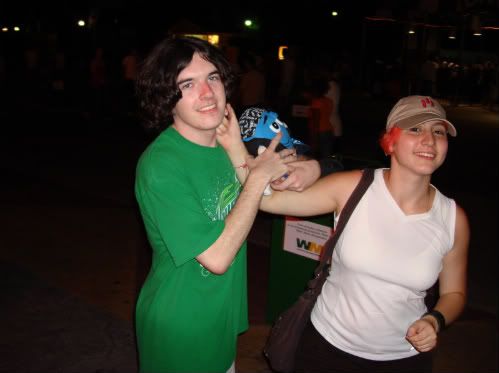 As I mentioned in past posts, originally our friends Reiko and Kerry were going to come, but both had to cancel at the last minute. I had intended to come home after dropping Polina and Kyle back at her house in Staten Island so they could have some private time together, but Yoshi started developing a bad engine vibration while I was dropping off Dakotah and Panda in Brooklyn, so just to be safe and not get stranded in the middle of the night, I stayed over at Polina's house. Her mom made us some dinner of pan-roasted chicken and spinach pancakes with some fresh cucumbers and tomatoes from their garden. We all went upstairs to share the air mattress, and I was pretty exhausted from the day, so I pretty much dozed off while Penny and Kyle stayed up to watch Eddie Izzard videos on YouTube. In the morning Penny and I woke up together and let Kyle sleep in while I left for home. Yoshi is running roughly, but made it home okay. He has an appointment on Friday to get checked out.
When I got to my apartment, I saw an injured kitten on the side of the road in front of my apartment building. I parked Yoshi in the garage and got a box and pillowcase and walked out to retrieve it. It was still alive, but breathing rapidly and had blood coming from its mouth. I brought it to the city animal shelter, and they directed me to an animal hospital, but I couldn't find it. I called my family and Bee helped me find a hospital with a doctor on duty. I brought it in and the doctor told me the kitty had sustained severe cranial trauma and had a broken jaw. Based on its eye reaction and breathing pattern, he said it wouldn't survive more than a day or two, even with intensive treatment, so he recommended euthanasia. I left the hospital crying for this poor baby kitten, but knowing that at the very least, I helped to lessen its suffering.
As with everything else in life, sometimes we win, sometimes we lose, but the point is to try and not to give up until we know there is no hope left. It was not the way I would have liked to end my birthday shindig, but sometimes we can't control what is put in our path. All we can do is control our own actions and handle things the best we can.