Today is my old birthday. Not anything worth celebrating, but noted here.
Before I recap my weekend, I want to tell you something about my past. In high school, I had a huge crush on a girl named Sonya. She was in the color guard in marching band, and two or three years younger than me. I think I must have taken dozens of pictures of her because I was band historian at the time. I used her younger sister Kari as a model for a science project about the effect of vinegar on Dektol, a Kodak chemical used in photographic printmaking (that project actually made the finals in Science Fair that year). I wrote poems for her, Kari, even her mom, who I thought was really cool for a grown-up.
But the thing you notice first about Sonya is that girl loved purple. LOVED it. Every day, she wore something purple, and her room was one big shrine to the color purple. She wrote with purple pens in purple ink on purple notepads - you get the picture.
In the whole scheme of things, Sonya wasn't a very important person in my life. We were never more than casual high school friends. I think we went out one time so I could write a restaurant review for the newspaper (always a good excuse to ask someone out for a meal). So it's interesting that I seem to be rather taken with the color purple these days. People notice it in my hair, most of my work outfits are based on something purple (tops, skirts, tights). I'm drawn to it in almost anything that comes in different colors.
Maybe this means I'm finally reaching high school age in my development? Who knows. I just thought it was an interesting link to an obscure person in my past.
Saturday I was kind of headachy all day, so I didn't get to the gym. I watched a couple movies and took an afternoon nap until it was time to meet up with House PNJ at Bryant Park: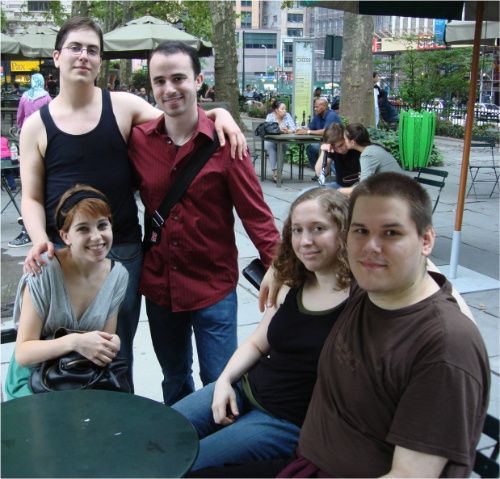 From left are Piper and Ilan, Dave, Beth and Kiwi
After much discussion we decided on Radiance Tea House for dinner, where Jet met up with us. Dave had his graduation party here back in May, which seems so much longer ago to me (
"Socializing" - May 29, 2011
). Then we walked a few blocks to an off-Broadway theater nearby to see
"The Tramaine Experience: An Urban Dramedy"
. The large murals Jet was painting on House PNJ's Sketchy Night last weekend were displayed on the floor of the stage:
Afterward the gang went to a nearby cafe while I went home. I had originally entertained having people come over, but our group had swelled to a size that would have been too large for my little apartment to handle comfortably and I didn't see any graceful way to invite some but not all. Plus we added a person at the theater whom I was meeting for the first time, and I normally have to know people pretty well before I let them into my personal space.