This Labor Day weekend I've been resting up, although I did get a commuting respite because Hurricane Irene shut down train service to Princeton on Monday and Tuesday so I worked from home. As you can see, the train station itself was pretty much underwater: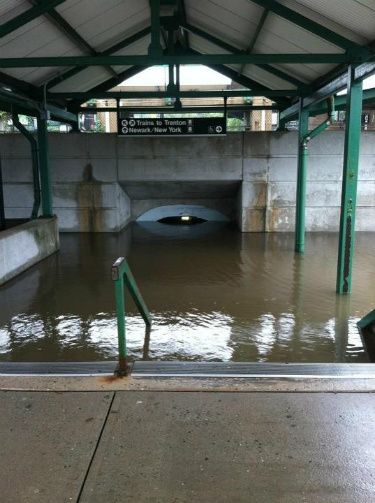 Thursday night I went to
Papacookie
for a fundraiser for Kacey's
Coney Island Wall
film project. I met some nice people once again and heard a fellow named Aziz play some of his haunting songs around life in New York on guitar. Didn't win any of the lottery prizes though - it seems like my luck in drawings has run bone-dry.
Friday night I met Puck at Penn station about 11:30 pm and walked together over to the Mid-Manhattan Midnight Munch to meet with our kinky friends. Jet, Elisa and Bellatrix were there, and I introduced Puck to Beth and Jamie. We didn't stay long because Puck was super-sleepy after an early class, coming from Stony Brook all the way to New Jersey to visit Ryan in the afternoon, and then coming back to Manhattan, so we went home and went to bed.
Saturday my old boss, friend and mentor Ben was in town with his friend Dale, so we went out to brunch with them at
Petite Abeille
downtown, a place famous for its Belgian waffles that I'd seen on the Travel Channel. I've been wanting to try them for years and I'm happy to say it lived up to all my expectations. I had a smoked salmon eggs Benedict that was heavenly, and shared some waffles with Puck.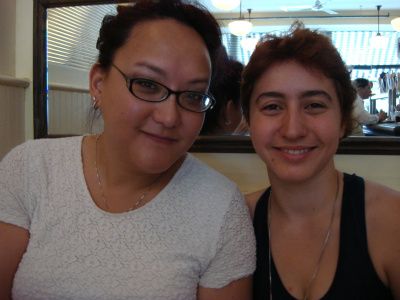 Puck left after brunch with their parents for a trip to Baltimore, while Ben, Dale and I went uptown to check out the
Museum of Sex
, or MoSex for short. There were some very interesting exhibits about sex in film and sex in comics, animal sex and an exhibit about
Samuel Steward
. Here's a picture of me and Ben, where you can see my new hair coloring a little better in the sun: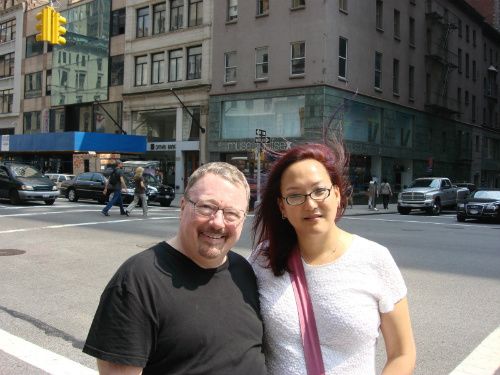 Afterward we retired for a few hours before meeting up in front of the theater for Priscilla Queen of the Desert at 5:30 pm to try the lottery. They already had their tickets, so we put in three entries to try and get me a ticket, but to no avail. It seems like forever since I've won a lottery - I guess I've lost my mojo. So we went to a hidden speakeasy on 46th called
Bar Centrale
to have a light dinner and drinks - I ordered one of their specialties in traditional drinks,
the sidecar
, served in a carafe on a bed of salted ice to make it as cold as possible: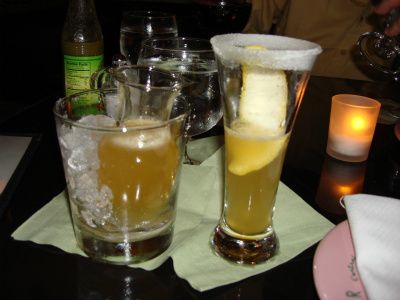 Then I walked them over to the theater and said our goodbyes, hoping to see each other again, perhaps the next time I'm called down to Houston for work.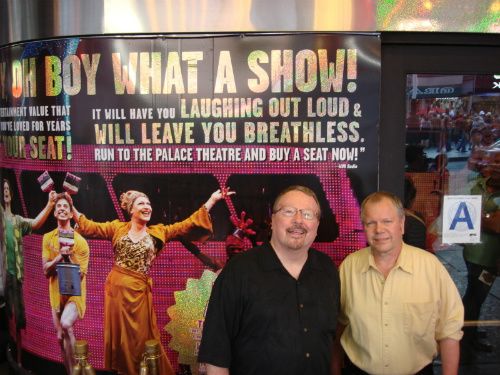 Today has been a lazy day of doing laundry, reading and watching movies. Tomorrow I'll have lots to do, including a planned visit with Kacey at her workplace on the East side. Then it's back to work where I'm sure it will be busier than ever, but at least it's a short week.