This was probably the most exciting work-related week I've ever had at Nearing. On Monday afternoon, I left my office in Princeton and got on a plane to San Diego, a non-stop six-hour flight.
There was an Indian family sitting all around me, a mom and dad, brother and sister. They were sitting in the middle seats of four different rows, and the 6-year-old girl sat next to me. She didn't understand why she couldn't sit next to her mom and was complaining loudly when she first sat down. So I started talking to her and established a little bit of a rapport while her mom asked the other passengers around her if they wouldn't mind switching with her. By the time she found a taker and asked her if she wanted to move, she said no, she was okay sitting between me and another woman.
So for nearly the entire trip I chatted gaily with the girl while she watched Disney Channel shows, occasionally offering me one of her earbuds to listen along with her. We shared snacks with each other (I had brought some pizza-flavored Combos and a tangerine on board). It was a lot of fun and her parents were so appreciative.
It's not the first time I've made such a connection on a plane. I remember back in 2005 on my way back from Los Angeles I sat next to a teenager and her aunt and had a very nice talk on the short flight from Phoenix to Houston. And talking to this young girl reminded me of the times I shared with Pearl when she was that age, so it was very nostalgic for me.
I landed in San Diego and drove up to the Marriott Del Mar, a very nice hotel halfway up to Carlsbad, where our offices and power plant are located. I ordered a yummy late supper of fried duck tacos and fancy macaroni and cheese and went to bed.
In the morning I took a tour of the power plant and then watched the Coast Guard drill of setting up buoys and pretend to clean up an imaginary oil spill in the lagoon that supplies water to cool the plant.
I also toured the aquafarms that grow oysters, mussels and abalone for local restaurants. It takes five years to grow an abalone to market size, so it's quite an investment. Despite my best efforts, I couldn't get Kelly, my tour guide, to give me a sample.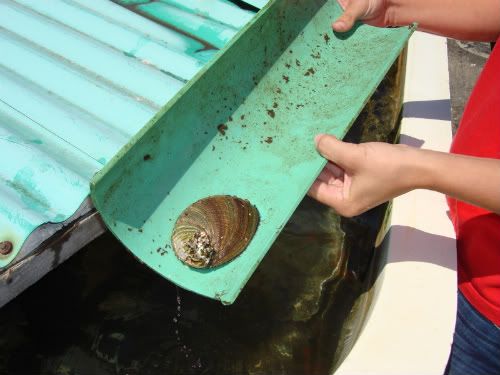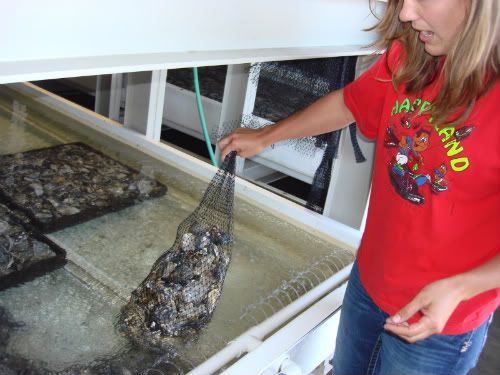 After the drill was over and the TV cameras had packed up and left, I drove over to the headquarters and visited some of my colleagues in the West region and the Solar team. It was still early, so I went to a nearby outlet mall and bought a scarf and two pairs of jeans from Lucky (finally, long enough for me and without rips in them so I can wear them to work).
Then I went into the Addidas shop and found one pair of baseball cleats in my size for only $10. Thursday I was going to play in a softball tournament in Maryland, so I took that as a good sign and bought them. I also found some yoga pants at the Gap for $6. Heavily laden, I drove to the West Grill for a dinner of a trio of fish tartare dishes and a New York strip steak with mushrooms and gnocchi on the side.
I went to bed at midnight and woke up at 3 am to catch the first flight out from San Diego to Chicago, then on to Baltimore. I got off the plane and took a shuttle bus to a lovely Hyatt resort for a company dinner of the best crab cakes I've ever had (with a Cajun and a caper remoulade), followed by a funny and pretty amazing magician act.
Thursday morning we went out to the ball field for the softball tournament. Each region of Nearing fields a team, so I was on the Princeton team. Although I normally play second base, our coach needed a pitcher because our regular pitcher had a family emergency and couldn't make it to Maryland for the tournament. I've never pitched softball before, so I was very nervous about being put in such an important position.
The first time I took the mound for practice, I couldn't even get the ball to the plate underhand. I took a lot of time figuring out my grip and a pitching windup (based on my bowling motion) where I could get the ball over the plate with some arc. Our first game was against the Texas team, usually one of the powerhouse teams, since they are the largest single office in the entire Company, they have a large pool of talent to draw from. But somehow I managed to hold them to just a single run, plus I went 2-for-2 at the plate, and we won the game 6-1. That was a nice bit of payback because Texas knocked Princeton out last year (although I wasn't playing on last year's team). They did have one scary moment when a Texas batter hit a sharp grounder right back up through the mound that just missed me:
I repeated the pitching performance against the next team, which we also beat 6-1, setting up a showdown with the defending champions, the South Central team for the title. We took an early lead and managed to hang on for a hard-fought 5-3 win, bringing the trophy home to Princeton.
Then it was on to the party tent and tasting all the wonderful food that the various teams from different regions had prepared, from braised ribs over polenta (from the Princeton team again, which won first place for that dish) to crawfish etouffee, fajitas and some outstanding shrimp ceviche. The Texas team won the overall best menu prize for the cooking contest.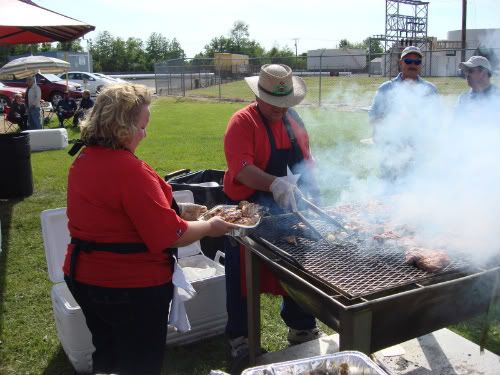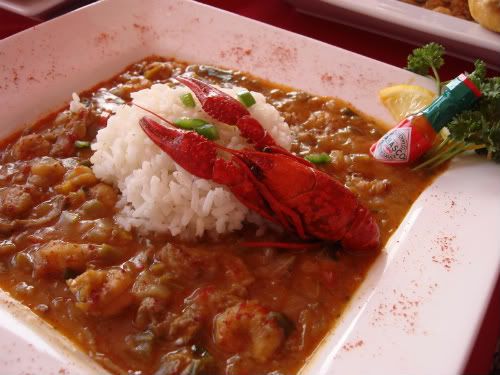 There was a live band and a wonderful grapefruit drink made from freshly squeezed grapefruit, ruby red Absolut vodka, triple-sec and a splash of Sprite over ice. Plus there were games for kids and adults too: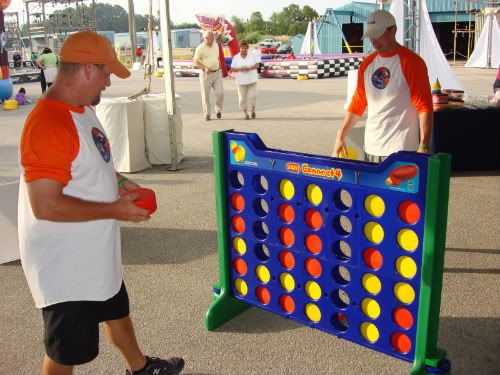 I was so tired and worn out from being outside and traveling and playing softball that I went back to the hotel as soon as I could and crashed. This morning I got a ride from some co-workers back to Princeton and we talked about relationships and polyamory, since they are both single and have complicated, non-traditional relationships. Tonight, I'm really looking forward to sleeping in my own bed, with the added bonus of having Puck sleeping next to me.
edit: Unfortunately Puck couldn't make it tonight, so more of the bed for me. Which is kinda good because my back hurts from playing softball :/