I had a very relaxing, productive weekend, spending some time with my family and some on my own, so a good balance overall. Saturday I felt like going into the city to have an adventure and to do something unplanned. Fate obliged me by providing a weekend street fair near my office where I parked Yoshi (it's near my office in Midtown, so it's cheap and they don't charge extra for minivans like many garages).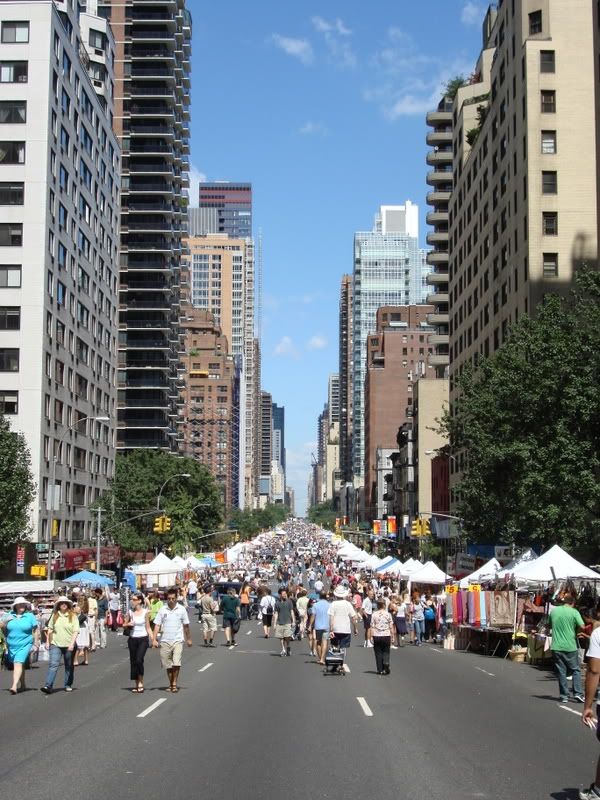 I walked about six blocks up Second Avenue getting a feel for things that were on sale. It was literally a shopper's paradise - a cornucopia of food, designer handbags, clothes, linens, arts/crafts, cosmetics/toiletries, bonsai trees, tools, designer sunglasses, you name it. After six blocks, things started to repeat, so I turned around and started walking back and shopping in earnest.
The first things I got were a couple of Coach-style purses for $30 each (after haggling a little, and a quick trip to the ATM for cash). I almost bought a copy of the new Chloe bag, but changed my mind at the last moment. I tried on an Indian-made silk dress, but it didn't suit me. I also picked up a 600-thread-count embroidered sheet set for $20 for my new bed, and three Victoria's Secret Second Skin Satin-style bras for $20. As tempting as some of the food was, I stuck to my diet and passed up all the goodies.
Saturday night we all went out to Palisades Center to have dinner and fun at Dave & Busters. I found a low-carb burrito at a Mexican food stand that was passable for my diet. I wanted to check out a candle store where I had gotten some soy candles before the fire, but they were out of stock. Not only that, but the new sales clerks were so pushy and annoying that I doubt I will go back to that store.
After a quick side trip to Target and Barnes & Noble (where I bought an Imponderables book, because I'm full of questions about obscure stuff) we hit the midway at Dave & Busters and played games until about midnight. I got the high score on our Joust tournament (the 80s vintage version), and once again bested Tara at air hockey (although the puck was defective, and she's still achy from her recording sessions so it wasn't really a fair contest). Bee crashed her F-18 Hornet jet fighter into the ground, and Bug enjoyed shooting up zombies a little more that you'd think was healthy. All in all, a fun time was had by everybody, although we missed our beloved 18-wheeler driving game.
Sunday we had a family barbecue, where I cooked a steak and some chicken breasts for the first time over a real charcoal fire. I was having a very bad allergy day, but that didn't spoil the fun, although I did have to go home early. It's been a heavy ragweed pollen count all weekend up here, which has been unfortunate. Another reason to look forward to colder weather.
Monday I cleaned the apartment, finally scrubbing down the bathroom, which has been long overdue. Tara came over in the afternoon and we watched
The Adventures of Baron Munchausen
the final installment of our Terry Gilliam trilogy and one of my favorite movies. Bee came over later and we all went swimming one last time before the pool closed for the season. After dinner I came over and we played a couple rounds of board games and Tara showed me the pictures and rough tracks from the recording session.
It's kind of weird, but it feels good to be back at work today. My boss is back after a two-week vacation, and it's a short week. I've finished several of my big projects, so I'm getting a bit of a breather. Our bathroom renovations are done, so it's quiet now. I'm looking forward to taking a walk during my lunch hour and visiting the nearby Bloomingdale's flagship store to get some of my Clinique moisturizer.