It was a relaxing weekend after my crazy week, which was punctuated by Friday night's adventure with Agnieszka and Carol at the New York City Opera.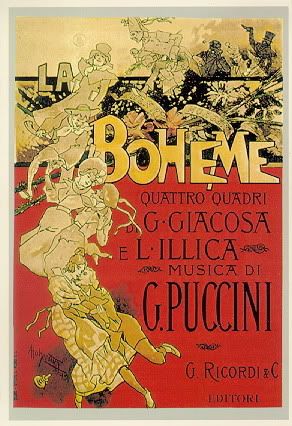 We met at an Italian restaurant just across the street from Lincoln Center and had a quick dinner. I came directly from work, and they took a bus in together from New Jersey. It was Carol's first opera ever, and I'm glad it was this one, being one of my top three favorites. Agnieszka has seen several operas, but never this one. I saw the Met's performance of the opera last year, but it was interesting seeing the different staging at the NYC Opera.
Of course what makes it even more interesting how I just saw Rent on Broadway, and less than two weeks later I'm seeing the opera that inspired it, with the truly original Mimi, Rodolfo (Roger), Marcello (Mark) and Benoit (Benny). Different music, different names, but the same story, with the notable exception that Mimi actually dies at the end of the opera. In fact, the only opera with a happy ending that comes swiftly to mind is Mozart's The Marriage of Figaro.
After the opera I rode the bus back to Paramus with my friends, and then had to hike about 12 blocks over the Passaic River and through Wallington to get back to Agnieszka's house. Fortunately we didn't run into trouble, but I'm not keen on doing that again. Carol then gave me a lift back to Yoshi at the train station garage on her way home.
Saturday was a relaxing day - did my errands in the early afternoon including a stop at Borders to pick up a couple of DVDs:
Troy (Director's Cut)
and
Absolute Garbage
, a band I've been rediscovering since checking out their album
Bleed Like Me
.
Speaking of getting into music, I've been obsessing over the British rock band Muse for the past two weeks, listening to their past two albums,
Absolution
and
Black Holes and Revelations
. I think of them as a cross between Jeff Buckley and Radiohead, with a little of Porcupine Tree's penchant for writing catchy rock melodies. Check out the songs "Time is Running Out," "Starlight" and "Supermassive Black Hole" and you'll see what I mean.
Sunday I cleaned the apartment, and also went to Loehmann's to spend all my collected coupons, including my legal birthday discount of 15% off the top of everything. I got several tops, four pairs of earrings, a colorful skirt and a couple thongs. I didn't buy many bottoms because I'm still losing weight and my size is likely to change. I've lost 15 pounds now since starting my diet August 13 (about six weeks ago) and still sticking with it. I'm starting to see a difference in my face, which is noticeably less chubby, and of course my waist size has gone back to about what it was in late 2005. I had set a goal for myself of 20 pounds when I started, but I might amend that when I get there.