Now that my recently whirlwind life is winding down, it's time to get caught up on this blog. It's been a confluence of work and family events that have combined to make life very interesting this past five days.

Saturday I got up late as usual, barely enough time to run my regular errands (post office, library and pick up my tailoring) before it was time to pick up my family for a trip to the Met for a members-only sneak preview to the new Rembrandt exhibit.

After touring the exhibit, we browsed through the gift shop and I got a poster of John Singer Sargent's painting, "In the Luxembourg Gardens" (1879) for my living room. I was also looking for a poster of Renoir's "Sleeping Girl with a Cat" (1880) a painting from the recent Clark Brothers exhibit I found particularly striking, but had to settle for a book on Renoir instead. I also got a lovely black pleated velvet scarf inspired by Sargent's "Madame X" (1883-84) that hangs on permanent display in what little space remains open in the American Wing while it's being remodeled. I also got an Impressionist desk calendar for the office, and some gift wrapping paper, since there was a member's sale going on.

Also during our tour of the American Wing, I wanted to shoot this movie of the 360 degree panoramic painting of the gardens at Versailles, just to show everyone who hasn't been there what it looks like.

After I shot this clip, I moved to the center of the room to shoot another one, and got halfway around when a security guard yelled out, "NO VIDEO!!" so loudly that my family heard it in another gallery down the hallway. I thought it was pretty stupid to allow photos but not video, especially since it's a PAINTING, not a dance routine. But since I already got what I needed, I put my camera away. I just wanted everyone to know what I routinely endure to bring this stuff to you!
Sunday was my one day to relax, but as it turned out to be filled with errands. I had originally thought about going to the Pickle Day Festival in the city with Agnieszka, but I realized I had too many things to do to prepare for my busy week ahead. When I got up Sunday I realized that I didn't have a suitcase for Tuesday's trip to Washington D.C. I once had a small carry-on bag, but I had forgotten that it was destroyed in the fire in March. All I have is a full-size suitcase, which is too big for an overnight trip. Then Sunday morning I also discovered that my face powder had run out, so with two additional chores, I decided not to go so I could get stuff done.

I started out by getting my nails done, as I wanted to make a good impression and my nails were looking rather shabby. Then I went to Michael's Arts & Crafts because they are having a 50% off sale on custom framing, and I wanted to frame my new Sargent poster. Then I went to Home Depot to get a tool for hanging pictures on the wall, then to Marshalls to buy a suitcase. Then I went to Bloomingdale's for my face powder, and last to Costco for food and stuff. So it was a very busy but productive day for me, and I was happy to get all that done before the craziness of the work week started up.
Monday was my usual day at work, but that night my family and I met at Madison Square Garden to see Rush in concert and it was awesome! Probably the best concert I've ever been to, better than the Police at Giants Stadium last month. I've only been exposed to Rush since December 2005 (other than the ubiquious tune Tom Sawyer; Moving Pictures was the only Rush album I've ever owned). For me, as a Rush newcomer, even the old songs like Spirit of Radio sounded so fresh, especially when driven by the enthusiasm of thousands of die-hard fans clapping and singing in unison. In addition to the music, the lightshow, lasers, pyrotechnics and creative video surpassed anything I'd ever seen before at a live rock concert. Plus the sound quality in the Garden is outstanding - everything was so clear and full-sounding - much better than what I'm used to in the Astrodome, the Summit and other such arenas. Definitely the highlight for me was Between the Wheels, which has emerged from obscurity to become a recent show favorite.



Tom Sawyer with South Park intro

Tuesday I had to get in extra-early to do a dress rehearsal for our big ethanol pitch, and I think it went well. We'll probably hear the results in the next 24 hours on whether we won it or not. Then I was off to Washington D.C. on the Amtrak Acela Express train with two of my co-workers. It was the first time I've ever been on an Amtrak train, and it was very nice. Much better than a cramped airplane cabin, that's for sure. The ride was also a lot smoother than the New Jersey Transit trains I'm used to taking every day - it's like they have better shocks and a lot more noise insulation. There's even a "quiet car" available where cell phones and loud talking are prohibited. And also, there's no danger of being sat next to a crying baby, as on an airplane with assigned seating.

We got to DC in about three hours, and checked into the J.W. Marriott one block from Pennsylvania Avenue. Here's the view from outside my hotel room: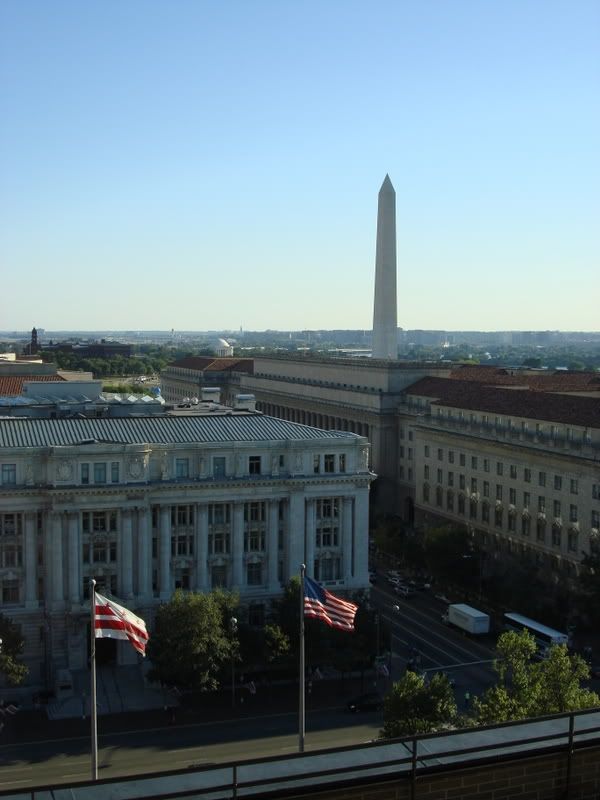 That evening we went to dinner at a nice seafood restaurant, where I gamely tried to stick to my diet by ordering the albacore tuna. But the hot appetizer plate of crabcakes, clams casino, oysters rockefeller and shrimp al douce undid me a little. At least I passed on what had to be the world's largest hash brown patty: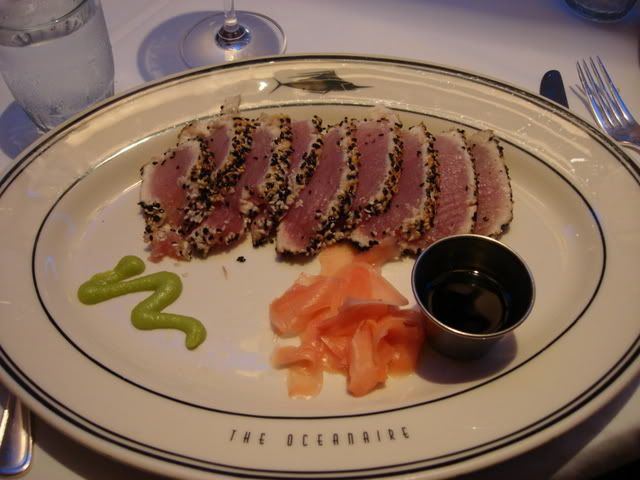 Wednesday morning I got up too late to do any sightseeing, so we went to our meeting which was very friendly and productive. I did manage to snap a couple of photos of landmarks from the taxi on our way to Union Station.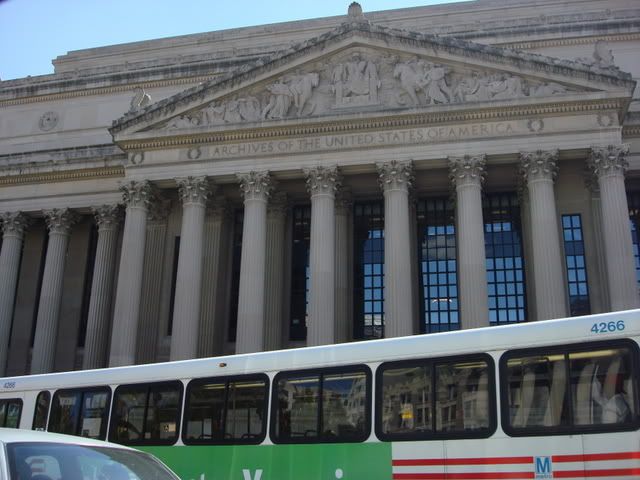 And I got a nice photo inside Union Station after my boss and I finished lunch before boarding the train. Sure looks a lot nicer than Penn Station in New York!




Another three-hour ride home, but luckily we sat in the quiet car and I dozed most of the way while my boss checked his email on his Blackberry. We stopped at Newark and I had a car waiting to take me back to my train station where Yoshi had been parked since Tuesday. Then I went to the doctor for my allergy shots and finally returned home.

Today should be a quiet day at the office (as evidenced by this long entry) and I'm looking forward to spending some quiet time with my family tonight. Then Friday Agnieszka and I are taking a mutual friend to see La Boheme at Lincoln Center, so that should be fun too. Probably won't get away with taking pictures at that event though :P