I've been remiss in posting because I've been waiting for an opportunity to post some pictures I took this weekend with my new camera. But as it's Wednesday already, and I'm expecting the next two days to be very busy at work, it's now or never, and maybe I'll post photos later as a separate entry.
So I did buy a new camera, a
Sony DSC-N2
, which is a pocket-sized 10.1 megapixel snapshot camera with a large 3-inch touchscreen on the back. It's a cool little toy, and should provide an easy way to document some of activities I write about in this space. I'm still undecided on whether I want a full-blown digital SLR as well, but we'll see how I feel after using this camera for a while.
I took last Friday off, the first voluntary day off I've had since coming back to work in February after my surgery. I ran some errands in the morning, and then met up with Agnieszka at Garden State Plaza Mall in Paramus to do some shopping. We walked around for a bit, but didn't find much to buy (she bought a pair of shoes) so we went back to her place to look at her photos from her recent trip to Prague. I came home for dinner and my family surprised me with a visit, and we went through a little lingering drama stemming from the previous night's events having to do with the dark period in our lives between Thanksgiving and Memorial Day weekend. Eventually we worked our way through it, and hopefully it will not continue to be a dark cloud over our current happiness.
Saturday morning was mostly spent in bed but we eventually gathered around the television (or radio) for Roger Clemens' second debut as a New York Yankee and enjoyed the win with seven strikeouts. Afterwards I went home to clean my apartment, which seems to get messier on its own because I really don't spend a lot of time there. I also received in the mail my new Gund Snuffles bear, a replacement for one of the two such Gund bears I lost in the fire of 2005. The other one, a giant-sized, three-foot tall version named Uncle Bob, has been discontinued by Gund so I can't replace him until they decide to make more of them. The new one is named Oz (because of all the Buffy the Vampire Slayer-related names in my family) and here's what he looks like: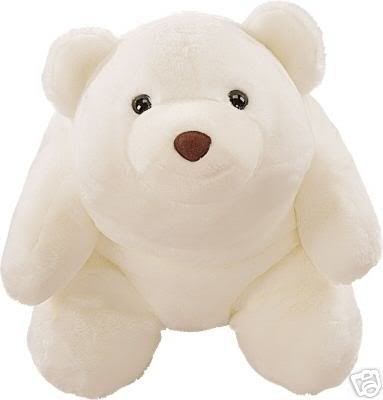 To celebrate his birthday, please consider
signing this petition to help stop polar bear hunting in Alaska.
Some of you reading this may know I have quite a history with this particular model of Gund bear, which was introduced more than 25 years ago. The first time I saw a photo of him was on a bulletin board in the bedroom of one of my first crushes when I was in high school. I didn't actually own one until many years later, when I found a platinum edition Snuffles at a toy store in the Galleria. Since then, I've given different versions as gifts to many people, including my brother, Pearl and my cousin Linda. I got Uncle Bob in 1995 and lost both bears (along with many other stuffed animals) ten years later. In hindsight, I feel fortunate that I sold most of my oldest stuffed friends to a collector at a garage sale about a year before the fire, so I like to think they are patched up and in a museum somewhere (like Woody was going to be in Toy Story 2).
Anyway, Sunday we took a trip to the
American Museum of Natural History
where I bought a contributing membership, which gives us all free admission for an entire year, so anyone who wants to visit the museum for free only needs to have me along :) We had a productive discussion about money on the way in, which I felt was more positive than those we've had on the subject in the past. Once there, we saw all three special exhibits on Frogs, Gold and Mythical Creatures, and the IMAX movie on dinosaurs, plus our favorite rooms (many of which are seen in the movie
A Night at the Museum
). We all had a great time, and we are looking forward to making this a regular field trip stop during our future visits to the city, which currently includes the Met and the Cloisters. Sunday night was hard for me after such a wonderful weekend, and I really couldn't bear to see it end, which resulted in our last bit of drama before being put to rest with a goodnight call on the phone, and further soothed by some private time Monday night (i.e. sex).