Sunday morning I woke up from a dream ….
I had just gotten the keys to a new apartment, an extremely large apartment. An enormous floor-to-ceiling marble column, 10 feet in diameter, was the dominant feature of the room. However, the old tenant was still occupying it and was having a poker tournament in part of the main space. The entire tournament was conducted in Thai. I hosted a small housewarming party with my closest friends in a cluster of sofa and chairs on the other side of the room.
And that is what basically happened for my eighth birthday on Sunday in the waking world when I hosted a small party of eight for dinner: Kacey and Becker, Piper and Jet, Puck, Storm and Morgan (previously referred to as Alex, from Pennsylvania). Instead of Thai food, however, we went to the
New Malaysian Restaurant
in Chinatown.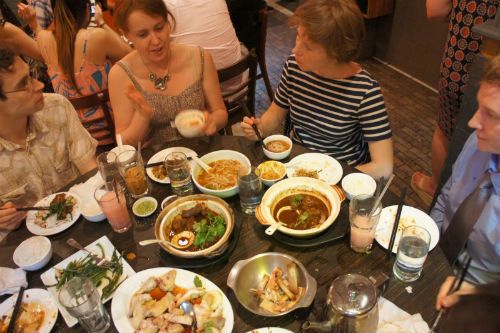 Flashback 48 hours: this weekend started with a Friday night MMMM, where Puck and I introduced Morgan to some of our friends – Kiwi, Ilan, Rachel, Danielle and Jill from SBU (the latter whom Morgan met at the Steampunk World's Fair a couple months ago).
Saturday the three of us spent most of the day watching a run of the TV show
Firefly
, which Morgan has never seen. In the evening we went out to
Empire Steak House
on 52nd Street for dinner and walked back home through Rockefeller Center. We went out again to
Rodeo Bar & Grill
on Third Avenue and 28th to meet up with Aaron and some of his friends for a drink. The honky-tonk bar was kitschy and loud, peanut shells on the floor, so it wasn't really my kind of place, but we didn't stay too long.
Sunday we finished
Firefly
and Puck went out to meet some out-of-town friends who were staying at the nearby Doubletree hotel while Storm came over and played violin with me and Morgan.
Dinner was wonderful and everybody seemed to like the food at the restaurant. Plus, it seemed that everyone was having a good time and enjoying each other's company, which is important to me. Piper and Jet brought me a present of five framed photos printed from my blog of me and various people at events throughout the past few years. She's noticed that I don't have any photos of people in my apartment, and it's true – I only had three framed photos and none of them are prominently placed. It was sweet of her to help me fix that omission.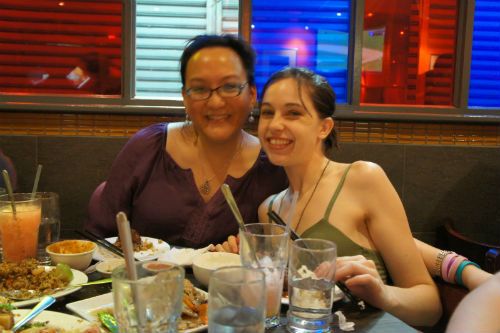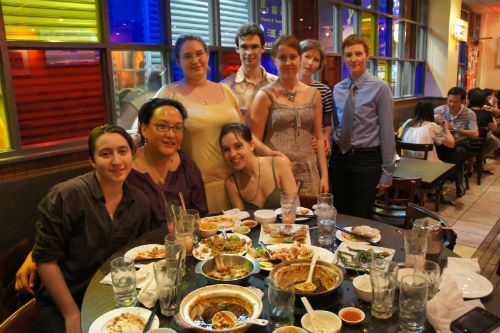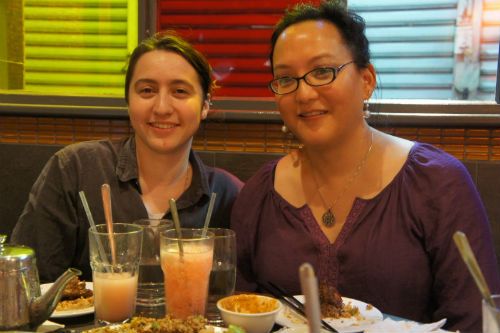 After dinner we walked a block to the
Chinatown Ice Cream Factory
and got some dessert (caramel sea salt ice cream was the popular choice) and then went our separate subways. Morgan, Puck and I finished the night watching the movie
Serenity
to cap our
Firefly
marathon.
This eighth birthday has been a real treat for me. Everything I planned came off perfectly (believe it or not, that rarely happens). Morgan is the first out-of-town visitor I've ever hosted at my current apartment, and the only friend I have who dates back eight years ago to the event I celebrated this weekend. So it was fitting and extremely satisfying to bring together the new and the old – as the saying goes, one is silver and the other is gold.