This weekend was the epic Old New Year's party that almost wasn't. Puck got really sick early in the week with a 102 degree fever and had to get to the doctor for antibiotics. By Wednesday they were feeling better so we decided to go ahead with the party, and I figured to do a lot of the "heavy lifting" so they wouldn't become exhausted.
Last week I'd found a couple of cute Cadbury fondue pots at Marshall's for $6 each, and I'd been bringing things for the party a little at a time all week long - bottles of wine, the air mattress, etc. - so I could load it all into Yoshi on Friday. After work I went grocery shopping in Princeton before heading out to Staten Island. Puck and their mom got big hunks of Gruyere cheese, bread and white wine for the fondue, and I got the chocolate, poundcake and fruits for the dessert fondue.
Saturday morning after breakfast, Puck, their mom and I cleaned up the kitchen and living room and set up tables and chairs for gaming, plus brought out the House games (Apples to Apples, Set, Blokus, Magic, backgammon, poker chips and cards, among others). As people started to arrive, I made my first batch of peanut noodles and we played our first game of BananaGrams (which I'm terrible at). In the early evening, Puck's mom left to stay with their grandmother for the evening, leaving us to get the party in full swing.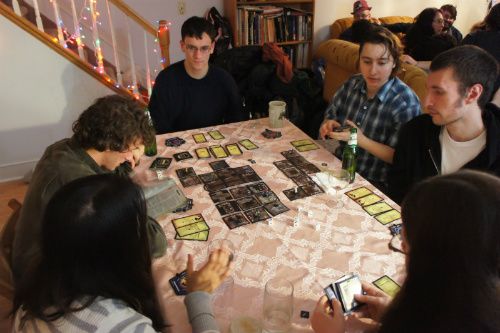 Once a fair number of people had arrived, Puck and I made the cheese fondue as an appetizer, served with chunks of French bread. Unfortunately, Puck themselves couldn't eat any of it because of the anti-inflammatory diet they're on (although I think they snuck a bite anyway). The fondue, which was really tasty, was probably the first cheese fondue I've had since I had some in Montreal in 1996.
I played some Texas Hold'em poker and came in third out of a field of seven. Puck's suite-mate Ri played the best (including getting quad aces once) and amassed the most chips, but Dave eventually won the game.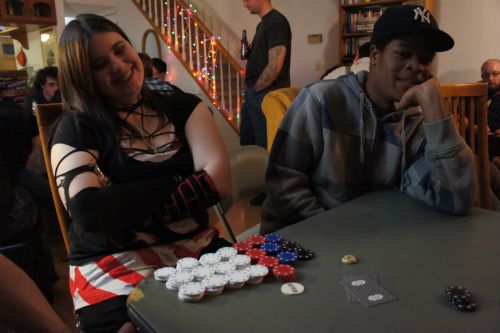 Puck and I played a game of backgammon and then I got started on dinner. I made another batch of peanut noodles, plus curry chicken, rice and stir-fried vegetables. Here's a picture of what my chicken curry looks like, from a batch I made last week at my place. The difference is that the one pictured is made with chicken thighs, livers and hearts, and the one I made for the party was made with organic chicken breasts, and minus a LOT of red pepper.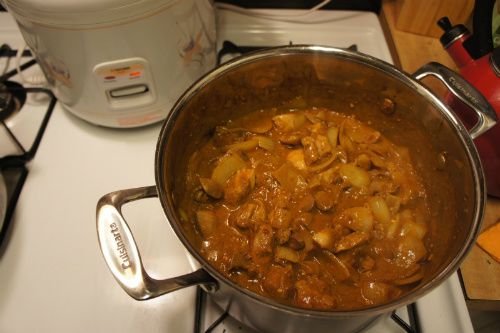 After playing some more games I got started on the chocolate fondue. I improvised a double boiler and melted chocolate chips with milk and Frangelico hazelnut liquor and served that with strawberries, bananas, cubes of butter poundcake, green apple slices and clementine wedges. It was messy but delicious. Here's a before and after shot of our fondue bowls.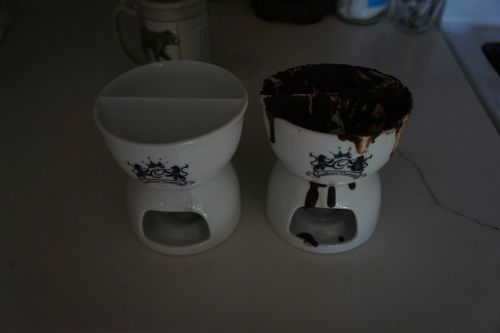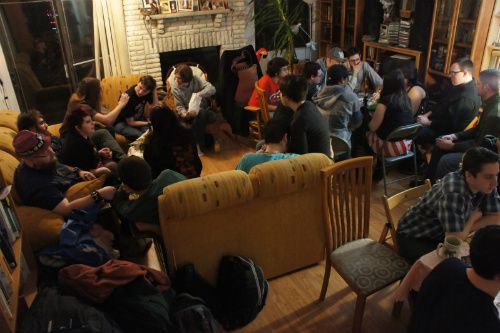 At one point we had about 30 people in the house playing games and socializing, which is about as big a New Year's party as we've ever had. As the crowd started thinning, we built a fire in the fireplace and put a movie on the projector,
"My Neighbor Totoro,"
the animated film by Hayao Miyazaki.
I set up beds on the upper two floors of the house for people to crash before turning in around 4 a.m. Puck came to bed a little later, just to make sure the fire was safely down.
The next morning I made omlettes with green onion and leftover Gruyere cheese, plus fried rice using the leftover rice, eggs and diced onion. I also combined the leftover noodles and the stir-fried vegetables to make a third dish. It all got consumed eventually, and I was pleased to get so many compliments on my cooking.
Some people left early but most stayed until just after midday before taking off. The rest of us made another fire and chatted until sundown. A few people stayed for a dinner of pan-fried fish and salad, which Puck's mom cooked for us when she returned in the late afternoon. We also watched one of the old Basil Rathbone Sherlock Holmes movies before I left for home.
I've never cooked so much food, and for so many people, in my life. I thought the party was a great success, and I'm glad we went through with it because it made Puck so happy to have their friends all around playing games and eating good food.