First post of 2012 and way overdue. I've tried to start this post a couple of times and kept getting interrupted, but there's really not too much to say from an activity standpoint. The new year has started off pretty uneventfully.
I took 10 days off between Christmas and New Year's, and didn't really do much with it except be all lethargic. Puck and I spent Christmas together and we went to Beth and Ryan's Christmas Day party. Then the rest of the week I didn't do much until Friday, when I took Kacey to the Met to meet up with my friend Angel, who works there and was nice enough to get us free admission.
The museum was super-crowded since New Year's Eve was only a day away, but we snuck in the back door through the garage to bypass some of the lines and I got my angel ornament for 2011 for my Christmas tree. We started with a view of the
Annual Christmas Tree and Neapolitan Baroque Creche
, one of my favorite holiday traditions.
We had a quick tour of the newly renovated Islamic wing and I showed them some of my favorites, like the Versailles painting, Chagall's "The Lovers" and the Tiffany window, while Angel showed us the Picasso that someone impaled with their elbow that had to be repaired. In the modern wing, Kacey was fascinated by "Procession (Exodus)" by Portuguese artist Clinton De Menezes, a collection of hundreds of miniature people attached to the wall and took some pictures of it with my camera: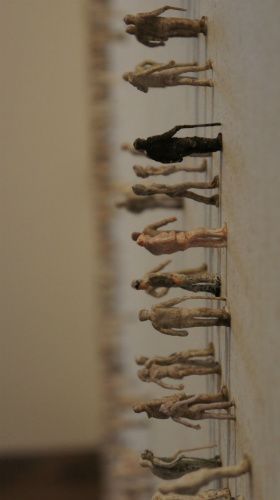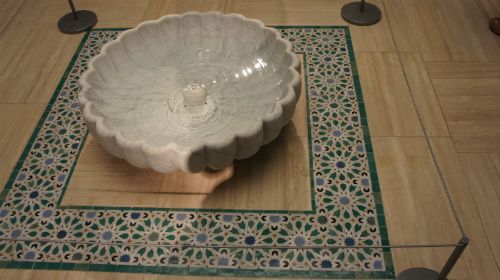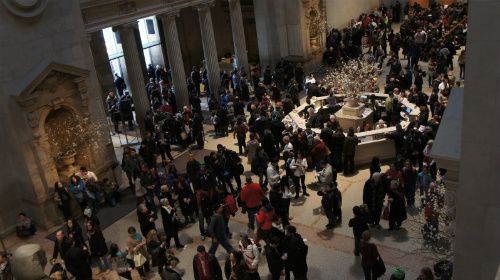 Since Kacey had another appointment we sped through things, which was fine since we didn't pay for admission. On our way to the Asian wing, I mentioned that I'd like to pay my respects to Ganesha, and Angel commented that the Met has many images of Ganesha. I replied that she would see for herself when we got there the piece I meant. At the farthest top northeast corner of the Met, in the northeast corner of a roomful of statues, the iconic Ganesha stands - the only one with dozens of coins in all different currencies laid before it by respectful visitors.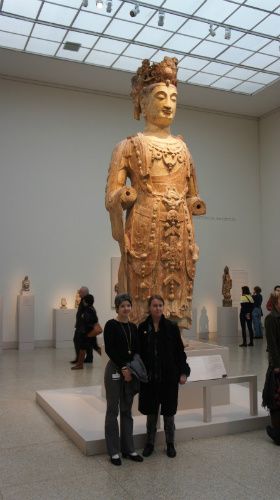 After leaving the Met, I went to the library and checked out a few things, including a lecture on DVD on "Nationalism and Expressionism in the Late-19th Century: Antonin Dvorak and Richard Strauss," taught by Professor Robert Greenberg of the San Francisco Conservatory of Music. It's the first time I've done a course on video, and it was very enlightening and enjoyable, since it focused on one of my favorite pieces, Dvorak's Symphony No. 9 in E Minor, Op. 95 "New World" (1893).
I've always been a fan of Russian culture - the music, the art, and more recently, the language. I've recently discovered Dmitri Shostakovich's series of short works collected in
The Jazz Album
, which I bought at the bookstore on the way home from the library. It features
Waltz No. 2
, which was recently used in a
Heineken commercial
extolling the rare virtues of handlebar mustaches.
New Year's at Puck's house was a fairly quiet family affair. We watched the ball drop, ate lots of food, and sang songs until about 6 a.m., then watched the old Clash of the Titans movie starring Laurence Olivier and went to bed around 8 a.m. One of my favorite things was helping out in the kitchen to prepare some of the food. Puck and I made deviled eggs, and I peeled and sliced pears for a tart. Those are some of the simple family experiences that I enjoy during the holiday time of year that I don't get to have very often.
One of the most boneheaded things I've done in a long time is not remembering that the office was closed on Monday, since New Year's Day was Sunday. I actually woke up early, took the train all the way to Princeton, and didn't realize what was happening until I saw that the shuttle wasn't there to pick me up. So I caught the next train back to New York and spent the rest of the day grocery shopping and cooking food.
Puck came over later in the evening and we started on Season 4 of Buffy, which we're going to watch interspersed with Season 1 of Angel in story continuity order. I've never actually done this before, because there is a large time gap between air dates between the two series. But it's really cool because there are several crossover events that you pick up details when watching them this way.
For example, in the first Buffy episode, she picks up a phone call and there's no one on the line, so she hangs up. In the first Angel episode, we see him placing that call just to hear her voice and not saying anything. That's pretty cool that Joss Whedon scripted those small details in two TV series that aired years apart.
Basketball season has finally begun, so I've been following the Rockets again, but they look pretty sorry this year under first-year coach Kevin McHale. Not expecting much of anything from them this year, but they're still fun to watch.
Piper and I are starting our own little film festival of Alfred Hitchcock movies. Between the two of us, we own several of his best films, so we're going to watch them in date order: Rebecca, Spellbound, Notorious, Dial M for Murder, Rear Window, To Catch a Thief, Vertigo, and North by Northwest. After that, maybe we'll tackle Stanley Kubrick next, and Kacey expressed an interest in doing the full Harry Potter series with me, so that might happen too.

Anyway, now I'm rambling. At least I'm all caught up before a busy week starts. Two poly meetings this week, and next weekend I'll be in Staten Island for Puck's Old New Year's Eve party, so that should be quite a shindig.