It's been a quiet day at home, so after recharging my batteries after a stressful week, let's get caught up on my life.
I left off last Sunday when I went back to Jonathan's apartment at
the Belnord
for a potluck benefit concert to help
the Super Coda
soundproof Cafe Orwell, a performance cafe in Bushwick, Brooklyn. I made my peanut noodles, which were very popular. The potluck requested "non-corpse" and "non-flesh" dishes, so realizing the sensitivity of this crowd, I made a sign with all the ingredients spelled out, which was greatly appreciated.
Jonathan
started out the evening's performances with some solo piano and vocal works, some of which were funny and some were quite profound. Storm came in during his set and I waved at her and chatted a bit after he was done while Dream Zoo was setting up. She had been visiting family down in Pennsylvania but came back in haste to attend the concert and to check on her new kitty at home.
Dream Zoo
has changed their lineup since I saw them last at the Delancey with Bonnie and Hiba, back when Storm was playing with them. Valerie is still plays cello and belts out with that huge voice of hers, but Sunday she was supported by a young man on violin, a string bass player and an electric guitar. Valerie is such a spirited performer - she lost her glasses while playing and completely undid her hair from all her wild head movements.
There were a couple other acts scheduled to play after Dream Zoo, but at that point it was getting pretty late, so I went home.
Wednesday was a community service day for my company, and my job was getting media lined up for it. As it turned out, I got my picture in the local newspaper, helping to organize and stock a food bank.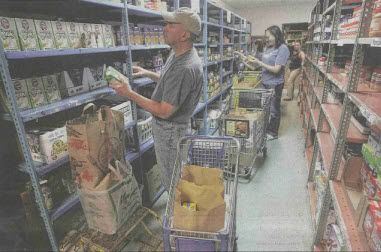 I've been on a bit of a Blu Ray buying binge lately 'cause Best Buy has a trade-in deal where you can get $5 off certain movies on Blu Ray with any DVD you bring in. Plus Target has some nice exclusive packaging deals on Harry Potter movies, and I'm getting revved up for the grand finale on July 15.
This week I announced I am stepping down as the organizer of the Polyamorous Women's Group, a post I've been handling for more than a year now. I think I'm just burned out on it, and the number of women who come regularly is very small. As I posted a while back, I'm trying to turn my focus away from poly right now, and this is one way I can reduce my responsibilities. Fortunately, Sylwia was able to step up and take it over, so I'll just back her up. She came over to visit me today, her first time in the apartment, so we could discuss it, and it turned out to be a nice visit.