It's been a very eventful weekend, and it's nice to have a breather Sunday night to relax before the work week starts again.
Friday night I stayed home, but had a somewhat difficult text conversation with Puck. It was only difficult because of the questions it raised, not because of any ill feelings or negative emotions (other than fear, perhaps). That's one thing that's different with our relationship vs. my past relationships is that even when we disagree on things, we are always coming at things from a standpoint of loving and caring deeply about each other. It's how we continue to seek out ways to keep our relationship healthy and sustainable.
So the night was difficult for both of us, probably compounded by the fact we had this conversation by text and not in person, so we couldn't touch each other, which has always been an important part of our communication. Maybe we'll try not to have virtual check-ins in the future if we can help it (which may be difficult when they're back in school, although I'd like to visit more this coming semester).
Saturday I went to Loehmann's in the early afternoon to buy some housewarming presents for Piper, Jet and Elisa, whom we would be visiting that night. I got a wooden box full of tea bags, a box of scented drawer liners, and a scented soy candle. I also found a sparkly sequined dress for the party, although the sequins kept falling off of it. I wanted to attend the Pride rally in Central Park, but I didn't have time after all the shopping. I also packed some fresh cherries, lychees and chocolate truffles for the potluck. Puck came by in the evening and we trekked out to Astoria together for the party.
When we got there, Piper was still getting dressed because Jet had done a lovely cross ribbon pattern on her back using medical staples through her skin. Beth and Ryan came later, and I got to spend lots of time with Beth one-on-one because we both don't like crowds so much. Many of our kinky friends showed up as the night progressed - Kiwi, Aaron, Eric, Ilan - and I got to know some others that I've seen at munches or on FetLife. It was a pretty ordinary party until about 10 pm, when an announcement was made that those who wished to shed some clothes could now do so, and I took the opportunity to take that sparkly, but uncomfortable dress off and continue the evening in my bra and panties, which is the first time I've been so undressed in public.
The rest of the group played a game of "Never Have I Ever" but I didn't feel like playing, even though with this crowd, I probably would have had a decent chance of winning. Afterwards, Piper got taken to her bedroom, blindfolded and with hearing blocks, tied to her bed, and worked over by four sadists with a variety of tools, devices and substances (use your imagination here). Puck and I left shortly after midnight and got a cab back home.
Sunday morning Puck and I had breakfast and another good relationship check-in, one that resulted in another small change in our agreements, and our discussing a potentially very large change that may happen in the future. We continue to make small adjustments as we go along, give and receive feedback, evaluate and make new suggestions.
After our check-in, we headed out to the Folsom Street East festival to set up the table for Open Love NY before they had to head back to Staten Island. Several volunteers and leaders came and went throughout the day to help me pass out flyers, sign up people on our mailing list and give away membership bracelets.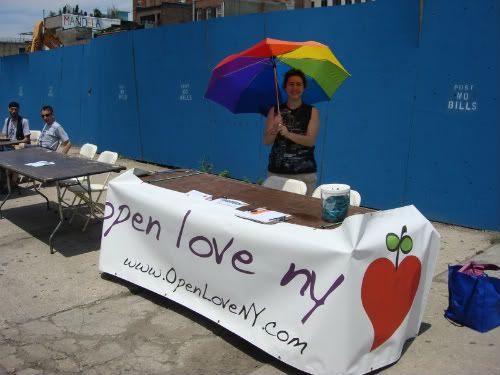 Kat and Murray (he got a lot of attention with that costume, predictably)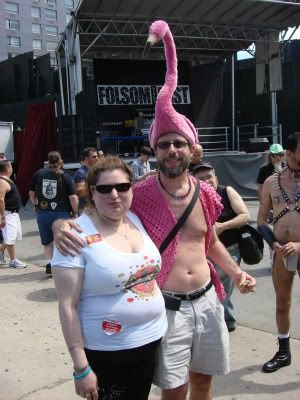 Brian talking to a potential member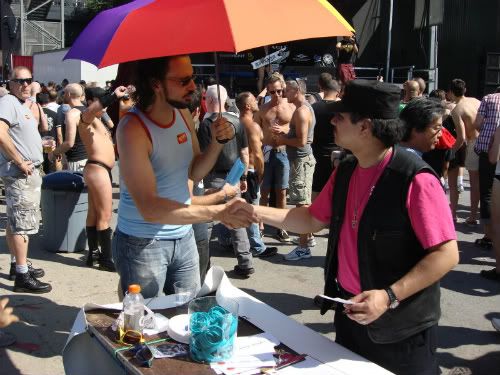 Courtny doing shibari on Ed, Diana's life partner
Ed and I went up to the stage to accept on Diana's behalf the 2011 Sexual Freedom Award, and the $500 donation to Open Love NY that comes with it. Here's my acceptance speech following Ed's (apologies for the shaky camerawork from Brian's partner Jazz)
The afternoon was concluded by the famous porn star ass pie eating contest, where Ed and others competed in a contest to eat pie off the backsides of porn stars. Ed, unfortunately, didn't win, but made a valiant effort. And at the end of the day, I caught a t-shirt stuffed with lubricant and male and female condoms, enough to probably last me the rest of my natural life :)