I've spent a lot of time in the past week thinking about my relationship with Penny, since in less than four days she's leaving for Argentina for two months. Truly, up until now, I haven't spent a lot of time analyzing the relationship, knowing that this forced separation was coming up. To do so would be against my philosophy of living in the moment, and loving unconditionally. But in her absence, I do have a chance to take a step back and ponder (borrowing her term) about whether I want to continue deepening my relationship with her once she returns in April.
I know I've grown and changed a lot since the last time I had my heart broken, and unlike the last time, at least I know she's coming back in two months. But it seems that love is never easy for me, and it's a tricky balance between honoring my feelings and being afraid of getting hurt. This is something I will be pondering about, and talking through with people I trust, for the next two months.
Last Thursday afternoon we met up in the East Village, and I walked with her as she completed her afternoon delivery duties. Then we went to a nearby magick shop, where we picked out a pagan amulet for her trip. We stopped for hot chocolate and a quick exchange of books and music before heading down to Union Square, where she took me to her yoga studio to meet her instructors and so she could say her farewells.
We left the studio and met up with Lori outside Whole Foods briefly before Penny had to catch a bus home to Staten Island. Lori and I then met with four of Lori's friends for dinner and dessert at
Max Brenner
. Lori has a very diverse group of friends - two were Asian, one from India and the other from Turkey. Lori and I split a chocolate toffee crepe, along with two cups of their famous Swiss hot chocolate.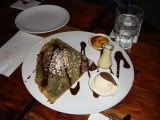 Sunday I went to a new Meetup.com group of bisexual and pansexual women at a Japanese restaurant near the LGBT Center. It was a pretty large group, about 25 women in a small restaurant, so we really couldn't talk to very many people because we were seated at a long table against the wall. Fortunately, I met a few women I connected with who happened to be sitting near me, including one who used to date one of my fellow PolyNYC Board members. She's a dog trainer and interior decorator. Another woman I met works in finance for the Metropolitan Museum, other is a nurse, and other is a fashion buyer. Again, quite a diverse group, and a few of us left after dinner together to visit the LGBT Center next door and browse some publications before we went home.
Tuesday night my family took me out to see
Coraline
in 3-D, which was terrific. I haven't read the book by Neil Gaiman, but I did read the graphic novel, and I was a little disappointed with the ending of the movie. However, the visual feast and imaginative imagery were stunning to behold. I just wish I'd known to wear contacts so that the 3-D glasses weren't such a distraction.
I wasn't really planning to see Penny again this week, but I really wanted to since we didn't get to say a very meaningful goodbye last Thursday before she had to catch her bus home. So Wednesday we met up after her yoga class so we could hang out before my PolyNYC leadership meeting and her tango dance classes in the evening. We went to her grandmother's apartment so she could drop her stuff and charge her phone, then to a Thai curry house for lunch. We planned to go shopping at Loehmann's for her sister's birthday present, but we couldn't find what we wanted. Penny talked with her mom on my phone outside the store about alternative gift ideas while I took pictures of her: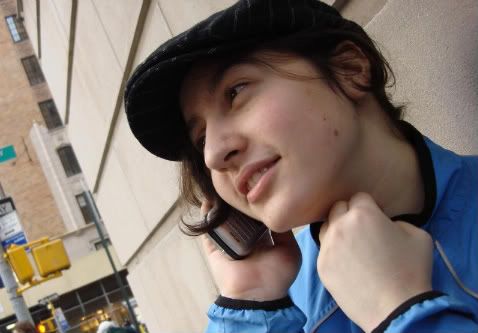 Eventually we went back to her grandma's place to pick up her stuff, and say our goodbyes in private. Then we walked to Union Square to meet briefly with Lori and browse the Barnes & Noble for alternative birthday presents for Penny's sister. After we left the bookstore we all went our separate ways and I attended my meeting, which was very cordial and productive. Afterwards, my friend Simon was feeling stressed out, so we went to watch the movie
Taken
at the movie theater near Penn Station before I went home.