I have quite a potpourri of stuff to talk about, and very little time to do it, so I'm just going to do a stream of consciousness kind of post, omitting some of the formal language I usually employ. Please forgive the brevity.
First of all, proud to say that my alma mater, the University of Houston, is the first school in Texas to offer a gay-lesbian minor concentration in their undergraduate degree program. I'm sure this is at least partly the result of HGTA members at UH, but I forget their names.
"Lessons in diversity" - Houston Chronicle, Oct. 20, 2008
Had an interesting day yesterday - went to dance class with Agnieszka, where we learned the finer points of stripping out of different types of street clothes. Then I rode the subway up to the old Yankee Stadium to meet up with my family and take one of the final tours before they demolish it. Here's a photo Tara took of us in the dugout - Bug is taking my picture behind Bee.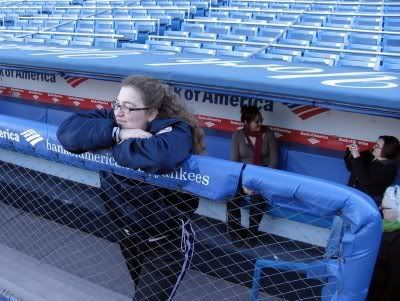 Then rode the subway back downtown to South Street Seaport to meet a new friend, Polina, for a presentation of short films at a LGBT film festival. Polina and I have both been going to Polyamorous NYC meetings for several months now, but only actually met each other at the Poly Pride rally earlier this month, where we were both volunteers. Since then we've been getting to know each other and have gotten quite close, despite spending only a total of a few hours together. What's interesting is that she's the first person I've met who falls under three of my umbrella characteristics: pansexual, polyamorous and transgender (she identifies as gender fluid, meaning she alternates between masculine and feminine presentation). There's definitely the beginnings of attraction on my part, but we'll have to see how things turn out.
Speaking of characteristics, I recently took a Myers-Briggs Type Indicator profile for work, and what's interesting isn't so much the type I scored (INFP, for those interested). The interesting thing is that my type has changed since the last time I took the test at my old job in Houston, four or five years ago. Your type is not supposed to change throughout life - it's supposed to be your innate preferences. In my case, I swapped a "T" (for thinking) for an "F" (stands for feeling), which makes a lot of sense to me, considering the changes I've gone through in the past few years. Despite my tendency to overthink things, I'm much less of a thinker than I used to be in my previous life, and much less reliant on logic and objective analysis. Now I primarily make decisions based on my values and subjective evaluation of person-centered concerns. My description of my complete type, which I think is pretty accurate, goes as follows:
· Sensitive, concerned, and caring
· Loyal to people or a cause
· Guided by an inner core of values in decision making
· Focused on contributing to their own and others' inner development and growth
· Committed to a strong personal belief system
· Likely to enjoy reading, discussing, and reflecting on possibilities for positive change
· Usually seen by others as sensitive, introspective, and complex
Kind of sounds like prerequisites for being poly, among other things, doesn't it? Hope everyone had a nice weekend, and I'll be back soon.