Lots of good stuff happened this weekend. Tara stayed over Friday night and we had a leisurely Saturday morning breakfast to the sounds of Yes instead of our usual classical soundtrack. It was the first time in a couple weeks we've had one of those. Also nice is that she's getting a little more used to sleeping in my bed, which is considerably softer than hers. I try to do my best to make her comfortable when she's at my place, but there's not much I can do about the bed.
Saturday night we had dinner and watched
The Rock
as a little break since we're out of new Heroes episodes now. It's rather funny watching such a testosterone-fueled movie with a roomful of girls. If the movie wasn't so loud, you could probably hear the eyes rolling in our heads. However, I did balance that out with a solo viewing of
The Notebook
earlier in the day, which of course made me cry my eyes out.
Sunday I went into the city with Agnieszka for the start of our series of burlesque dance classes. There are 13 or 14 women signed up for the class, one other that we recognized from our last class. Sunday's class was actually the exact same class we took before, but this time we weren't 30 minutes late, so we learned feather boa technique that we had missed last time. Our teacher, Jo, invited us to stay for the following class on dance movement, so we did that class too, before Agnieszka went to see a play with another friend and I went home to eat dinner.
Then yesterday I took Columbus Day off work to celebrate my third anniversary of meeting Tara here in New York. The actual date is Oct. 14, 2005 - an important date in my personal fairy tale. As such stories usually do, it took place on a dark and stormy night, and so many things went wrong, from me oversleeping and missing my flight to her getting soaked in the city all day waiting for me. But miracles do happen, and we were able to meet right where we wanted to, in front of the Tiffany window in the American Wing of the Metropolitan Museum, barely 30 minutes before closing time. Our first meeting, our first kiss, and the start of this amazing journey together.
To celebrate, I took her for breakfast at my favorite bagel place near my office, then we rode the tramway to Roosevelt Island (her first time) and walked around the south end of the island (which in hindsight wasn't the most picturesque part, but it was also more private).
After we got back from the island we stopped at the tri-level
Dylan's Candy Bar
, which is a much bigger version than the one in the Houston Galleria. We got some Wonka bars and Tara tried some of their signature Belgian milk chocolate, which she loved. I took a small piece since I was breaking my diet anyway, but I have lost 15 pounds to this point, so I'm not too worried about it.
We took a train up to the Met looked in on some of our old favorites. We also went to the roof to see the Jeff Koons sculptures, a first for me. These whimsical figures seemed to delight the many children at the museum most of all.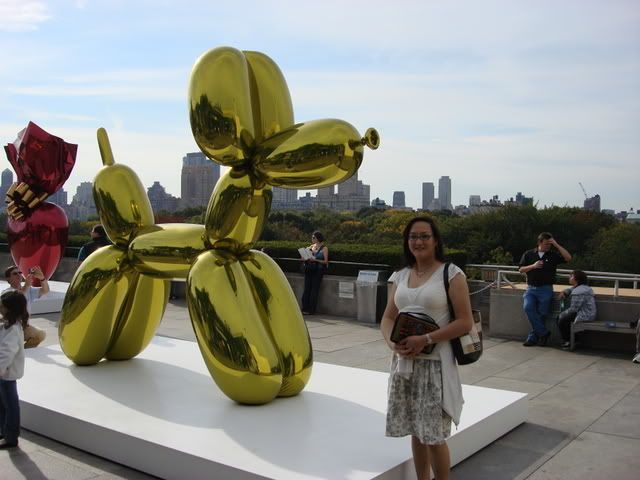 We left the Met and had dinner at a new place for both of us called Burger Heaven, which turned out to be a very satisfying place to eat near the Museum of Modern Art. I had a reuben burger and fries, and Tara had a plain burger with a baked potato. Then we took the subway down to Tribeca for a book signing by author Jonathan Carroll for his new book,
The Ghost in Love
. I've never read any of his books, but the story sounded very interesting from his reading of the first chapter, and I was intrigued by the fact that Carroll wrote another book called
Bones of the Moon
which was the same story as "A Game of You" in Neil Gaiman's Sandman series. So I bought a copy of the new book and had it signed - Tara brought her copy with her from home. He signed mine "Michelle's First - Hopefully it will not be your last."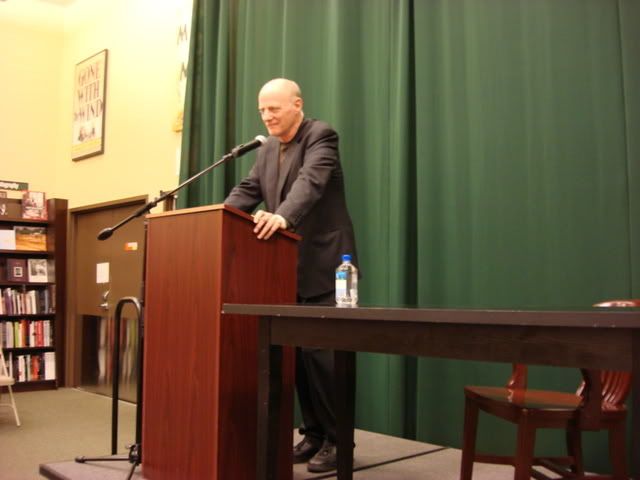 Happy anniversary, my dearest Tara - thank you, as always, for being in my life. I love you.