I'm back but I don't know for how long. Just had a rough conversation with Tara on the phone tonight, one where we both were close to breaking up the relationship. I guess a lot will depend on how things go tomorrow night when we see each other.
Things have been mostly quiet this week since last Tuesday, mostly because we tacitly agreed to a truce since everyone is on vacation. Tara, Bee and I went to Watkins Glen, New York and stayed overnight Wednesday (Bug chose to remain home to watch the cats). I booked a fantastic suite at the brand-new Harbor Hotel on the shores of Seneca Lake, the largest of the Finger Lakes. The hotel had been open less than two weeks, and we were only the second group of guests to stay in the room (which the front desk quipped was the best room in the hotel). The balcony had a magnificent panoramic view of the lake and Seneca Harbor.
You can also see a short video of the entire view
by clicking here.
Make sure to turn your volume down because the air conditioner is pretty loud out on the balcony.
We all slept together in the king size bed, which was sometimes cozy, sometimes uncomfortable. Surprisingly, Bee and I did most of the cuddling because Tara was exhausted from the trip up. Reminds me of the first night we slept in the same room together in Houston when she crashed while I was in the shower.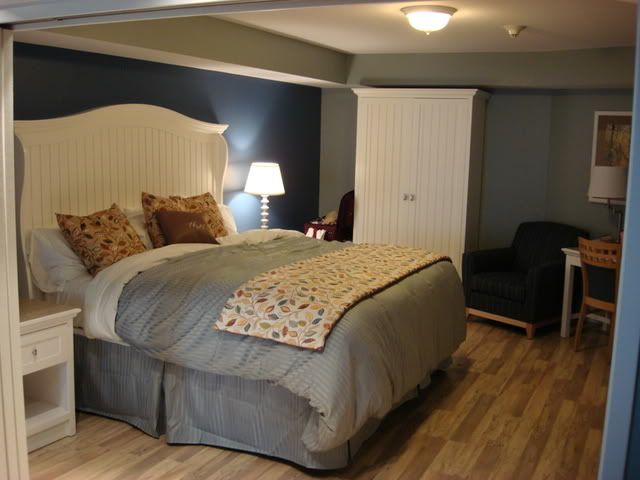 Here is a reverse view of the hotel from the stone dike that shelters the harbor. Our room was on the top floor, just to the right of the center.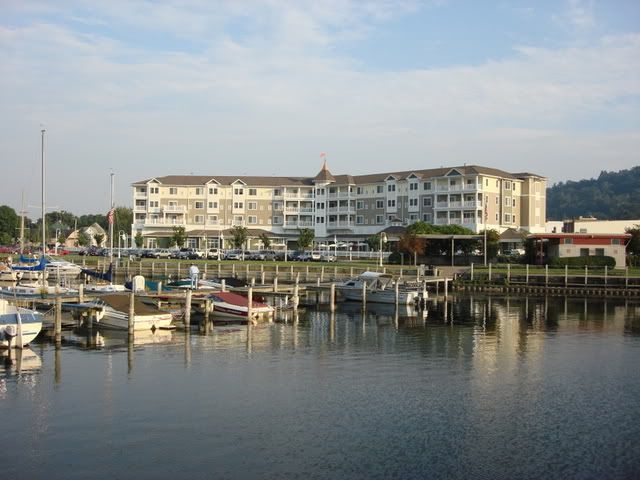 Here is one of the hidden waterfalls that flows into the lake. We found it driving along one of the highways that borders the lake, but it would have been easy to miss it.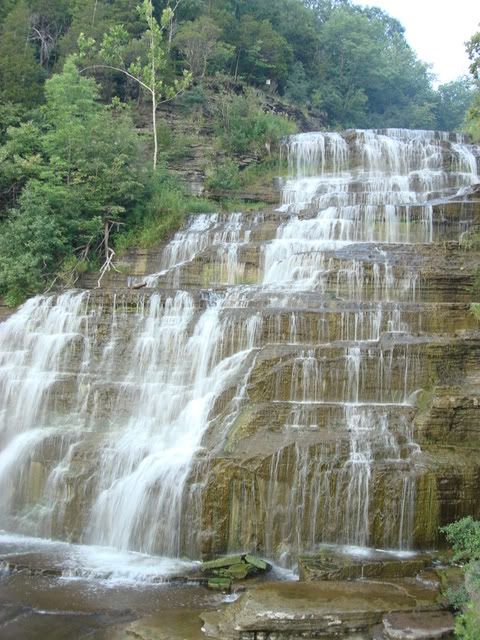 And here is a representative photo of the glen itself, which is a gorge formed by flowing water as glaciers retreated in the distant past.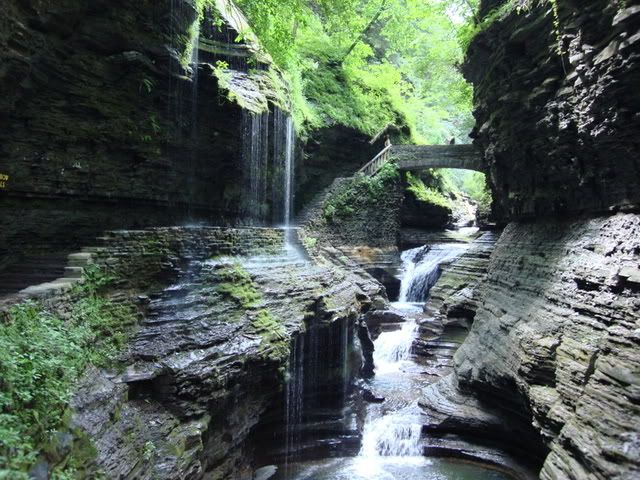 We came back Thursday evening and I kept to myself until Friday night, which was the launch party for Stephenie Meyer's Breaking Dawn, the final chapter in the Twilight Saga. We all met up at the bookstore around 10:30 pm and they handed out books at midnight. I just finished the 750-page novel earlier this afternoon. Here's a picture at the book party: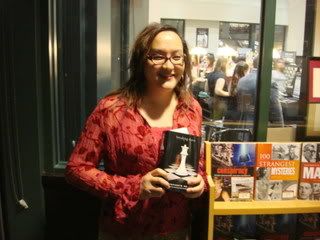 Anyway, it's been an up and down vacation for me. Tara and I are going through some difficult times, but I actually had a lovely time on my trip. Bee and I were very open in sharing our physical space, which was a welcome, if brief, respite. There were some very profound moments of happiness in the glen, seeing the beauty of the water, rocks, plants and animals there. We had a nice time Saturday night as usual, when we saw the 1980's sci-fi movie
Tron
together at my apartment. And I enjoyed my book immensely, as you'd probably guess from me reading it in a little more than 24 hours.
I'm just plagued by a great deal of doubt about whether my relationship with Tara - and by extension, to my family - is really working for everybody. We both seem to be very unhappy a lot, and yet we still love each other so much. What do two people do when they can't bear to be apart, yet can't seem to stop driving each other crazy? I don't have any answers. But it's hard being in a relationship where both people are waiting to see if the other one has it in them to leave first. And we're both pretty stubborn, so this could take a while to figure out.