While it will be 39 years in September since I took my first breath of air in this world, yesterday I celebrated the milestone that has taken on greater importance to my present life. It was on July 15 three years ago that I set my intention to take control of my destiny and become the person I am today.

This was by no means an easy decision. I knew by choosing this new life, I would lose some aspects of my old life, and as it turned out, I lost a lot more than I ever expected to. In setting my path, I knew there would be both challenges and rewards. I didn't know if my life would turn out better or worse in the long run. But contrary to my old nature of choosing the safe choice, I realized that sometimes in life, you have to risk everything (or in poker terms, go "all in") in order to fullfill your potential, to grow, and to have a chance at being happy and to live without regrets for things undone.

Last year I made the decision that from now on, I would celebrate my birthday on July 15 instead of the date on my driver's license. The reason is that July 15 is the anniversary of the event that brought me to my family here in New Jersey, and the life that I cherish now. The original date in September marks the anniversary of my link to my birth family, the day that I emerged from my mother and joined my father and older brother in that family. To me, that family doesn't really exist anymore, at least the one that included me. So there's really no justification for celebrating the date which I joined it, whereas there is ample happiness and love to celebrate for the anniversary of starting on the path that eventually brought me to my present group of loved ones I consider my family now.

To celebrate, we went to Six Flags Great Adventure, something I've been wanting to do since I moved here last year. I love thrill rides, and there's a monster one at SFGA called Kingda Ka that we wanted to ride first. Luckily Bee is also a fan of such rides, but Bug and Tara are not, so we spent a large part of the day separately in pairs. Kingda Ka holds the world records in speed (128 mph) and height (456 feet, or 45 stories) and accelerates to full speed in 3.5 seconds before shooting you straight up to the top and plummeting to Earth in a spiral.

It was an incredibly short line when we got on for some reason, so Bee and I got to sit in the front car after about a 30 minute wait. The sensation of speed at launch is pretty overwhelming, like being shot out of a cannon. A somewhat equivalent acceleration would be that of a top-fuel dragster which reaches 333 mph in 4.5 seconds. However, without the benefit of a windshield or other protection, especially sitting in the front car with nothing to break the air in front of us, it felt like my face was going to peel off and I had to shut my eyes because 1) to keep my contact lenses from being torn out, and 2) to keep my eyeballs from going with them. Next time we go, I'm definitely going to wear from eye protection, like polycarbonate sports goggles, so I can see what's going on and enjoy the ride more.

After Kingda Ka, we went on The Great American Scream Machine and Medusa before taking a break (which I needed because I was getting a bit of whiplash). My favorite coaster at SFGA however was Nitro, mainly because it didn't have any inversions and therefore did not require over-the-head restraints. It has a wicked first drop of 215 feet and there's lots of zero-G time along its mile-long track. Here's a picture of me waiting in line with the Nitro train in the background.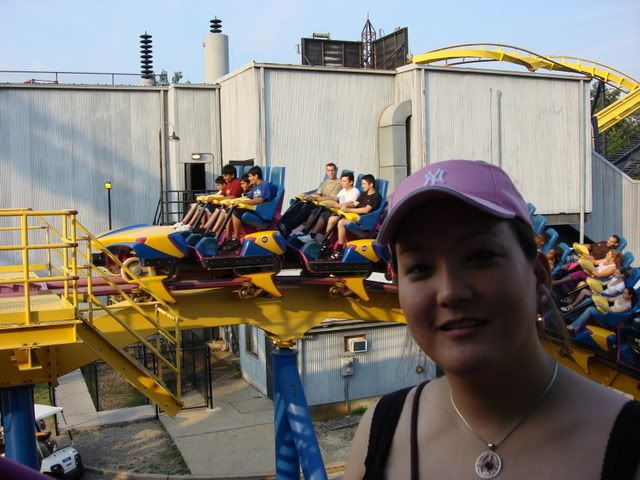 We went on plenty of rides, including the Congo Rapids water ride, the ferris wheel and the Skull Mountain mini-coaster (where Tara and Bug joined us and re-discovered their pronounced distaste for thrill rides) and also spent some time in the arcades and gift shops. I bested Tara once again at air hockey, but she took first prize in our skee-ball tournament. Bee played DDR for the first time and worked up a sweat to Ricky Martin and Queen remixes. Tara got a Green Lantern power ring that lights up with flashy lights, and I got some sun visors with Batman and Hello Kitty icons on them. For dinner we stopped at a Burger King where I got my birthday crown.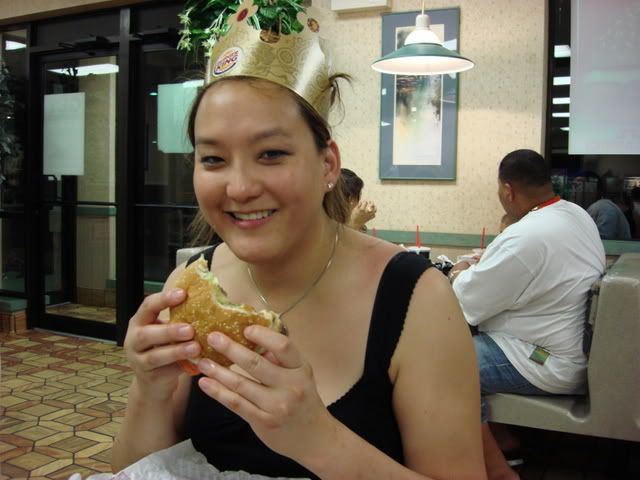 We drove a little more than an hour home to open my presents and omg, so many wonderful things my family got me! Books, DVDs, board games for us to play, decks of Tarot cards and star constellation cards, both things I want to start learning about. I got the first volume of the Buffy the Vampire Slayer Omnibus and the Comics Journal Library book on Frank Miller to name a couple of things.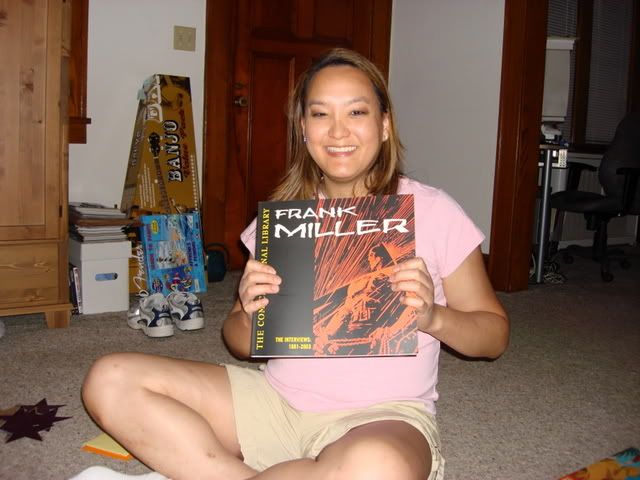 Also an out-of-print copy of The Sandman Presents: Taller Tales written by the author of Fables. I also got DVDs of Loving Annabelle and Captain Horatio Hornblower one of my all-time favorite adventure movies.

After all the presents it was getting too late to do the cake, so we saved that for tonight. I can't wait to get home so we can continue the birthday fun!