It has been a bit of an unusual week to be sure, with the widespread disruption of Sandy. I am greatly fortunate not to have been directly affected at all. My electricity flickered a few times on Monday night, but never went out, so for me it was a non-event. The primary effect has been that I've been pretty much housebound since Sunday night until today, since there is no subway or rail service to Princeton, and the Nearing office has been closed and without power until it was partially restored today.
Today is Samhain, pagan new year, what most Americans now celebrate as Halloween. Recognizing that I wanted to make an extra effort this year, I arranged to have the day off, which is also good because I've been working 12-hour days from home, trying to get a load of documents edited. So it was nice to have the break.
Besides my spirit practice, I'm also finishing my love letter writing project today. So for those of you who received them this year, I wanted to give you some background on the tools and materials used to make them. As it happens, there was a pen fair at the
Art Brown International Pen Store
on 45th a few blocks away, so it was time for me to buy a new fountain pen. I haven't had a nice fountain pen since I lost several in the fire of 2005.
There were some gorgeous limited edition Italian-made Delta pens that were 50% off, but that still put them a little out of my price range. Eventually I found a Waterford Celebration fountain pen with a star crystal cap, 18k gold fine-tip nib that had the heft and smoothness I was looking for. I also got some
Iroshizuku asa-gao
(Morning Glory) ink, from a line of inks made by PILOT and inspired by Japanese flowers in a handmade glass bottle.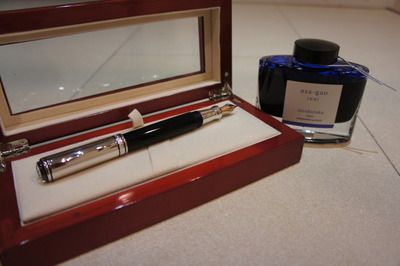 The paper is cotton fiber (Crane & Co., naturally) and scented lightly with
Chopard Casmir perfume
, which is Irene Adler's prop perfume in "Sherlock: A Scandal in Belgravia."
As for the rest of my day, I went to visit the Met, which had been closed Tuesday due to Sandy, but reopened just in time for me today, and with free admission to boot. Unfortunately, many of the galleries weren't open, but I did see all the special exhibits and some of my old favorites. Also, since the subways aren't running, I rode my bike Mario about 40 blocks up to the museum, and snapped a photo of the damaged crane on 57th Street.
At the Met, the exhibit on
Bernini's sculptures in clay
in the Lehman wing was truly inspiring, and made me want to watch "Angels & Demons" again just to admire the scenery. The inventive and beautiful furniture and salon pieces of
Roentgens
must be seen to be believed. I wish someone would mass produce working replicas at reasonable prices so I could get a proper writing desk.
I also explored more fully the new Islamic wing, since the last time I visited it had just opened and was packed. The first picture is one of the main rug rooms with a striking ceiling, and the second is a replica of a reception room from a large house in Damascus, circa 1707.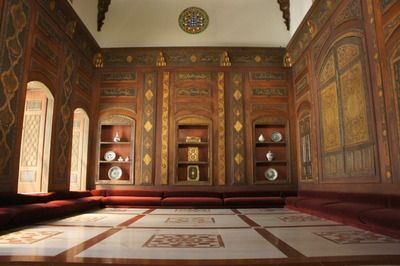 Tonight I'm going to charge my new amulet for the year, plus cleanse and prepare my new wand for magickal work. As I mentioned in my last post, I found the wand at the Pennsylvania RenFaire when I visited with Morgan. The handle is Burmese rosewood and the shaft is willow, which is a type of wood I've always been drawn to (cricket bats are made of willow, as you may know). The detail on the handle is dichroic coffee beans.
I had ordered the amulet online a couple weeks ago, but I wasn't sure it was going to get here in time, and I wasn't sure if it would be suitable for me. I never really know until I hold it in my hands. So last weekend I went down to Stick Stone & Bone, my magickal store in the West Village to have a look. I found one that I thought might be suitable, although it wasn't exactly right for me. I didn't want to take the chance of not having a new amulet for Samhain, so I got it anyway.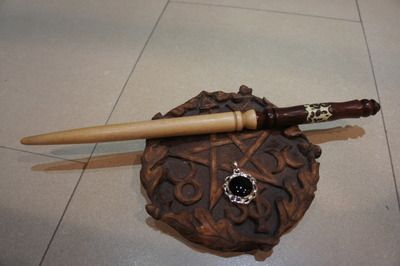 But when I came home to drop stuff off and prepare for my yoga teacher Emily's party that night, I found that the other amulet had arrived in the mail while I was out. I liked that one much better - it's black onyx in a convex shape on one side (like a scrying ball) circled with roughly wrought silver, and the other side has a pentacle that can be hidden by turning it against the skin. No matter how much we like to think we have religious freedom here, it still takes guts to wear a pentacle openly. Which is too bad because it represents balance between all the elements, a worthy state for anyone to aspire to. So I returned the other amulet to the store on my way to Emily's place and I'll get something else later with the store credit.
I'm not sure when trains are going to be running, or if Ryan and Beth's wedding is going to actually happen this weekend since they haven't restored power at the venue yet. It all reminds me of when my friend Joanna invited me to her wedding in Ohio and I couldn't attend because a freak blizzard grounded all flights into the state of Ohio (
"Blizzards & waterfalls" - March 10, 2008
). This story is not going to get me invited to many more weddings!
Being cooped up and working from home (even though I'm doing it more and more) also reminds me of my one and only snow day with Bonnie and Hiba back in 2010. Since many people were messaging me Monday night as Sandy bore down on us, I decided to text Hiba and tell her I was reminded of our snow day. She texted me back and agreed, saying she had just told Bonnie the day before that it reminded her of it too.
A blessed Samhain to all, and may the new year be filled with peace, love and light.