Four years ago today, Puck and I met each other on the Great Hill in Central Park, helping to set up for the Poly Pride Rally in 2008. For the past three years, we've celebrated this anniversary, either by attending the Rally together, or being together somewhere else when that wasn't possible.
This year, for some inexplicable reason, the Poly Pride Rally did not happen, with no explanation from the organizers. So perhaps it's fitting that our celebrations are changing as well. After four years, Puck and I are "graduating" in a sense from being girlfriends to being "frubbles," our word that best describes what our relationship has become.
"Frubble" is a poly term that is a synonym of "compersion," which is the feeling of happiness in sharing a partner with someone else, to be happy when someone you love is happy with someone else. It's often called the opposite of jealousy. So we decided that it worked just as well to use as a relationship as well as a feeling. By calling ourselves frubbles, we're saying that we love each other in a way where our greatest wish is to see each other find more love. It takes off some of the assumptions and baggage of calling each other "girlfriends," but it means more than being "friends."
We are family in a way that means we're always looking out for one another, but we don't have any formal agreements to keep. No obligations. Living our own lives but never being too far away. We are each other's John Watsons, the sidekicks to our own starring roles.
The graduation analogy works well to describe the change. In the past four years, we've learned a lot about each other, and about ourselves, during a very formative period in each of our lives. Puck was only 17 when we met, and was taking a year off between high school and university to travel. I was only 4 years into my new life, working at Agent K in the city and living in New Jersey near Tara's family. Neither of us had any friends in the New York kink scene.
During the time we've been girlfriends, we've followed a curriculum of sorts, having relationship conversations, applying poly theories, making agreements, testing results. We've seen other relationships with metamours come, stick around, or go. We've figured out what works for us and what doesn't. Now, we're leaving that structure, that test environment behind, and we're moving forward where possibilities are less defined and less predictable. In a sense, we are graduating from the structure of "relationship school" and entering the expansive freedom of the "real world." We're not so much changing our relationship as much as we are acknowledging a change to the environment in which we relate to each other.
For this anniversary, I drove out to SBU on Friday to visit them. I met up with them off-campus at a meeting of the LGBTA leaders, where I shared a short testimonial of my personal experience of coming out in Houston. On Saturday we had breakfast at our favorite diner, then went to the historic part of Stony Brook to visit a community apple fair, where we shared an apple fritter and took pictures in a church cemetery. We also drove around a bit near the Grist Mill pond to see the gorgeous antique and modern homes nestled in the woods, one of the places I visited with Bonnie's family.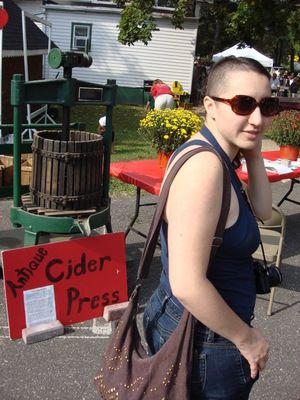 We came back and took a nap before we opened Puck's presents - the tailored Calvin Klein suit and all the accessories I've been picking up for the last month or so. In addition to the Nordstrom's white French cuff dress shirt, I got them two pairs of coordinating ties and cufflinks. One set is a Brioni light blue tie with white dots and a transparent overlay of a leaf pattern with cerulean blue oval cufflinks. The other is a Calvin Klein silver check tie with gray lenticular pyramid-shaped checkerboard cufflinks. I also got them brass collar stays, a magnetic money clip, a Calvin Klein belt and black suspenders with tiny white polka dots. Add the Oxford shoes I got them earlier this year and a pair of Calvin Klein trouser socks and the outfit was complete.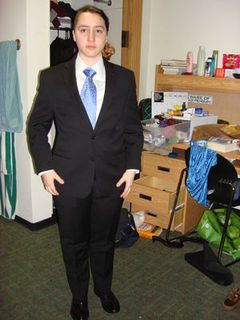 After all that was tried on and cleared away, we ventured out again to Port Jefferson to watch the waning sunset over the crashing waves on a windswept beach. We even found a pair of swings on the beach, something we had forgotten to do at last weekend's camping trip, so we rectified that by taking a ride on the swings. Then we went to the theater to see
Looper
, which was pretty good, and then a romantic dinner at
Pentimento
, a place that Puck and Ryan discovered together.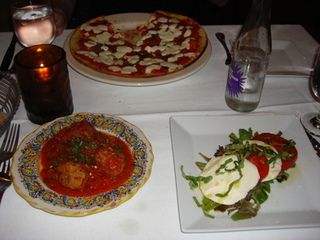 Sunday was a much more low-key day - we got up and had brunch at the commons, then hung out at the Sci-fi Forum for a bit. We came back and hung up their posters and artwork on the walls. Puck's roommate Adele joined us to make a meat pie for lunch, made from ground lamb, carrots, onions and celery in a rice flour pie crust. We watched an episode of
Doctor Who
before I left for home.
Although this is the fourth anniversary of our meeting and starting this journey together, there is still one more formal anniversary to recognize before we dissolve our commitment - the anniversary of our year and a day commitment to each other. We made that commitment to each other on Nov. 6, two days before their 21st birthday. So on Nov. 7, we will fulfill that commitment and start our journey anew.
Happy Anniversary, my dearest Puck. In every ending there is a new beginning, and so it shall be with us. I look forward to many more years of adventures together. I love you.