Sorry that I've been away so long. Things have been rather hectic at work and at home, but hopefully they will get better soon.
Big news first - I submitted my resignation as President of Open Love NY, effective Oct. 31. It's something that's long overdue. So now, hopefully, other people will step up and it will become a more diffuse leadership structure - we've already elected co-presidents to take my place.
I'm looking forward to having more time to pursue other things in my newly single life, once my commitment anniversary with Puck passes in a couple weeks. A lot of that will be exploring new areas outside kink and poly, but I haven't decided on a direction yet.
While work has been busy with the merger integration we're currently undergoing, my personal situation has improved in the sense that I've been able to manage my commute more to my liking, doing more work at home and on the train and being in the office less, or at least taking express trains so I'm not spending as much time actually traveling.
So now, an update on my busy social life. Two weekends ago I was just getting over a cold, so managed to feel well enough to attend Becker's 31st birthday at Shake Shack down in Battery Park City. I had visited a cool notions shop called
Tinsel Trading Company
in the Fashion District near the apartment to get him a box of long kitchen matches with a vintage map of New York printed on it, plus a set of vintage cigar box stickers (since Kacey told me she gave him a cigar box to store things).
Afterward we walked around the World Financial Center and I snapped this lovely photo of them together: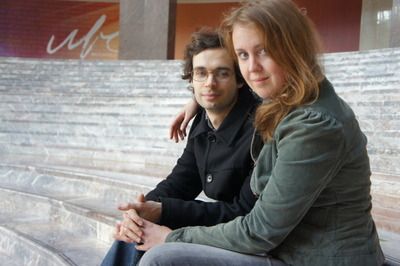 From there I took the ferry to Staten Island to meet up with Puck and friends for their play reading and to have dinner. We watched "The Avengers" on the projector and settled everyone in for bed.
On Sunday, Puck's roommate Adele and her friend Evan came with us to
Anachronism
. Puck dressed up as Delirium from Neil Gaiman's Sandman (as they did at Steampunk World's Fair earlier this year) and this time I joined them as Delirium's sister, Death.
We had dinner at a nice Japanese hole-in-the-wall place on St. Marks before heading over to Element, the club for the event. Unfortunately, we didn't realize that Anachronism was a 21+ event, so Evan and Adele had to go back to my apartment and wait for us. We stayed for a couple sets of performers, including a band called Amour Obscura, then we left for home.
Last week I had stuff every single night of the week, which was a bit exhausting in the cumulative. Monday I had dinner with Jet, Piper's partner, to get her up to speed on OLNY so she can join the leadership team. Tuesday I met with Antonia, a friend doing a dissertation on polyamory and the differences in attitudes and activism between the U.S. and her native Germany.
Wednesday was movie night at work, where I hosted my theme, "Men Out of Time (Without a DeLorean)" and we watched "The Final Countdown," a 1980 movie starring Kirk Douglas and Martin Sheen. Thursday night was a doubleheader, with the Open Love NY leadership meeting at my apartment until 9 pm, then Natalie, Kacey and Becker came over to watch Elementary at 10.
Friday I left from work to go visit Morgan in Harrisburg and the
Pennsylvania Renaissance Faire,
one I've never been to before.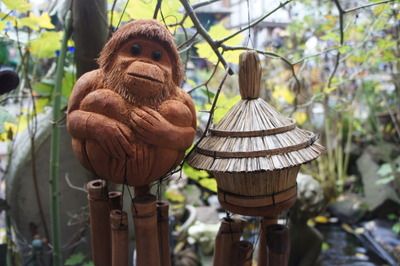 Morgan got some tea and spices, and I got a cauldron, a wand and a new altar cover for my spirit practice, something I hope to have more focus on in the coming year. I wasn't able to find a pendant yet, but I still have a few more days to look until Samhain arrives on the 31st. I also got this year's holiday ornament, a tiny bear dressed as a pumpkin, wearing a witch hat and holding a broomstick. To me, the ornament symbolizes Morgan, who has been a welcome new presence in my life this year since meeting him for the first time on our road trip in March (
"Road Trip 2012" - March 14, 2012
), then going to SPWF (
"Steampunk World's Fair" - May 25, 2012
) and him attending my birthday (
"Birthday dinner" - July 16, 2012
). It also symbolizes to me a renewed focus on my magical practice.
Later that evening, we went out to a very nice Italian/Mediterranean restaurant called
Mangia Qui
and had grilled octopus, caprese, duck and filet mignon, served up scrumptiously.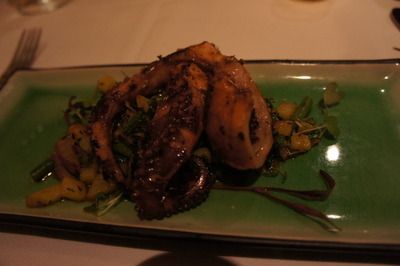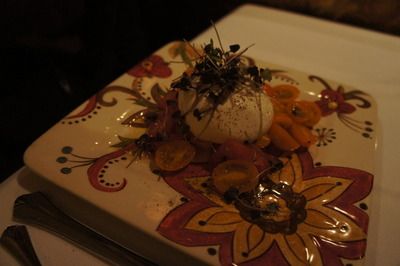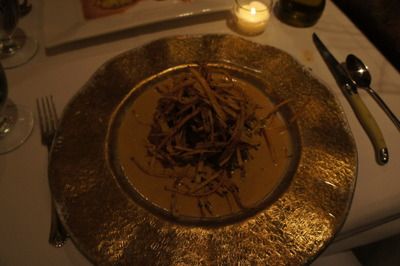 We also found time to go see "Argo" at the movie theater, which was a really good spy thriller. Ben Affleck is coming into his own as a director. It would make a good recruiting film for the CIA. I stayed another night and came back Sunday in time for yoga, even taking time to stop by the Nordstroms Rack in Grove Hill, PA to buy some rain boots.
Tuesday night was Open Love NY, my last as presiding President. Then we had four first-timers at the Poly Women's Group, plus Tamara, Loli, Sylwia and myself, so it was the biggest crowd in a while.
Tonight I'm doing a marathon of "Sherlock", watching "The Great Game" and "Scandal in Belgravia" with Katie, then Natalie and Kacey are coming over later to watch "Elementary". Everybody has been coming over pretty consistently to watch that show, so it's been nice to have that as a regular event, along with my usual movie nights with Kacey. Hopefully Piper's life will settle soon so we can also resume our Kubrick marathon, as I'm eager to watch "Lolita" and "Dr. Strangelove" again.