Last Friday was my 7th birthday. For the first time, I didn't really do anything this year to celebrate it, but it's as much because I had so many other things to do as it is because Puck isn't here and any celebration for me would be incomplete without them. So I didn't bother to try.
Friday night I went out with my TNG kinky friends to our usual diner for a pre-party munch before going to the Xcess party. At the munch I met a total newbie named Leah and introduced her to the concept of polyamory. She's almost 23 and new to the scene and to the city, and works in the publishing industry. She also recommended some new mashup music for me to check out, so I thought we made a nice connection.
Bellatrix joined the group on the way to the party, but she didn't feel like playing at the party because it wasn't really a good space to do so with any privacy. It was also really loud and quite brightly lit. So I just spent the evening watching people do rope suspensions and body painting, and talking to friends Dave, Beth, Cassie and others before leaving around 1 am.
Saturday I rode my bike up to meet Lori, her sister Robin and a bunch of her friends in Central Park to celebrate her 35th birthday. We played frisbee and threw a softball around, but I couldn't get anyone interested in playing a game of cricket - not that there was any room for that anyway. Once again, the rainbow umbrella provided some welcome shade!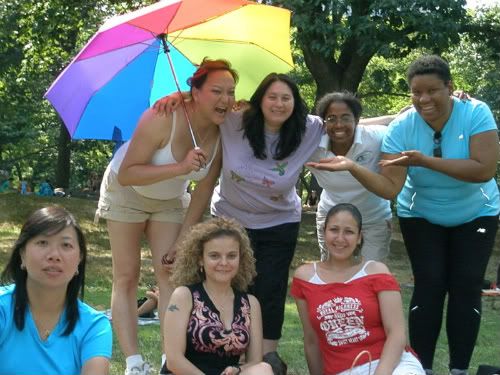 Saturday evening I went to Piper and Jet's house in Astoria for their roommate Elisa's 27th birthday party. It was just them, James and me, so it was a very small gathering, but I got to know Elisa much better because we had a chance to talk before everyone got home (I'm usually on time for things, unlike typical New Yorkers). We all talked and played a get-to-know-you dice game called "What the F**k?" that is usually a drinking game, but we didn't drink, until I left at 11:30 to get home. At least now I know exactly how to get there using mass transit because last time Puck and I got lost trying to get there and had to take a cab.
Sunday I went down to Brooklyn to see Diana and her extended family of friends at their backyard barbecue. I made my spicy peanut noodles and brought the $500 donation check from Folsom Street East to take a photo with Diana:
I met several people I knew from Diana's last birthday party - Jenny, Liz, Mark - plus my friends Kerry and Ardella showed up later as I was getting ready to go, but it was nice chatting briefly with them.
When I got home, I tackled a job I've been planning for a while - I took out all my single DVD movies with plain cases (those without no flyers or any kind of unique packaging), logged them in an Excel inventory, put them in a binder and threw out the cases (about 50-60 of them). I am amazed how much 50 empty DVD cases weighs! This frees up a lot of space for future additions to my library, which is slowly turning toward Blu-ray discs.
Speaking of organizing projects, I wanted to show everyone how Puck's bookshelf organizing project came out, which was completed over the Fourth of July (
"2011 Pride Parade" - June 30, 2011
) What an improvement!