It's a quiet Friday at work, so time to blog. It's been quite an interesting week, actually, following Monday's night's poly women's meeting. Since I had that meeting Monday, and Mondays (and now Thursdays) are usually my date nights with Tara, Bee was gracious enough to switch her yoga night with me so I could have Tuesday night this week instead. So Tuesday Tara and I went to dinner at the local diner, where I had a very nice shrimp and scallop pasta with vodka sauce and Tara had her usual breakfast. We talked about a lot of serious topics, which is fine, but probably was a factor into how the rest of the evening went.
While we were having dinner, a huge thunderstorm rolled through and we had to drive back to my place through one of the worst lightning storms I've ever seen, and I used to live in Tornado Alley. We made it home and started fooling around in bed as we usually do, and we were both getting turned on when I asked her a question with a serious undertone that totally deflated the mood. After that, we just talked and continued to cuddle, but she wasn't into it and left early. Nobody was angry, but she was disappointed. I'm still learning the subtleties of how differently we communicate.
Luckily, we did not have to wait until Thursday to get back on track. I woke up Wednesday and the radio announcer said my train had been disabled by the thunderstorm. Normally when trains aren't working they provide buses instead, so I went at my usual early hour to the station and found that buses weren't running either, so I had to take a personal day off. I went shopping at Macy's one-day sale (since they opened at 8 a.m. and I was hoping to go anyway, just not be the first person in the door like I was) and spent about $100 on several tops and skirts. Then I went home, had breakfast, watched some TV and settled into bed with my newest Stephanie Meyer book, "New Moon" (which I finished yesterday). I had let Tara know I was home, but since Wednesdays are usually Bee's reserved days with Tara, I wasn't expecting to see her again. So I was a little surprised and very grateful when Tara called and told me Bee wanted to share her day and make it a group thing by going to the beach.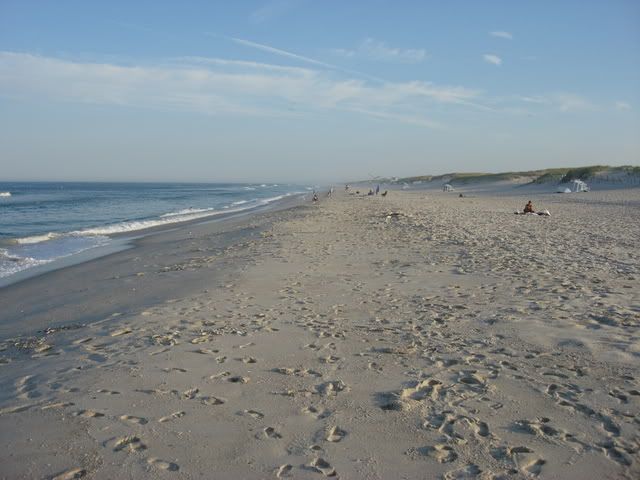 We packed our towels and beach umbrella into Yoshi and had a nice 90 minute drive down to the Jersey shore to one of the loveliest beaches I've ever seen. I've never been to the Caribbean or Fiji or any of the really nice beaches (except Hawaii, I've been there) so my standards for beaches are admittedly pretty low. Despite the cool temperature of the water, made colder by some strong currents that brought even colder water from deeper depths, we had a great time swimming in the waves and body surfing with our boogie boards. I scraped up my leg a little when I rode a wave all the way up the sand and through a bed of broken clamshell pieces, drawing a little blood (but luckily not enough to attract the sharks). Bee did her yoga on the beach while Tara and I read our books in the fading sunlight of the afternoon. When it was time for dinner, we stopped at McDonalds for a vanilla shake, Boston Market for Bee's veggie plate, White Castle for my mini hamburgers and Burger King for Tara's hamburgers so that everybody got exactly what they wanted. Fortunately, all four restaurants were within a few hundred feet of each other.
And then last night Tara and I got a chance for a do-over of Tuesday, and we spent an intimate evening at home making love and snuggling in bed, followed by a late snack of frosted flakes while watching the Yankees game and cuddling on the couch. As many times as we've done this, it was probably one of our best nights together, free of drama and "serious" talks or thoughts about the future. Just goes to show - love is what makes the present a perfect place to be.