So I'm finally coming back up for air after a relaxing weekend where the only socializing I did was going out to dim sum with Ilan and Jet on Sunday, then visiting Ilan's love Stan where she works at
Evolution
, which is possibly one of the coolest stores in New York. Saturday I shopped for groceries and bought my copy of the Twilight Saga on Blu Ray at Best Buy, plus some shoes at Nordstrom Rack.
Last weekend was all the movies and Oscar party, but I didn't get a chance to talk about our third time at
Wicked Faire
the weekend before that. I met up with Morgan at the event on Friday night and Puck came in later by train. Ego Likeness was playing Friday night, so we watched a few songs from their set before heading back to the Goblin Market, where Morgan bought a new hoop. We found a spice dealer in the marketplace called
Auntie Arwen's
and I bought a bunch of things, including Black Truffle Sea Salt, an incredibly aromatic salt that was once used to ship black truffles and is resold as a unique condiment that is perfect on eggs. I also got another salt mixed with ghost pepper chiles, one of the world's hottest peppers, and Turkish Marash chile pepper flakes.
I also got several teas from the
Tea & Absinthe
that we discovered at Steampunk World's Fair last year, including Irish Whiskey, English Caramel, Rose Marzipan (black tea with roasted almonds, rose petals, cardamom, rosebuds, vanilla bits) and Starry Night (black tea with coconut rasps and almond flakes). So my pantry is pretty well stocked at the moment. After the shopping we hung out in the Burn Ward for a bit, a chill place to dance, hoop and lounge in cuddle spaces in the style of an Arabian tent.
Saturday we explored the Faire, which this year included a stonecutter plying his trade: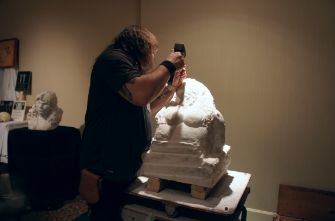 We watched a very interesting presentation about molecular gastronomy, a modern trend in cuisine. The presenter made bacon-flavored "dirt" out of bacon grease and tapioca starch, mozzarella balloons filled with rosemary-scented air and demonstrated how to set up a DIY immersion circulator using a slow cooker.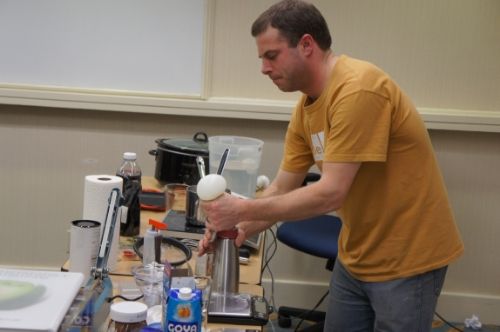 Saturday night
This Way to the Egress
played their usual warm-up show for Voltaire - they are releasing their sophomore album in May. They were joined by a hoop artist and a burlesque dancer for a couple of their songs:
Around midnight, we met up with Puck, who was doing a lot of volunteer work this year, and we watched the Wandering Cellist, here playing the theme to the video game Skyrim:
Sunday morning Morgan and I left early to get on the road - he to get home to Harrisburg, and me to park Yoshi back in Princeton and take the train to the airport to fly to Houston for work. Sunday night I checked into the Four Seasons in downtown Houston and drove out to visit my old friends Norm and Meador, who I last saw at the rodeo at random on my last trip (
"Lady Antebellum" - March 3, 2012
). Norm has been dabbling in watercolors in his retirement years and he gave me one of his pieces that I liked. It wouldn't fit in my carry-on case, so I brought it to the office on Monday and had them ship it to my desk in Princeton. Monday morning I also had a lovely hotel breakfast of smoked salmon Eggs Benedict and turkey sausages: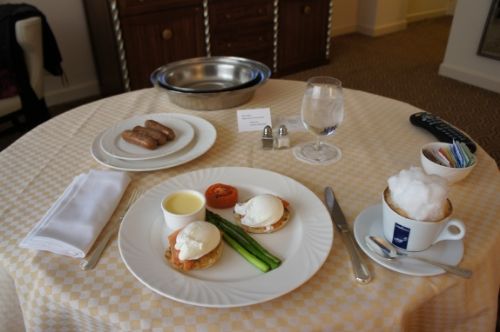 The work week was pretty brutal in Houston, with non-stop meetings around my usual work, plus team lunches and dinners, so not a lot of downtime that keeps me sane. Luckily it wasn't for the full week, since I left around midday on Wednesday. I also had a very nice meal at the
Le Grande Comptoir
in the Houston airport: French onion soup, beef carpaccio (thinly sliced center cut beef filet flavored with olive oil, fresh pepper, pickled red onions, capers and accompanied by handmade toasted crostini) and a Pancetta and carmelized onion flatbread pizza (Pancetta and slow cooked caramelized onions atop a blend of mozzarella, parmesan, romano, provolone, and cheddar, served on a traditional, oven baked, thin and crispy flatbread crust).
And that pretty much led into Liz's Mardi Gras party on Friday and the Oscar marathon weekend.
There - all caught up.