Piper and I had a superlative dining experience at
The Modern
on Monday night as a prelude to our detour on our Kubrick marathon - we watched the Peter Hyams-directed movie
2010
, the sequel to Kubrick's
2001: A Space Odyssey
.
Our dinner started with a blitzkrieg of complimentary amuse bouches: lemon verbena popcorn, spoons containing a cube of mackrel and a cream cheese stuffed rasberry, a sunchoke soup with red pepper served in a test-tube.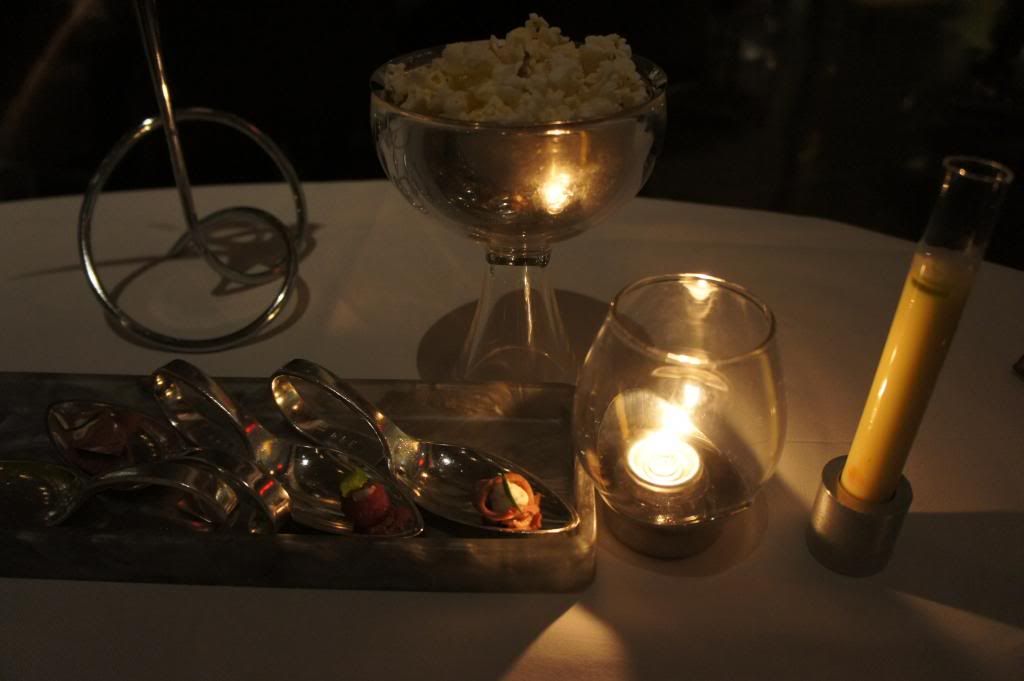 There was also a bite of hamachi tuna in a citrus gelee with roe:
My first actual course of the meal was the "Pralines" of Foie Gras Terrine - three spheres of goose liver the consistency of butter and coated with crunchy breadcrumbs, spread over bread. Check out the
menu
for full descriptions of each dish.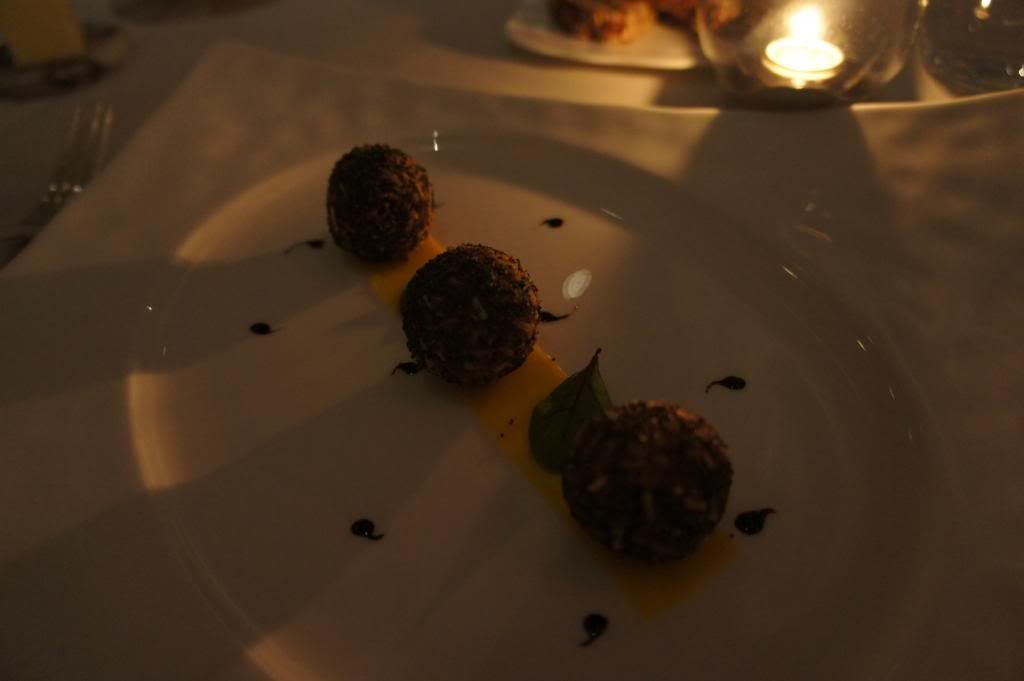 Piper chose the Rabbit Terrine, which was coated in a green herbal goo that reminded me of the taffy Wreck-it Ralph falls into when he visits Sugar Rush: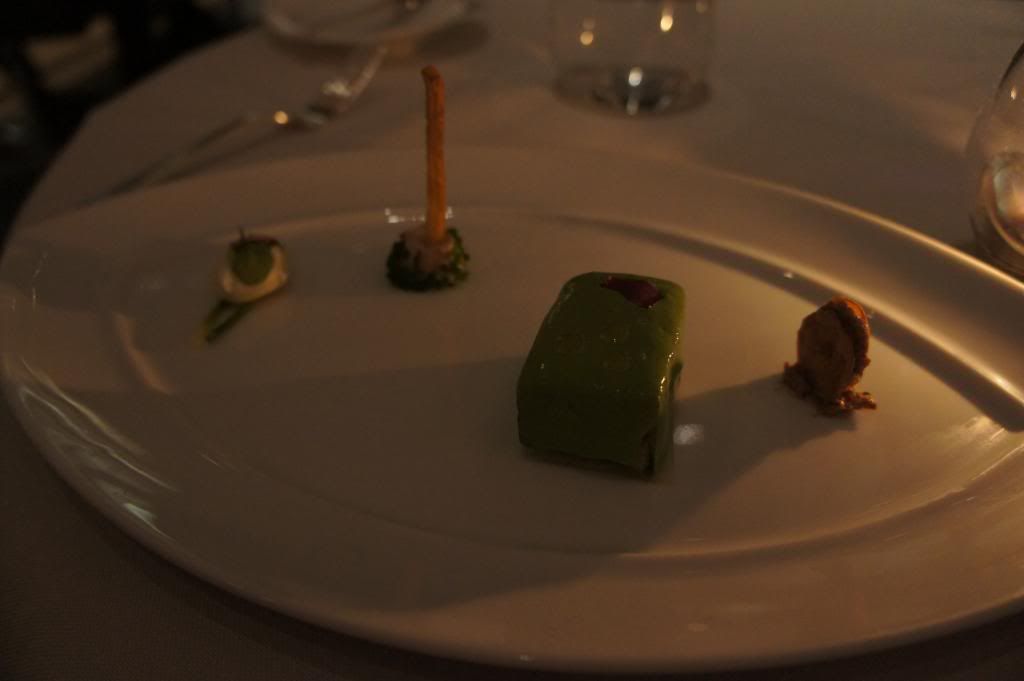 My second course was the Slow-Poached Farm Egg over Squid Ink Spaetzle, while Piper had the John Dory Gratinee, beautifully presented in a triangle of pimento glaze: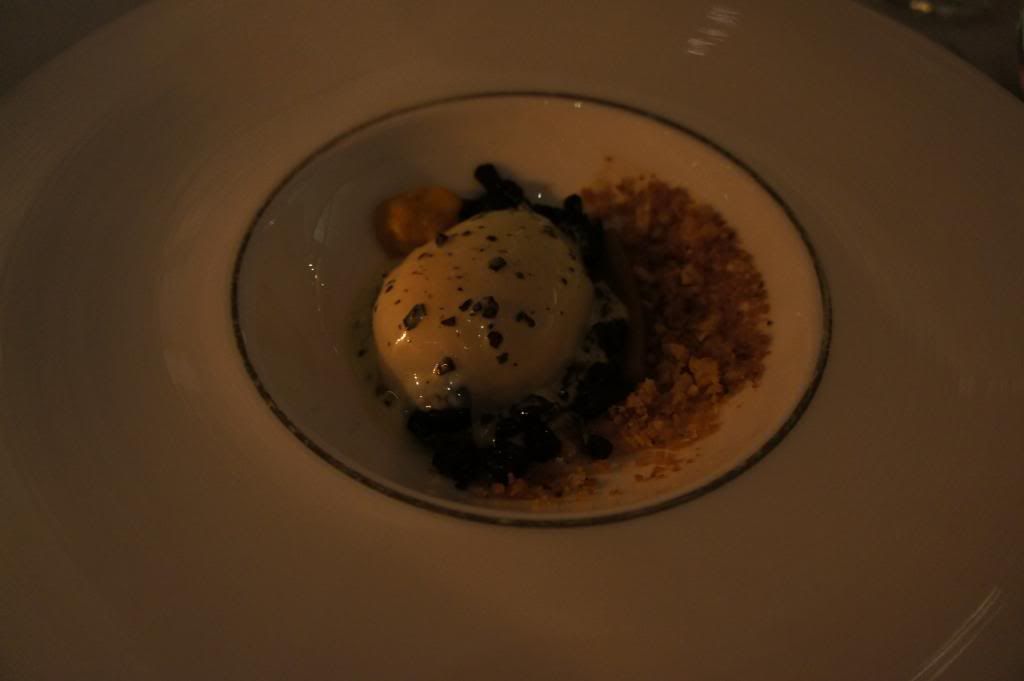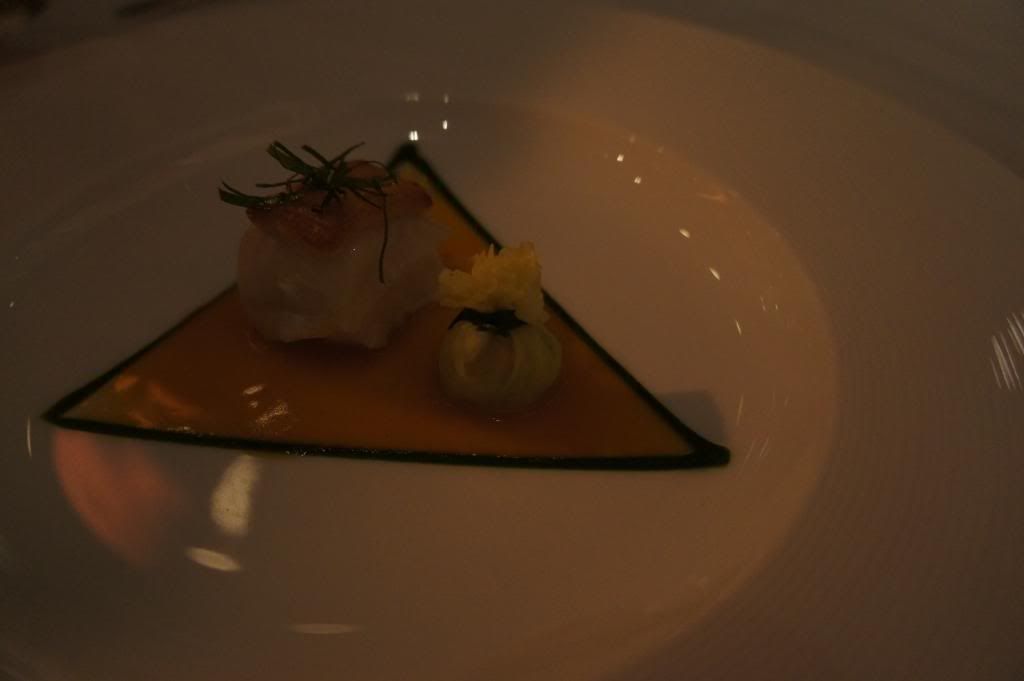 For the main course, I chose the Thomas Farm Rack of Lamb, probably the finest lamb chop I've ever tasted (and I'm a big fan of lamb), while Piper selected the signature Squab and Foie Gras Croustillant, a piece of foie gras sandwiched between two pieces of squab and encrusted in a light pastry shell. Both dishes were finished with their sauces tableside on gleaming copper heaters with candles.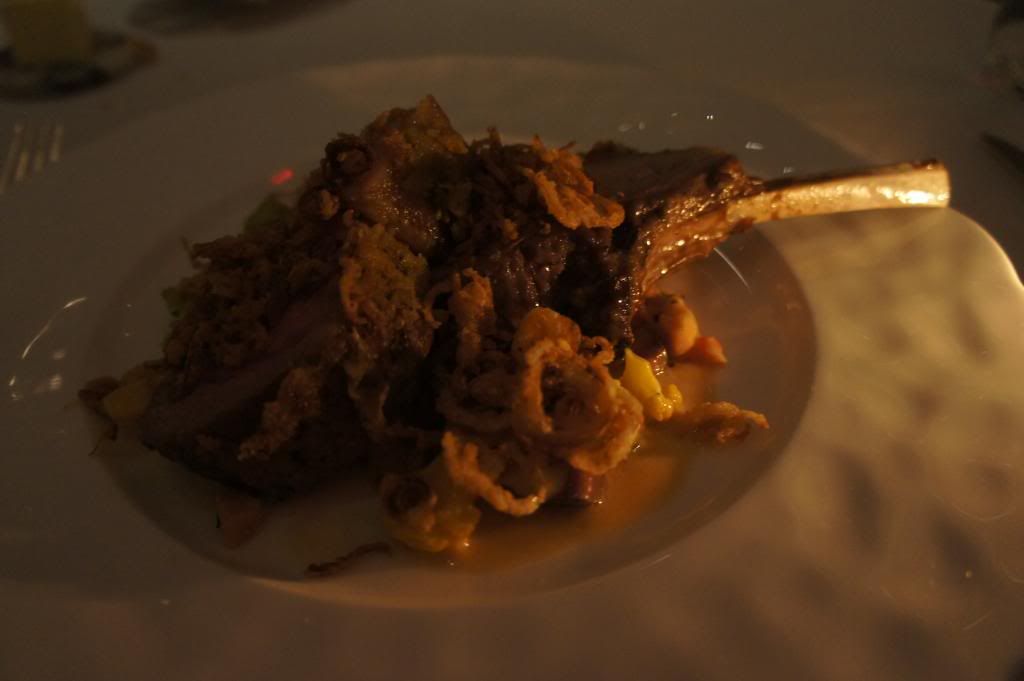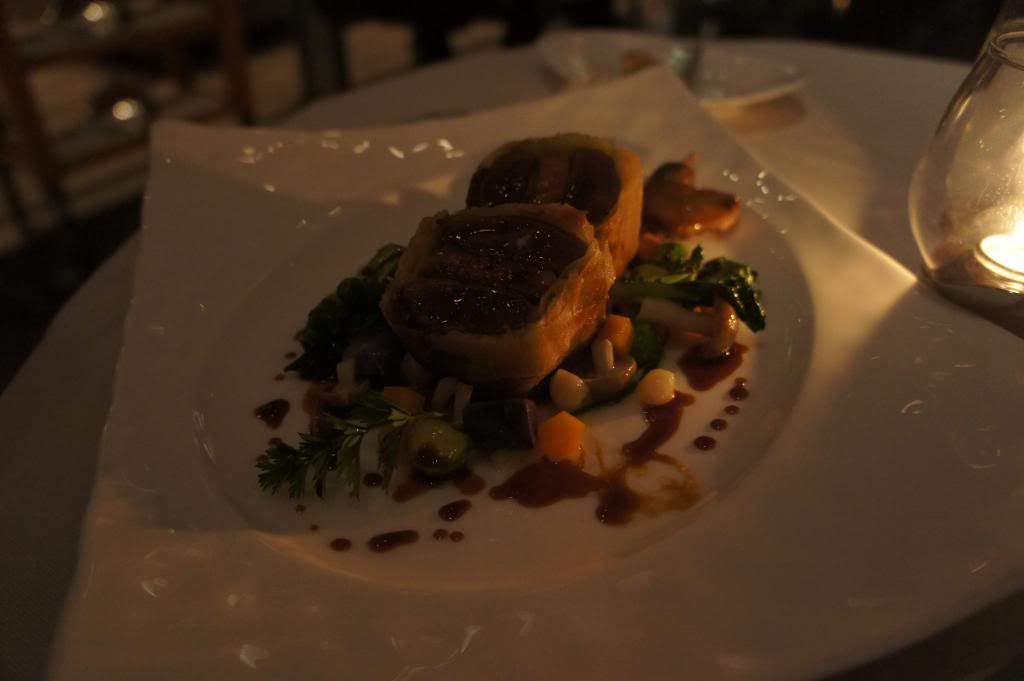 For dessert, I got the aptly named Modern Black Forest Fantaisie, which featured a tall and slender chocolate shell cone partially melted by the tableside application of a hot chocolate sauce. Piper enjoyed the Milk Chocolate and Hazelnut Dacquioise.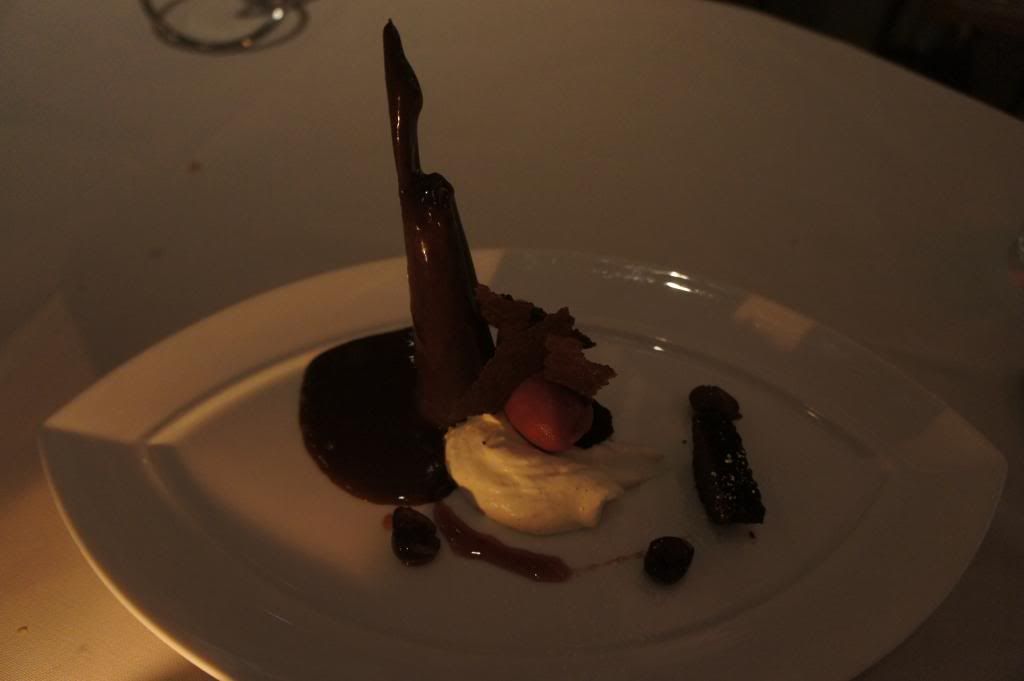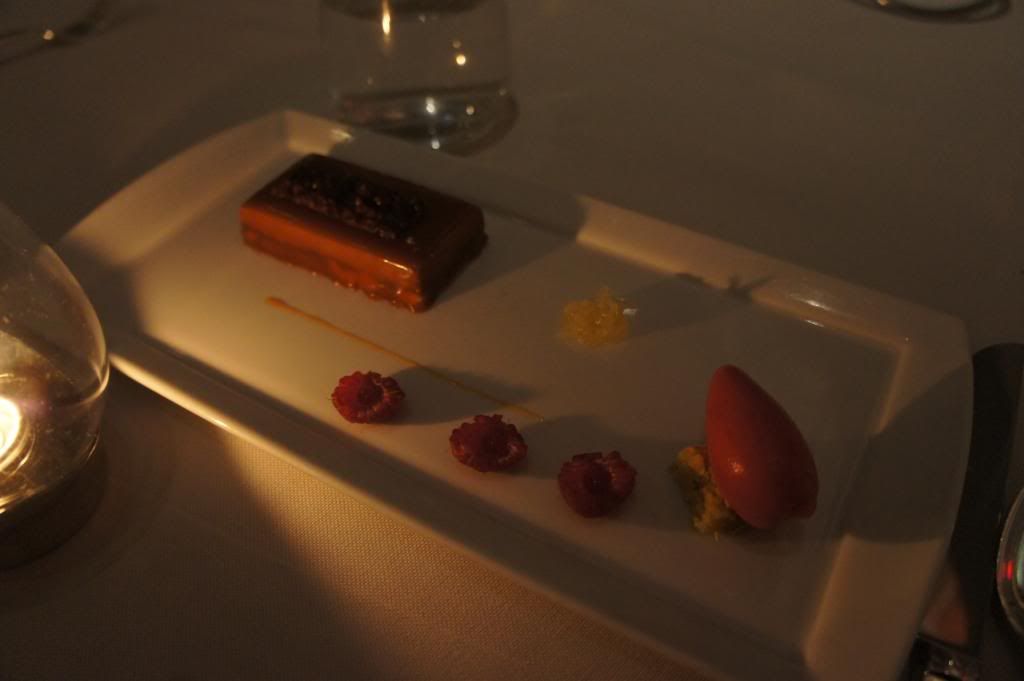 However, the meal did not just end there. A server came around with a trolley full of handcrafted chocolates and assembled a selection that included a carrot marshmallow, tied into a tiny knot, that Piper gushed about. We were also presented with mini-cones of a citrus-herbal sorbet.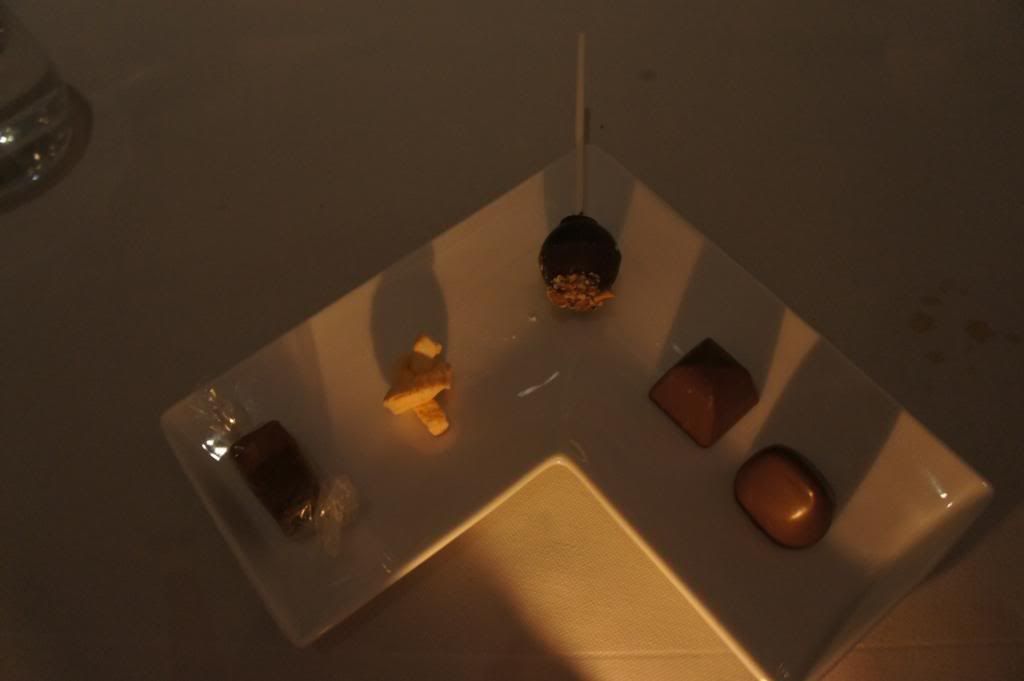 Once the check was presented, the final in a long line of complimentary surprises arrived - a take-home gift of three small cakes, similar to petit-fours, in an elegant box.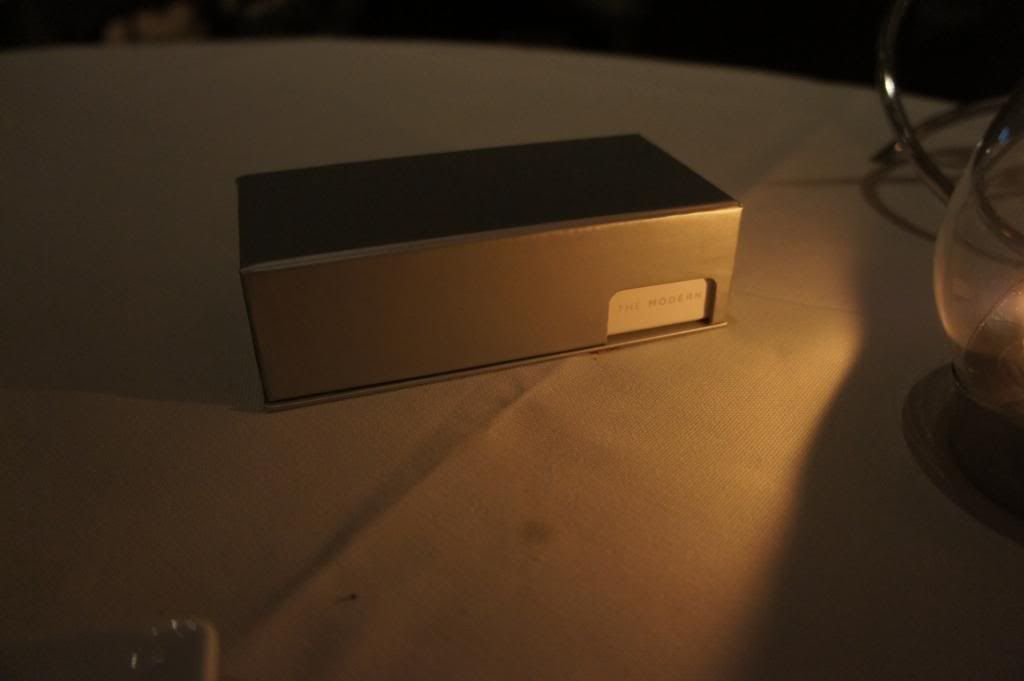 Piper wrote this on the comment card, summing up our evening of extraordinary gustation: