It's been a very unusual week in my life, one that's only happened once before - Puck has been staying with me full-time in the apartment because their grandmother fell ill and is staying at a hospital on the Upper West Side. Puck and their parents have been switching off to watch over her 24 hours a day, with Puck taking the day shifts while their parents are at work.Since the hospital is only a few subway stops away from the apartment, it doesn't make a lot of sense to trek all the way back to Staten Island each night, only to come back in the morning.
So my routine has been thrown off a bit, but it's been really nice having them around and sleeping together each night for an entire week (tonight is the first night they are staying overnight in the hospital). Last Friday we went to the MMMM together for a short visit, but otherwise we've just been spending a lot of time at home because it's mentally and emotionally exhausting of them to be in a hospital all day and I've been my usual busy self at work.
This week I did get a special treat: a group lunch at a highly regarded modern restaurant in Princeton called
elements
, which specializes in farm to table American cuisine. I started my meal off with a green garlic soup, garnished with smoked mackerel, black pepper and mozzarella. This was the tastiest course of the entire meal.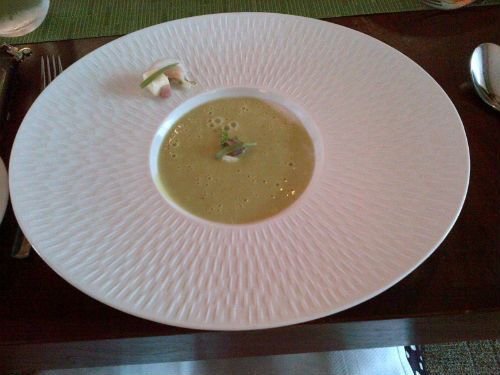 Next course was housemade cavatelli, a type of pasta that looks like gnocchi, made with wagyu brisket, cauliflower and a 64.5 degree egg (one that is cooked in an immersion circulator at 64.5 degrees Celsius for a very raw presentation).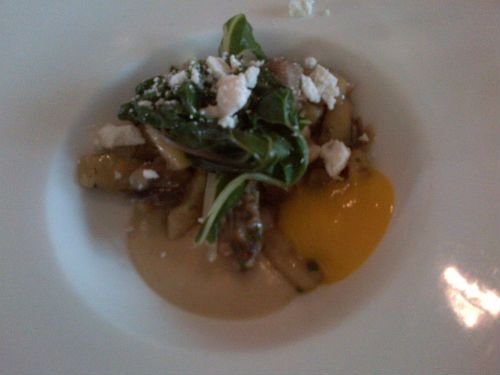 Finally, dessert was chocolate bread pudding with apricot, blackberry and molasses ice cream on the side. This was actually kind of disappointing, but I have pretty high standards when it comes to bread pudding.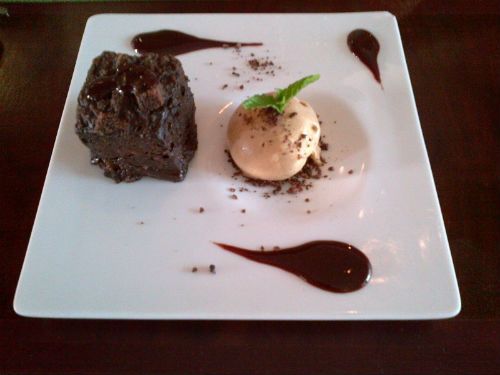 Puck and I have been taking full advantage of our time together by watching movies leading up to the
Avengers
this weekend. I have both
Iron Man
movies and
The Incredible Hulk
, so we watched those. Saturday night is also the premiere of Season 2 of the BBC's
Sherlock
on PBS, so we're awfully excited about that.
This week I also brought my violin to the repair shop to be fixed - I'm picking it up tomorrow and I'm looking forward to learning on it. It's part of a whole host of things I want to do tomorrow - it's Free Comic Book Day, so I want to stop by Midtown Comics on 41st Street. It's also Large Size Shoes day at Nordstrom's Rack, so I want to get up early to check that out. I guess I'd better get to sleep then.