This weekend I had a great time at
Wicked Faire
in Somerset, NJ with Puck and a bunch of our mutual friends and acquaintances. We stayed in a hotel room with four other people including Puck's friend Eric, so it was a bit crowded, but we didn't spend much time there anyway.
The theme of the event was "Fairy Tales Gone Wrong," and I loved the massive balloon structure of Rapunzel's Tower, which stood about 20 feet high in the lobby: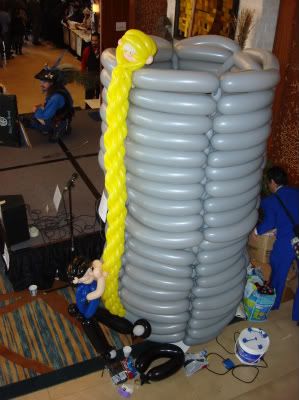 I arrived on Friday night after work and ran into Ryan and Beth shortly after I arrived. Puck came in later with Eric, who picked them up from Penn Station. The first presentation I attended was one on BDSM toys (floggers, paddles, whips, etc.) given by Dark, another of Puck's acquaintances. I knew him because they told me about him, but he didn't know me yet. He was accompanied by several women who served as test subjects for the various implements of pain. I've heard Morpheus' BDSM 101 presentation, so it wasn't all new to me, but Dark really knows his stuff.
Puck and Eric arrived in the middle of the presentation so I went out to meet them and organize our room situation. We went around looking at the vendors for a while because Puck wanted to buy some steampunk goggles, a vest and a few other things. We ran into Leon and Ardella from Open Love NY, and Roy and Michelle, who run the NJ poly group. It was everybody's first time at Wicked Faire, which I found rather comforting.
Beth, Ryan, Puck and I joined a small group in the gaming room to play a tabletop RPG called Deadlands, something I haven't done since the 1980s, when Dungeons & Dragons was new. Ryan played a crazy Russian hunter, Puck played a South American gaucho (cowhand) and I was a spy pretending to be a teacher. I can't remember what Beth's character was, other than he was named Mr. Smith. In the game we encountered a giant bear-gorilla in the woods of Washington State during the Civil War era, and we managed to defeat it. Ryan's character was almost killed, but I saved him by drawing the creature's attention with a daring attack on horseback.
Beth and Ryan went home after that, and Puck and I went to Dark's suite for my first kink play party. Puck put a box tie harness on me with rope, their first ever solo bondage scene tying someone up. I flogged one of Dark's subs, an Egyptian woman named Yasmine, which was a first for me. It was a nice crowd of people, and having gotten to know them at bit during the day made it more comfortable for me in the evenings. And of course some of them Puck knew from going to other parties in the past.
Saturday we went out to a nearby diner for breakfast with Eric and his friend Magdalene, and then came back to dress in our full costumed regalia. Puck dressed as a forest spirit and I dressed into my Renaissance Faire outfit. I teased and sculpted Puck's hair with hairspray, and they used my makeup to dramatic effect.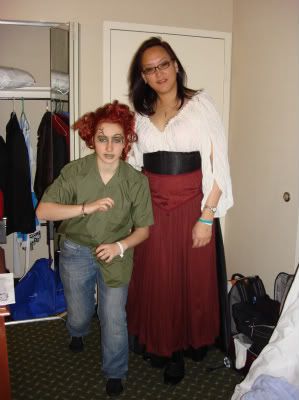 Later Puck bought a green leather mask that completed the costume nicely.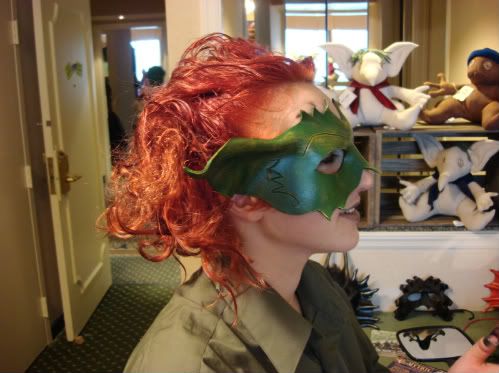 I stayed in the lobby to watch Leon in a grappling match where he dominated two other martial artists in a 10 minute match. This included a vicious body slam on the first guy, who then had to be replaced by someone bigger, but who didn't fare much better. I'm thankful Leon would be on my side in a street fight!
We also saw in the lobby a whip demonstration that included a four-crack move by this whipmaster:
Later, we met up to listen to Dark's performance of bluegrass renditions of popular music by Lady Gaga, Sir Mix-A-Lot and songs from the Joss Whedon-verse (Firefly, Dr. Horrible's Sing-a-Long Blog).
One of Dark's entourage, Piper, served as the house girl for both late-night parties and was in sub-space all weekend. She was working at a toy booth Saturday afternoon and I was looking at a flogger while Puck and Ryan were having some alone time, so I got to test it out on her. It's a lovely toy, made from a carved wooden bedpost as the handle and long straps of red leather, so I bought it (my first one ever). Puck bought some sharp metal claws from the same booth, and got to try them on several different people.
Saturday night I went out to dinner at a sushi restaurant with Leon, Ardella and a couple new people, Alissa and David, while Puck went back to the diner with Ryan, Beth and other friends. Later, at Dark's party, Ryan and Beth brought out their extensive collection of toys and played with almost everyone in the room. Puck and I left for a while to try and see musician Voltaire perform on the main stage, but the prior band ran long so we just listened to them. They were really good though, very original stuff.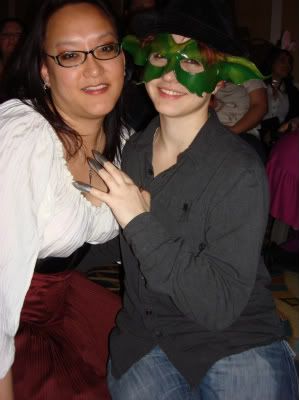 When we got back there was all sorts of kinky stuff going on, but I was feeling pretty tired, so I went to bed early. Ryan and Puck did a kinky scene together with rope later that night and he brought Piper into the scene since she was serving as the house girl. Puck told me about it the next day and it sounded pretty hot.
Sunday was a much more subdued day, as it usually is at the end of cons when everybody's leaving. We went to the diner again for breakfast, then came back to watch Ryan and his friend Murphy demonstrate rope bondage on Puck and a female wrestler named Ginger: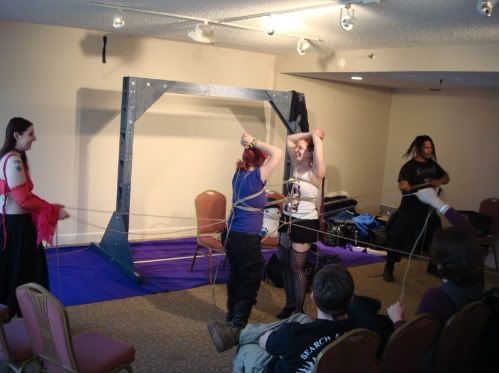 Murphy is quite the wizard with rope. He made this intricate rope swing, suspended from a custom frame he named "The Blue Raptor."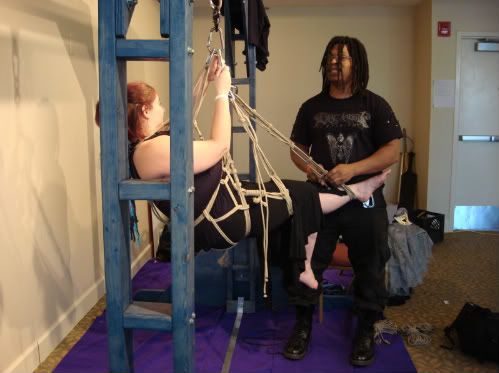 He was also playing some really cool mashup music by Robin Skouteris, who takes popular hits by Madonna, Britney Spears, Linkin Park, Nirvana, Michael Jackson and others and mashes them together to a dance beat. I really liked the one of "Circus" by Britney and "Numb Encore" by Linkin Park and Jay-Z. So he was nice enough to copy all those tracks to my flash drive for me.
As we were saying goodbye to Dark and his crew, it turned out that Piper needed a ride back to New York, so she rode with us as we went through Staten Island, stopping for tea with Puck's parents, then out to Stony Brook to drop Puck off at their dorm room, then back to Manhattan, where I dropped her off before coming home.
It was interesting getting to know her on a more personal level and it turns out we have some things in common - we are both journalism majors (she graduates from NYU this spring), and film buffs. So all in all, this weekend was certainly a big step in being fully acclimated to the kinky space and finding something fun and fulfilling in it for myself.