Back after a long hiatus, where my life has changed so much in nine months. Time for a fresh start here.
For those of you who haven't visited me and don't know firsthand, my living room is rather unorthodox. Coming from a larger apartment in New Jersey to my smaller apartment in Times Square back in March, and with bland, cookie-cutter furniture that I bought as a set in a furnished apartment after the fire of 2007, my stuff isn't what I'd call ideal for my present living space.
Specifically, my queen-sized bed pretty much takes up the entire bedroom floorspace without room for a nightstand, although I manage by using a windowsill to hold my alarm clock and a lamp. Plus, there's enough room for a slim bookcase and my DVD cabinet, which is getting full to the bursting. I might have to start shedding plastic cases soon. But there's not much that can be done about that because I'm not giving up my $3,000 bed, and I do have the occasional sleepover guest, which precludes a smaller bed anyway.
In the living room it's too tight to place my sofa and loveseat in the conventional "L" formation, so I've mashed them up against each other to form a bed-like cuddle space, with the padded arms and backs forming little walls around the perimeter, and an entryway at the far end where the sofa protrudes. This makes it nice to lay down to watch TV and movies, and if I want to sit up, I usually sit at my desk, although that's way over to the side.
The problem is that my sofa is wearing out and tends to suck you into the seam where the back meets the seat. It's also been damaged by various, um, physical activities performed on it over the past couple years, but it's still in one piece. But this playpen arrangement is not very comfortable because the front edges of the sofa and loveseat form an annoying ridge in the middle, which can be uncomfortable over time.
I played with the idea of throwing the sofa away and moving the loveseat (which is in better shape) to its position, then buying an overstuffed chair to face it. That would have created floor space for an ottoman or a coffee table, and made it possible to someday get a Nintendo Wii or PS3 Move and have space to play games. But I'd lose the cuddle space entirely, and the ability to lay down to watch movies, which I'd grown accustomed to. It would have also cost quite a bit of money and required me to get help to move the sofa out.
So instead I decided to improve the cuddle space with a cheap and easy fix. I bought a twin-sized memory foam mattress topper, four inches thick, for $88 at Wal-Mart. I cut out the box and tail shape to fit the playpen using a utility knife, and used the extra material in the seams around the outer sides, since those are getting lower. Then I put the couch cushions on top of the memory foam, and covered with the comforter as usual.
I also addressed the problem of drift (the two halves moving away from each other) by putting a non-skid carpet pad under the rug that the playpen sits on. The fact that there's a single piece of foam under the cushions should also alleviate this problem.
So here's what it looks like: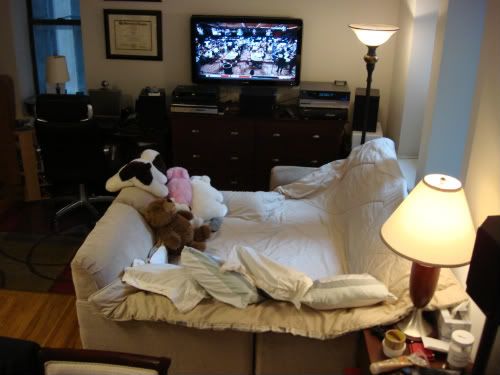 I tried it out last night and oh, what a difference! The seam in the middle is now pretty much gone, and the whole area feels like a single space instead of two areas joined together, and like a soft mattress instead of a lumpy old couch. It's heavenly. I love being a DIY'er.
I can't wait to try it out with Polina tonight after the Porcupine Tree concert :)