It was a nice four-day New Year's weekend for me that will probably have some lasting repercussions going into 2010. I wanted to get everything down before this weekend's activities start.
On Thursday, New Year's Eve, Polina went with her family to Baltimore to visit friends and spend the holiday with them, so I invited my friend Bonnie (whom we visited at Christmas) over to my apartment to keep me company. We watched
The Tale of Despereaux
and
The Last Unicorn
(because she reads my blog, of course) and I got her started on Firefly by watching the first two episodes. When the clock neared midnight, I called Polina and we wished each other a happy New Year, and Bonnie did the same with her long-time partner, Hiba, who also attends our monthly women's poly group.
Bonnie stayed over and the next morning I woke up feeling headachy and nauseous, so I took some pain reliever and went back to bed to take a nap. Bonnie watched the Loony Tunes marathon on the Cartoon Network while keeping me company. Eventually the medicine took effect and I got up to make peanut noodles for Polina's New Year's Day party at her house.
We packed up everything and drove into Manhattan, where I dropped Bonnie off at the subway station to go back home to Queens while I continued down to Staten Island to help Katie and Polina get set up for the party. It was a masquerade party, so I decided to do my take on Neil Gaiman's Death of the Endless using a leather mask I'd bought at the New York Renaissance Festival last year when I went with my Open Love NY friends. For those of you who don't know this character, here's a representative drawing:
I drew Death's distinctive glyphs around my eyes, which you can see a little behind my mask. I think Polina is dressed as a very fancy mime.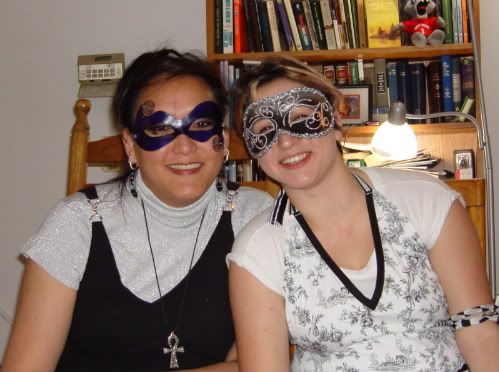 Polina's parents stayed in Baltimore, so it was just the younger crowd this year, unlike last year's party when her whole family, including the Baltimore people, attended. Patrick and Alyssa, who attended Polina's karaoke party for her birthday, also sported some fancy outfits and masks: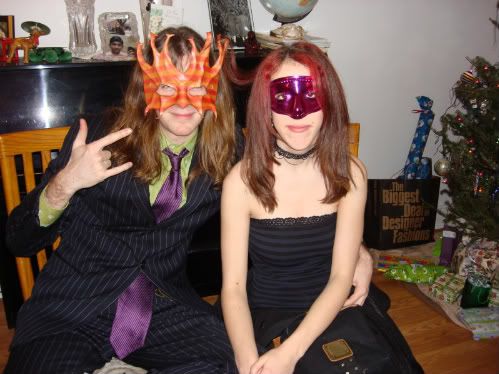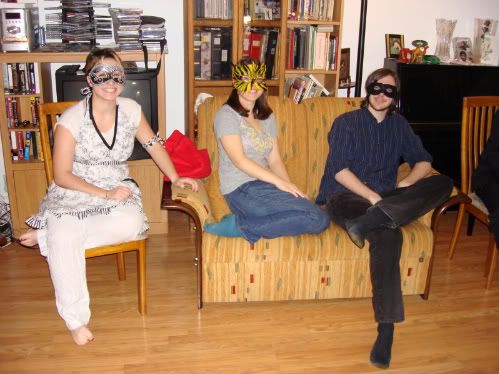 We had a few first-time attendees this New Year's: Ryan and Aidan, who are both persons of interest for Polina right now. Aidan is a former classmate at Stuyvesant who now attends Cornell University, and of course Ryan is our resident BDSM guru.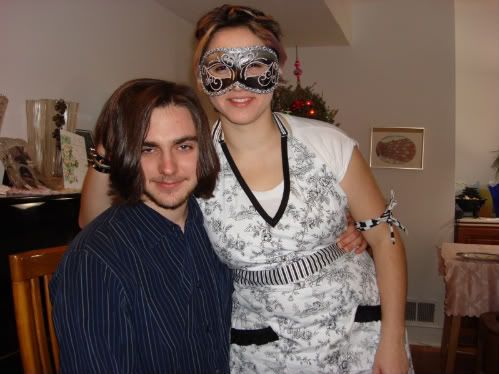 Over the course of the evening, we played lots of games (Apples to Apples, Never Have I Ever, Mafia) and opened lots of presents. I gave Polina a whip/crop, a book on
Japanese Rope Bondage
, a Remo drum practice pad and Pro-Mark drumsticks that her school snare drum line uses so she can start practicing for tryouts in the fall; and more books -
Castle Waiting
,
Death: The Time of Your Life
and
The High Cost of Living
. Ryan performed some rope ties on Polina and me, and Polina and Louis performed some of their Argentine tango: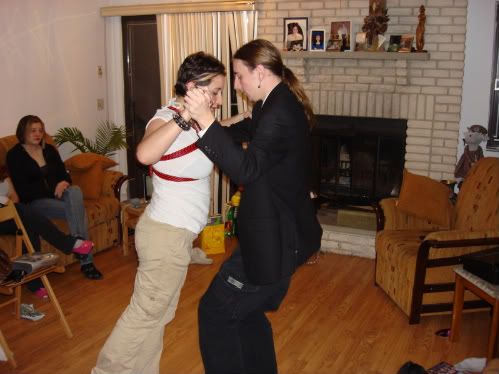 Rounding out the crowd were Anya and her boyfriend Peter, Dakotah, and their friend Vanessa. As it started getting close to 6 a.m. and the party was winding down, I set up my two air mattresses in the master bedroom and eight of us slept in that room while Peter and Anya shared the guest bedroom. The next day was spent looking at stuff online and general socializing as people started drifting off one by one.